Here is the list of Iranian medalists:
Para-athletics
In men's discus throw F11, Mahdi Olad set a new Asian record with a throw of 42.37m and snatched his second gold medal of the event. India's Monu Ghangas and Iran's Arian Lotfi stood next with 35.89m and 34.14m.
With a throw of 21.17, Hashemiyeh Motaghian pocketed the gold medal of women's discus throw F56/5. Indonesia's Famini Famini grabbed the silver with 19.67m and the bronze went to China's Yuxin Tian with 29.62m.
In men's shot put F53, Asian record was broken by Alireza Mokhtari Hemami with a throw of 8.73m. Asadollah Azimi and Syria's Alaa Abdulsalam claimed the silver and bronze medals with 8.35m and 7.46 respectively.
In men's shot put F36, Aref Baharvand won the gold medal with a throw of 12.57m. UAE's Mohammed and Kazakhstan's Ivan Zaleznyak took home the silver and bronze medals.
In men's 400M T36, Farhad Kahrizi gained the bronze medal clocking 00:01:00.39. Malaysia's Ridzuan Mohamad won the gold with 00:00:59.36 and the silver went to Oman's Al Harrasi Taha Abdullah Rashid with 00:00:59.75.
In men's 400M T37, Iran's Hashem Rastegari and Davoudali Ghasemi grabbed the silver and bronze clocking 00:00:53.54 and 00:00:56.10. Timor-Leste's Teófilo Freitas won the gold medal with 00:00:53.14.
Ahmad Ojaghlou won the bronze medal of men's 100M T45/46/47 with a time of 00:00:11.08. China's Hao Wang (00:00:10.80) and Indonesia's Ferry Pradana (00:00:11.06) claimed the gold and silver medals.
In women's 100M T12, Hajar Safarzadeh Ghahderijani won the bronze medal clocking 00:00:13.68. Japan's Uran Sawada won the gold medal with 00:00:12.97 while the silver went to Thailand's Suneeporn Tanomwong with 00:00:13.20.
Swimming
Shahin Izadyar once again stunned Asia by adding two more gold medals to his earlier three ones. In men's 100M breaststroke SB9 he claimed the title with a time of 01:14.71. Kazakhstan's Sergey Kinakh and Japan's Daiki Kubo stood next with 01:23.06 and 01:28.04.
Also in men's 50M freestyle S10, Izadyar finished first clocking 00:25.95. Sergey Kinakh and Dmitriy Li of Kazakhstan bagged the silver and bronze medals with 00:26.87 and 00:26.89.
Powerlifting
In men's up to 80kg category, Nader Moradi hoisted 206kg in his first attempt. He missed his next two moves and settled for the silver. China's Xiaofei Gu won the gold with 226kg and India's Sudhir Sudhir came third with 192kg.
Judo
In men's up to 90kg, Iran's Vahid Nouri snatched the gold by defeating Uzbakistan's Shukhrat Boboev in the final bout. Mongolia's Demchigdorj Erdenebayar and China's Yanchen Li bagged the bronze medals of this category.
Ehsan Mousanezhad won yet another gold for Iran in men's up to 100kg category by outplaying South Korea's Gwanggeun Choi in the final contest. Uzbekistan's Sharif Khalilov and Japan's Yoshikazu Matsumoto pocketed the bronze medals.
And in men's over 100kg category, Mohammadreza Kheirollahzadeh settled for the silver after suffering a defeat to Uzbekistan's Shirin Sharipov in the final. Seungsoo Lee and Woohyeok Song from South Korea won the bronze medals.
Archery
In women's individual recurve open W2/ST, Iran's two-time Paralympics gold medalist Zahra Nemati reached the final but was defeated 4-6 by China's Chunyan Wu and received the silver medal.
In men's individual W1 open, Mohammadreza Zandi collected the first gold medal of Iran in Archery by overpowering China's Ji Li 130-127 in the final. Also, the bronze medal of this category went to Iran's Majid Kakoosh who won South Korea's Hongjo Park 141-140 in a thrilling match.
Medal tally
Iran ranks third in the medal tally with a total of 80 medals, after China and South Korea. This is while Iran had the rank of five last night. There is a close race between Iran, Uzbekistan, Japan, and Indonesia for the third place.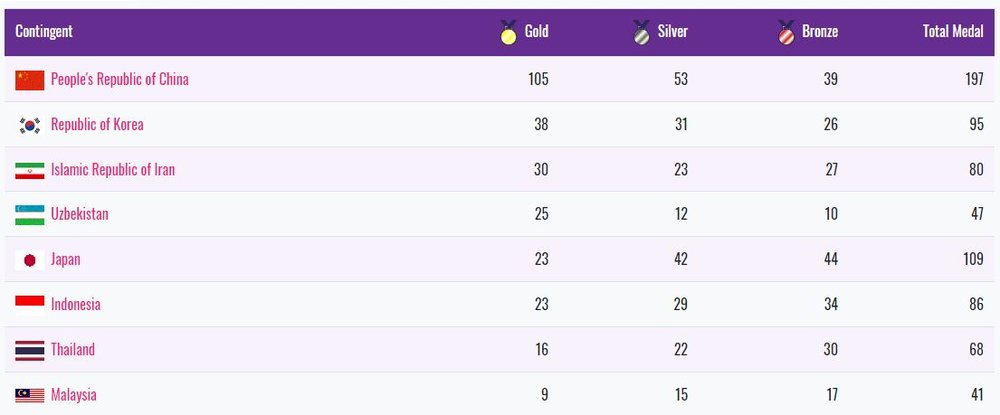 In 2014 last edition of the games that was held 2014 in South Korea's Incheon, 200 Iranian athletes were sent to the event and they pocketed a total of 120 medals (including 37 gold, 52 silver and 31 bronze). Iran ranked fourth in the previous Asian Para Games, after China, South Korea and Japan.
2018 Asian Para Games kicked off on October 6 in Indonesia's Jakarta and it will wrap up on October 13.
MAH