Here is the list of Iranian medalists:
Para-athletics
Arezoo Rahimi snatched the gold medal of women's shot put F32, ahead of his sole UAE's rival Thekra.
In men's 400M T13, Omid Zarifsanayei bagged the gold medal with a time of 00:00:51.41. Thailand's Songwut Lamsan and India's Avnil Kumar stood next with 00:00:52.00 and 00:00:52.00.
In men's javelin throw F33/34, Mehdi Alizadeh gained the gold with a throw of 20.96m. Mohsen Kaedi won the silver with 31.72m and China's Yanzhang Wang received the bronze with 31.69m.
In men's shot put F54/55, Hamed Amiri and Jalil Bagheri bagged the gold and silver for Iran with throws of 11.32m and 10.67m respectively. India's Tek Chand won the bronze with 8.85m.
In men's shot put F42/61/63, Sajad Mohammadian grabbed the gold medal with a throw of 15.27m, breaking the Asian record. Sri Lanka's Halgahawela Bandara and Uzbekistan's Rikhsimov Mukhammad stood next with 13.21m and 13.12m.
The next gold medalist of Iran was Vahid Alinajimi who finished first in men's 400M T12 with a time of 00:00:49.98. Vietnam's Pham Nguyen Khanh and Indonesia's Eko Saputra stood next with 00:00:50.94 and 00:00:53.16.
In men's 1500M T11, Hamid Eslami claimed the gold medal clocking 00:04:18.18. Shinya Wada and Kenya Karasawa of Japan stood next with 00:04:22.87 and 00:04:23.24.
Hajar Safarzadeh added another silver to her own tally in the games. This time she finished second in women's 400M T12 clocking 00:01:06.80. Thailand's Suneeporn Tanomwong won the gold with 00:01:03.38 and the bronze went to India's Radha Venkatesh with 00:01:07.03.
In men's long jump T12, Amir Khosravani pocketed the bronze medal with a jump of 7.01m. Uzbekistan's Doniyor Saliev and Malaysia's Gee Kar won the gold and silver with 7.22m and 7.05m.
In women's 400M T13, Ozra Mahdavikiya pocketed another bronze clocking 00:01:08.18. Japan's Mana Sasaki claimed the gold with 00:01:01.48 and the silver went to Indonesia's Putri Ni Made Arianti with 00:01:05.29. Mahdavikiya had already one gold and one bronze medal in 1500M T12/13 and javelin throw F12/13 respectively.
Zhila Yousefi added a bronze to Iran's tally in women's discus throw F40/41, with a throw of 16.22m. Fengju Zhang and Wei Li of China stood top with 19.74m and 26.12m respectively.
Swimming
Shahin Izadyar, who has already won five gold medals in 2018 Asian Para Games, claimed a silver in men's 400M freestyle S10, clocking 04:41.23. Kazakhstan's Dmitriy Li won the gold medal with 04:29.17 and India's Sanjay Patil Swapnil claimed the bronze with 04:41.45.
Judo
In team competitions of Judo, Iran settled for the silver after suffering a defeat to South Korea in the final. The Iranian team was comprised of Reza Gholami, Ali Abbasnejad, Omid Jafari, Vahid Nouri, and Mohammadreza Kheirollahzadeh.
Sitting volleyball
Iranian men's team of sitting volleyball claimed the championship after winning the China 3-0 (25-16, 25-14, 25-15). Kazakhstan snatched stood third. The Iranian team which has recently won the world title had no difficulties in claiming the Asian title as it didn't even concede one set to its rivals in the event.
Also, Iranian women's team reached the final contest of sitting volleyball, however, it suffered a 0-3 defeat (13-25, 17-25, 16-25) to China. Japan won the bronze medal of this category.
Medal table
Iran now ranks third in the medal table with 40 gold, 32 silver, and 32 bronze. China leads the table with 137 gold medals and is followed by South Korea which has 43 gold. Japan and Uzbekistan rank fourth and fifth both with 31 gold medals.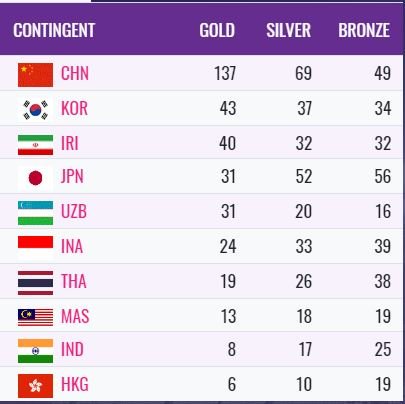 In 2014 edition of the games that was held in South Korea's Incheon, 200 Iranian athletes were sent to the event where they pocketed a total of 120 medals (including 37 gold, 52 silver, and 31 bronze). Iran ranked fourth in the event, after China, South Korea and Japan.
2018 Asian Para Games kicked off on October 6 in Indonesia's Jakarta and it will wrap up on October 13.
MAH