The upward trend in Iran's popularity among air travelers looks like continuing during 2017, according to a study by ForwardKeys, the leading travel intelligence analyst.
Total international arrivals were up 18.3% last year, sustaining an upward path since 2013 (up 2.7%), 2014 (24.8%) and 2015 (12.7%). The pattern is reflected by a consistent year-on-year increase in total scheduled seats: 2014 (up 10.5%), 2015 (18.3%), 2016 (17.3%).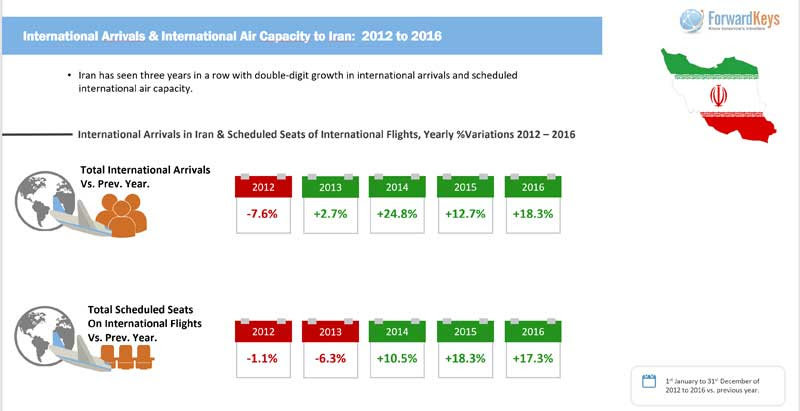 The study is timely, coming just weeks ahead of the inaugural Iran Hotel & Tourism Investment Conference (IHTIC) on 7-8 February 2017 in Tehran, which will be attended by numerous international investors and hotel industry experts.
ForwardKeys, which monitors future travel patterns by analyzing 16 million flight reservation transactions each day, also found that international arrivals to Iran saw positive monthly growth throughout 2016, with the exception of June because of the timing of Ramadan.
The main source regions for air travel to Iran are North America, Europe and the Middle East. Together, they made up 83.7% of international arrivals during 2016. Germany, with a 14.3% market share, was up 8.3%, followed by the USA (10.7% share) up 9.3%. Bahrain, Canada and the UK, all with significant market shares, also showed healthy growth in visitors to Iran.
Among the 12 top origin countries, only China and Pakistan were outside these main regions. ForwardKeys' data also shows that 40% of Chinese visitors to Iran last year were on business trips.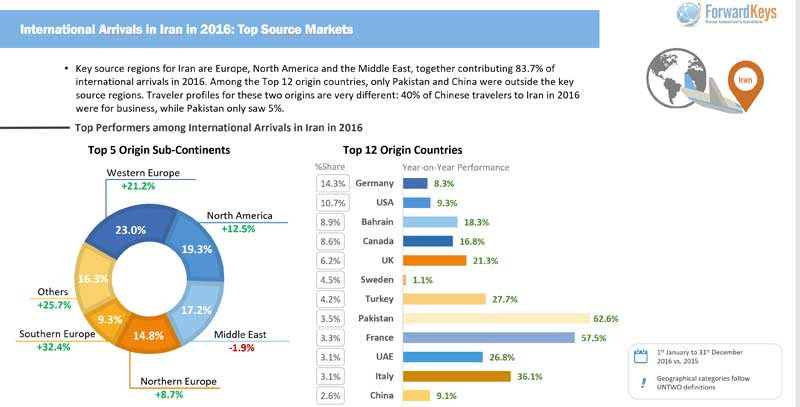 Looking ahead, forward bookings, which means bookings already made for future travel, for the first half of 2017 are ahead 14.8%, based on those issued at the beginning of January, suggesting the upward surge of international visitors to Iran is still growing in momentum.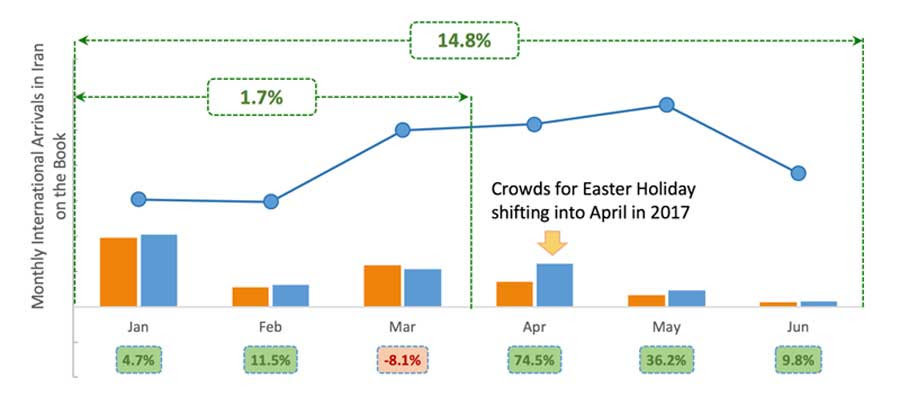 Arrivals in Iran during 2017 are being boosted by increased air connectivity from a number of centers one being that Italy is benefiting from Alitalia and Iran Air tripling their scheduled seats since November last year. Also, the Netherlands is connected by one more daily flight from Amsterdam to Tehran by KLM since October 2016. Additionally, an increasing number of Belgian travelers are using Amsterdam to transfer to Iran, while Swiss travelers tend to route via Vienna, from where Austrian Airlines is doubling its scheduled seats during the first half of 2017.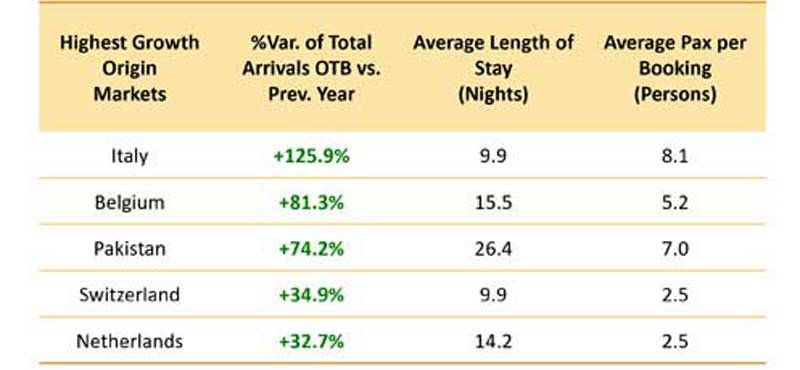 Olivier Jager, CEO of ForwardKeys, said "our findings support the conclusion that political change in Iran is making the country more approachable, an attractive place to visit and potentially do business. The image of Iran around the world is changing. Its many tourist attractions, historic, religious and spectacular, are once again being emphasized. I expect visitor numbers to increase, so long as Iran's airport capacity can keep pace."
HA/PR