Ramadan is considered the holiest month of the Islamic Hijri (lunar) calendar.
Ramadan is observed by Muslims in Pakistan and around the globe as faithful spend most of their time fasting, praying, and reading Quran, besides doing charity.
Pakistani Muslims observe the practices of self-restraint and self-discipline during the month of Ramadan.
To achieve this objective, schools, colleges, and offices start early and close in the early afternoon to leave enough time for prayers and iftar.
Iftar, in Islamic terminology, refers to the evening meal eaten by Muslims after the sun has gone down during Ramadan.
What are local foods in Pakistan during Ramadan?
The Sehri or pre-dawn meal includes sweet dishes like Khajla and Phern. Eggs, either fried or made into an omelet, and parathas are also eaten to boost digestion and give extra energy for enduring the fast.
Pakistanis break their Ramadan fasts with juicy dates, black tea with cream and sugar, and homemade lemonade. These are followed by a small snack. They always have something fried, such as samosas or pakoras, the chickpea curry known as Cholay, and a sweet such as gulab jamun (milk balls soaked in syrup).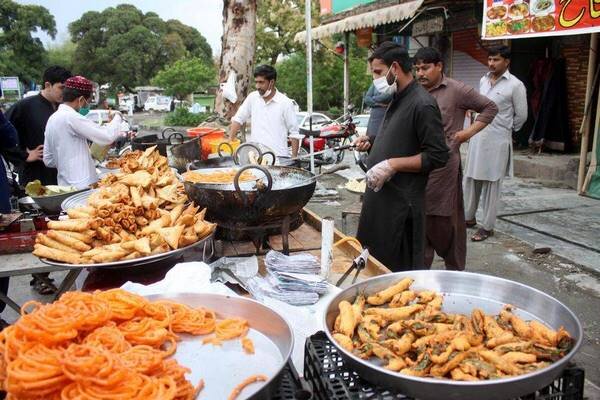 The main dish of iftar might be a lamb or chicken curry, accompanied by basmati rice. There'll be a vegetable side dish, such as cauliflower with potatoes or lentil dhal. For dessert, a Pakistani Halwah (different from Arabic sesame-based halvah) is made from Arabic sesame—based halvah semolina or carrots) or more Gulab jamun. There might also be Shami kebabs, seasoned ground beef patties, with Poori (deep-fried puffed bread). Dates and water are an integral part of iftar.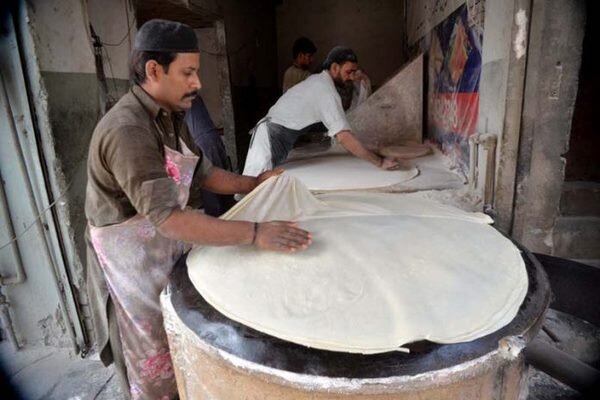 Preparing traditional bread named Samosa Patti before Iftar is common during the month of fasting.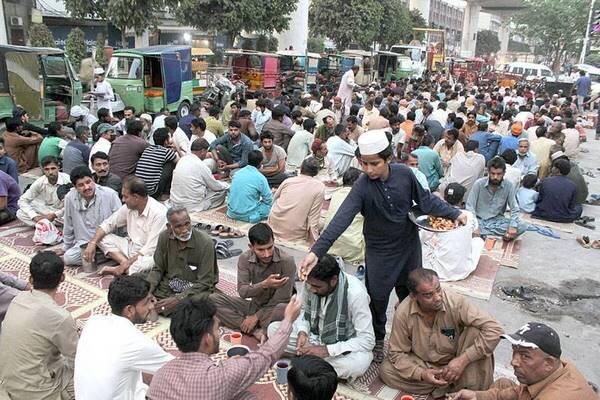 During the Holy month of Ramadan, volunteers in Pakistan distribute food among people to break their fast.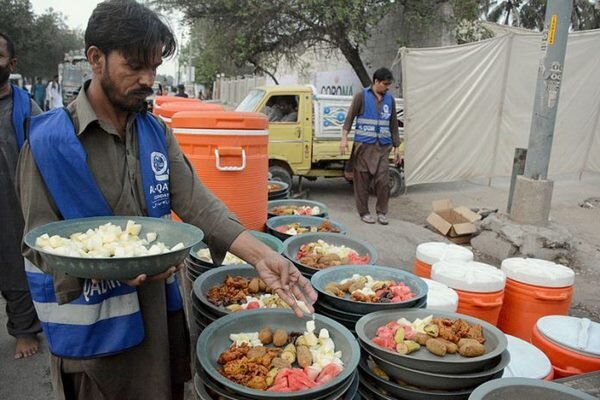 Pakistani people also arrange an iftar tray for Muslims during the holy month.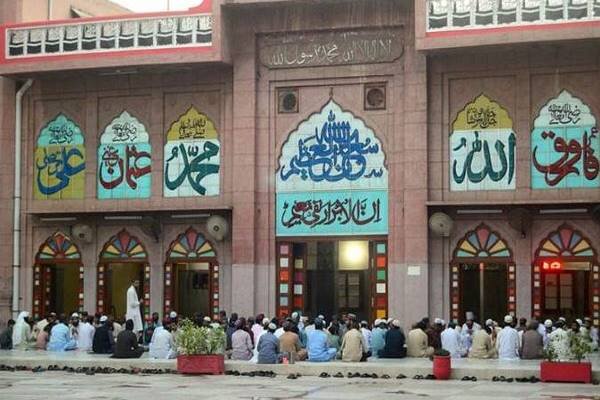 Among other traditions in Ramadan, it can be said that citizens in the country wait for the Maghrib Azan to break their fasts while volunteers distribute the iftar meal among the people.
What about some rules and regulations during Ramadan?
It is illegal to eat or drink in public in Pakistan during Ramadan.
This includes private and public offices. Violating this rule may attract some fines and penalties.
Reported by Amin Mohammadzadegan Khoyi