It is natural that US cannot tolerate the Islamic Revolution because it knows Iran's great power in the West Asian region, said Rouhani while addressing Feb. 11 rallies in Tehran.
The US has been dreaming of a return to Iran since 41 years ago, highlighted Rouhani.
Americans had chosen the monarchy for Iran and wanted to preserve it so they are objecting to why the Iranian nation chose their own path, he said, adding "US says we must return to 41 years ago but we say we don't do so … therefore, we see hostility of US has emerged during the past 41 years in various forms."
He called on the Iranian nation to boost unity, saying, "if we are united, America will be defeated and economic growth will happen."
He said that both diplomacy and resistance is needed in confronting enemies. "Martyr Soleimani was both a general in the battlefield and a senior diplomat in negotiations. He was martyred en route to talks with Iraqi Prime Minister not en route to battlefield," he said. "Martyr Soleimani was not seeking war and instability in the region; US and Israel are lying about him. He was after creating stability and offered security to the region."
Rouhani praised the achievements of the country in the defense field during the past several years. "Before the Islamic Revolution, 95% of required arms were imported to the country while today, all of our needs are fulfilled domestically; this means we have scientific capability and military might."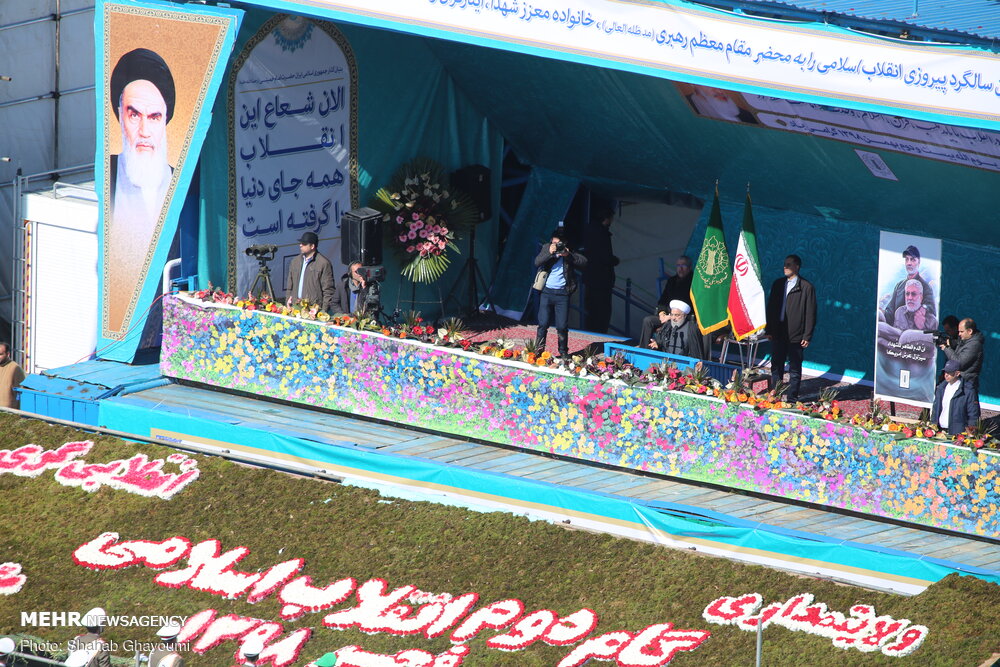 "What the US is looking for with this much pressure on our people, targeting all our import, export and basic needs is to take away people's patience," Rouhani said as reported by his official website.
"What is miscalculation is that the Americans have not understood the position and greatness of the Iranian nation. Americans thought that they are facing 41 years of civilization; no, they are facing thousands of years of civilization; the Iranian and Islamic civilization for centuries," he said, adding "Of course, the Islamic Revolution has done very important things in the past 41 years. America is not facing a system or officials; the mistake they are making is that they are facing 83 million people who are united."
"Our people are integrated and unanimous when the revolution is concerned; wherever national interest is concerned, we are united. You saw during Gen. Soleimani's funeral that people were united. All people stood against the superpowers and America and voiced their opinion."
"America wants to bring the Iranian nation to its knees. America wants a government that does not want to take the heavy responsibility," Rouhani noted, highlighting "This is where America is wrong. They don't know that in Iran, the government, people, armed forces, the three branches, and everyone is united under the flag of the Islamic Republic and the Supreme Council of the Revolution."
"Americans thought that if they continued sanctions for three months, no foodstuff would be found in Iran. They said that if they continued sanctions for 3 months, no medicine would be found in Iran and people would have problems finding water, power, and gas."
"In the past two years, we have been under the most severe sanctions but in recent months, our government and people are overcoming problems every day. But today, our people are seeing that we are self-sufficient in many foodstuff items. The day the Revolution achieved victory, Iran's agricultural production was 26 million tonnes a year. The day the 11th government started its office in 2013, our foodstuff production was 97 million tonnes and today, it is 126 million tonnes."
"America is wrong and hasn't understood that our farmers and engineers all over the country are firmly standing for their needs. They thought that if they impose sanctions on our petrol, queues would be formed in petrol stations, but what happened today? Today we are exporting petrol," he added.
MNA/ 4850405/President.ir