In a meeting held on Monday with Chairman of the Senate of Pakistan, Raza Rabbani, Iranian President Hassan Rouhani stressed Iran's top foreign policy priority as developing ties with neighboring countries, adding "Iran considers Pakistan's security as its own security and it is essential for the security of the whole region that we boost cooperation between our countries, particularly in combating terrorism."
"Iran is a reliable source of energy for Pakistan and developing, restoring and connecting the two ports of Chabahar and Gwadar can contribute to growing progress and development of the region," President Rouhani added.
The Pakistani parliamentarian, for his part, voiced his country's resolve to expand cooperation with Iran in fighting terrorism and boosting security at the two countries' borders.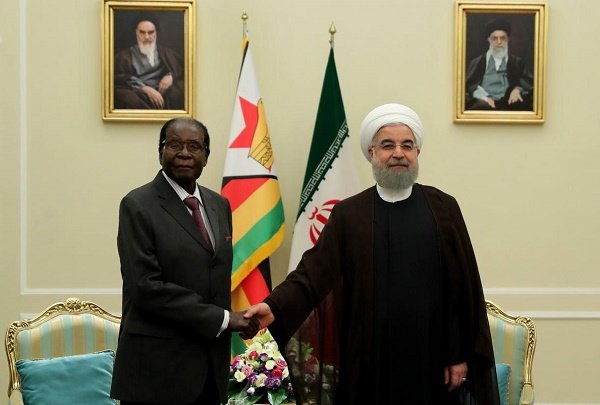 Also on Monday, President Rouhani met with President of Zimbabwe, Robert Mugabe, during which the Zimbabwean side called for closer cooperation with Iran in the fields of agriculture, communication technology, mines and underground resources, as well as manpower that could act as a good base for transfer of experience with the Islamic Republic.
President Rouhani also held talks with the Minister of Justice of Bolivia and the Bolivian President's special envoy, Héctor Arce Zaconeta on Monday, highlighting the two countries' close views on different bilateral and international issues, and describing Bolivia as a "revolutionary country in Latin America".
"Independent countries must stand together and form a united front," Rouhani stressed, noting that the presence of delegations from over 100 countries at his inauguration proved that independent and revolutionary countries are not isolated.
The Iranian president then referred to the next GECF Gas Summit in Bolivia, deeming it an important factor for boosting unity among producers and determining a balanced price in the market.
He also voiced Iran's readiness to provide Bolivia with valuable experiences in the field of exploring gas fields, extraction, and construction of refinery and gas transmission lines.
For his part, the Bolivian official stressed his country's resolve for deepening relations with Iran in various fields, and handed over an official invitation of the President of Bolivia to Rouhani for participation in the coming GECF Gas Summit.
MS/4052415/4052361/4052429