In the meeting on Wednesday in Tehran, President Rouhani received Austrian Ambassador Stefan Scholz's letter of credence, saying "the two countries have ample potentials in various fields, especially investment, business, science and modern technologies and they can take advantage of these potentials to further deepen ties to serve the two nations' interests."
"In the post-JCPOA era, better and more opportunities for more relations have been provided to further deepen ties with all European countries and these opportunities must be used," he added.
Hailing Austria's successful hosting of the nuclear negotiations, he said "Today, because of the nuclear agreement, a peaceful economic atmosphere has been created that benefits the two sides and we are determined to use this new opportunity to attract investment, transfer modern technologies and facilitate economic cooperation, especially in banking transactions."
"Full implementation of the JCPOA agreement is beneficial to the European Union and the region," Rouhani said while urging EU for a more active part in its implementation.
Stefan Scholz's, for his part, said Austria is determined to establish multilateral cooperation with Iran in developing regional and international security.
Also on Wednesday, President Rouhani met with the new Ambassador of Serbia to Tehran, Dragan Todorovic, saying "the Islamic Republic of Iran welcomes closer, friendlier ties with Serbia and considers developing ties in all fields as beneficial to both nations."
"The two countries have ample potentials promoting tourism and facilitating tourists' travel can be very effective in familiarizing the two nations and closer ties between them," Rouhani added.
Dragan Todorovic, for his part, voiced his country's readiness to develop cooperation and relations with Iran in all fields, saying that the preliminary work in establishing good banking ties between the two countries has been carried out.
He also delivered an invitation by the President of Serbia to President Rouhani for an official visit.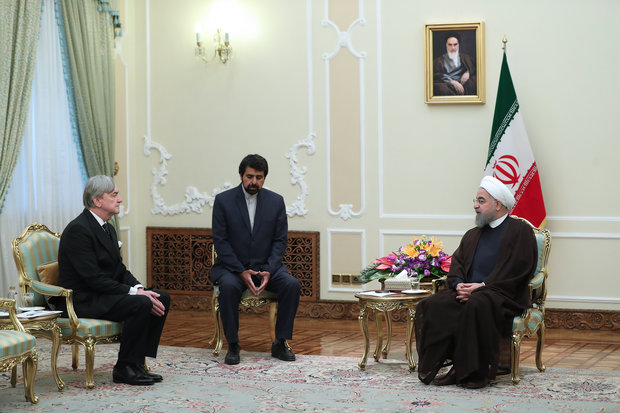 In a meeting with the new Ambassador of Uruguay to Tehran, Rouhani underscored further deepening of relations between the two countries in scientific and technological fields, as well as pharmaceuticals and expressed hope that the private sectors of the two countries develop relations to serve the two nations.
"Views and stances of the Islamic Republic of Iran and Uruguay on global issues are very close to each other and the two countries believe that relations on the international scene must by based on mutual respect," the President added.
For his part, the Uruguayan ambassador voiced Montevideo's resolve to develop ties with Tehran, adding "I will do my best to cement ties and cooperation between the two countries in all fields of mutual interest."
Rouhani also held a meeting with new Ambassador of Iran to Paris, Abolghassem Delfi, calling on him to take advantage of opportunities of the post-JCPOA era to relations and cooperation with France in various fields such as investment and transfer of technology in different fields such as energy, industry and transportation.
MS/PR