Saying that the US enmity with the Islamic establishment and the Iranian nation is not a new event, Nasser Kan'ani in a series of tweets on Monday wrote that the legal and international responsibility of different American administrations' hostile actions against Iran cannot be concealed.
The senior Iranian diplomat made the remarks referring to the statements of the Leader of the Islamic Revolution on Monday regarding a newly declassified document about the 39th US President Jimmy Carter.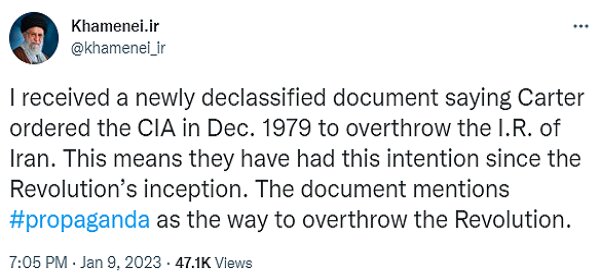 He went on to say that the anti-Iranian maximum propaganda and political and economic pressure have always been on the agenda of all the US presidents, from Carter to Biden, under the false pretext of defending human rights and democracy.
"But they have not achieved anything more than "maximum failure"," Kan'ani stressed.
Why don't Americans learn from all the scandals caused by their trust in traitorous Zionist and hypocritical advisors?, Kan'ani continued, adding that Iran, here, is independent and powerful.
MP/FNA14011020000482