Directed by Farajollah Salahshur, the TV series details the life of Prophet Joseph (AS).
Iman Khosravi, Hossein Jafari, and Mostafa Zamani play the Prophet Joseph (AS) in various periods of his life.
Zamani, 26, made his acting debut in "Prophet Joseph (AS)". He was selected from among over 2000 professional and amateur actors, who were tested to play the youth and adulthood of the prophet.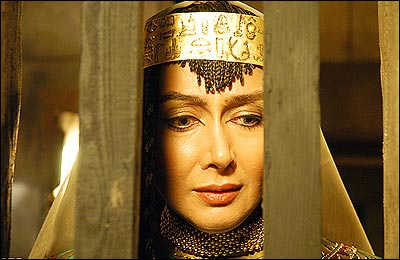 Katayun Riahi in a scene from "Prophet Joseph (AS)"
Katyun Riahi, Mahmud Pakniyat, Jahanbakhsh Soltanii, Jafar Dehqan, Rahim Noruzi, and Paravneh Masumi are the main members of the cast.
The 45-episode series was produced by Sima Film Productions, an affiliate of the Islamic Republic of Iran Broadcasting (IRIB).
Broadcast of the series was concluded last week on IRIB's Channel 1.
An IRIB delegation left Tehran for Cannes on Monday evening to promote the organization's productions during the Cannes Film Festival, which opens tomorrow.
Several Iranian institutions including the Farabi Cinematic Foundation, the Art Bureau, and the Experimental and Documentary Film Center will offer their latest productions during the event.
The Cannes Film Market (Marché du Film) takes place annually coincident with the Cannes Film Festival.
The 62nd edition of the gala will run until May 24.
MMS/YAW
END
MNA