Russia's permanent envoy to international organizations in Vienna Mikhail Ulyanov in a tweet on Monday reacted to the statements made by the Iranian Foreign Ministry Spokesperson Nasser Kan'ani regarding the issue earlier on Monday.
During his weekly press conference on Monday, Nasser Kan'ani stressed that if the other side makes a mistake & takes an irrational action regarding the JCPOA deal and the negotiations process, they know precisely and clearly what Iran's reaction will be, according to the message they previously received from Iran.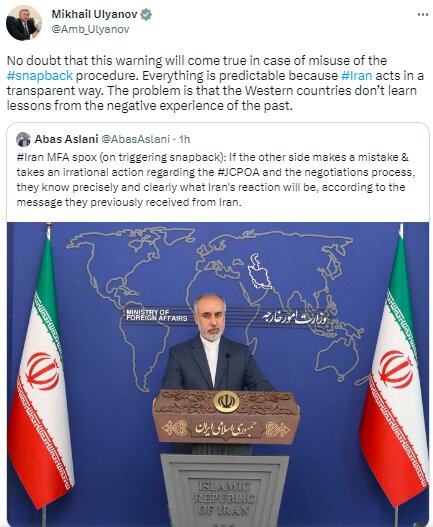 "No doubt that this warning will come true in case of misuse of the #snapback procedure," Uluyanov tweeted.
"Everything is predictable because #Iran acts in a transparent way. The problem is that the Western countries don't learn lessons from the negative experience of the past," he added.
The JCPOA was signed in 2015 between Iran and the five permanent members of the UN Security Council and Germany. Former US President Donald Trump illegally pulled out of the deal in 2018 while the current US President, Joe Biden, has signaled that he is ready to resurrect the agreement.
Russia, the UK, Germany, China, the US, and France have been in talks with Iran since April 2021 to reinstate the deal.
The talks to salvage the JCPOA kicked off in the Austrian capital of Vienna in April 2021, with the intention of examining Washington's seriousness in rejoining the deal and removing anti-Iran sanctions.
The negotiations have been at a standstill since August due to Washington's insistence on its hard-nosed position of not removing all the sanctions that were slapped on the Islamic Republic by the previous US administration. Iran maintains it is necessary for the other side to offer some guarantees that it will remain committed to any agreement that is reached.
MP