In the past few weeks, the Middle East has become the hotbed of fresh bouts of unrest, tension and threats in the wake of US President Donald Trump's visit to Saudi Arabia where a multibillion arms deal was sealed between the two sides, followed by provocative remarks by Trump calling on countries to isolate Iran, and Saudi officials practically threatening the Islamic Republic with war. Right on the heels of threats, Tehran was hit in near-simultaneous terrorist attacks that targeted the country's two symbolic venues, namely the parliament and the shrine of the founder of the Islamic Republic of Iran, Ayatollah Khomeini. 17 people were killed and over 50 injured during the attacks claimed by ISIL terrorist group.
The Islamic Revolutionary Guard Corps in a statement issued after the attacks vowed harsh retaliation and drew attention to the timing of the attacks which followed soon after Trump's visit to Riyadh and the exchange of provocative threats against Iran. "World public opinion, especially in Iran, sees the fact that this terrorist act was perpetrated soon after the meeting of the US president with the heads of one of the reactionary regional states that has always supported terrorists as to be very meaningful," the IRGC statement read, not explicitly naming Saudi Arabia at the time.
On June 13, however, six days after thorough investigation and arrest of some 40 terrorists with connection to the attacks, IRGC commander Maj. Gen. Mohammad Ali Jafari said that Iran has obtained accurate intelligence that Saudi Arabia had also supported the terrorists and asked them to carry out attacks in Iran.
In another Saudi-related development in the region, on June 5, PGCC members Saudi Arabia, the United Arab Emirates and Bahrain, announced their decision to sever diplomatic relations with Qatar and install an air, land and sea blockade. High on the list of reasons for breaking ties, Saudi Arabia named Qatar's friendly ties with Iran and Hamas.
All in all, the Arab kingdom, further emboldened after Trump's visit, seems to have taken its efforts for thwarting Iran's influence to the next level.
Mehr News correspondent Marjohn Sheikhi has conducted an interview with former US diplomat and policy adviser for Senate Republican leadership James George Jatras on the recent developments in the Middle East.
Mr. Jatras believes that Iran has a good reason to be seriously concerned by Saudi Arabia's provocative remarks, but maintains that the current rift among the PGCC states over Qatar could have internal destabilizing impact inside Saudi Arabia and likely to dissuade Saudis from undertaking an even bigger gamble with Iran.
The following is the full text of the interview with former US diplomat Jim Jatras:
Saudi Arabia has recently become very vocal in its threats and hostility toward Iran. Saudi defense minister, Mohammad bin Salman, practically threatened to "take the battle" to Iran's territory. Should Iran have a reason to be seriously concerned, especially in the wake of June 7 terrorist attacks?
Yes of course. Riyadh – or more precisely, Muhammad bin Salman – believes he now has a carte blanche from Washington to confront whomever he likes. This means not only continuing and intensifying the carnage in Yemen and trying to achieve "regime change" in Doha, it means a final push to eliminate Iran as a regional power.
Trump backed away from his criticism of Saudi Arabia after he took office, ignoring the kingdom's blatant cases of human rights violations and war crimes. Yet, the US is still persisting on sanctioning democratic Iran for human rights and missile tests, right on the heels of Iran's presidential elections and later the ISIL attacks on Tehran. How do you evaluate the reason, impact and conclusion of Trump's contradictory positions toward Saudi Arabia and Iran?
It is not unclear why Trump has moved away from his campaign positions and embraced the world's leading sponsor of terrorism – in the name of fighting terrorism. It may in apart derive from appointing people to his administration whose policy views are more in accord with those of Hillary Clinton than President Trump's. But that's not an excuse, it's his fault for appointing them. Also, there are those who suggest that by giving total support to Saudi Arabia against Iran and the bogeyman of the "Shiite Crescent," Trump can set the stage for "grand bargain" for an Israel-Palestinian settlement that will have all the Sunni countries on board. This seems to me unrealistic at best.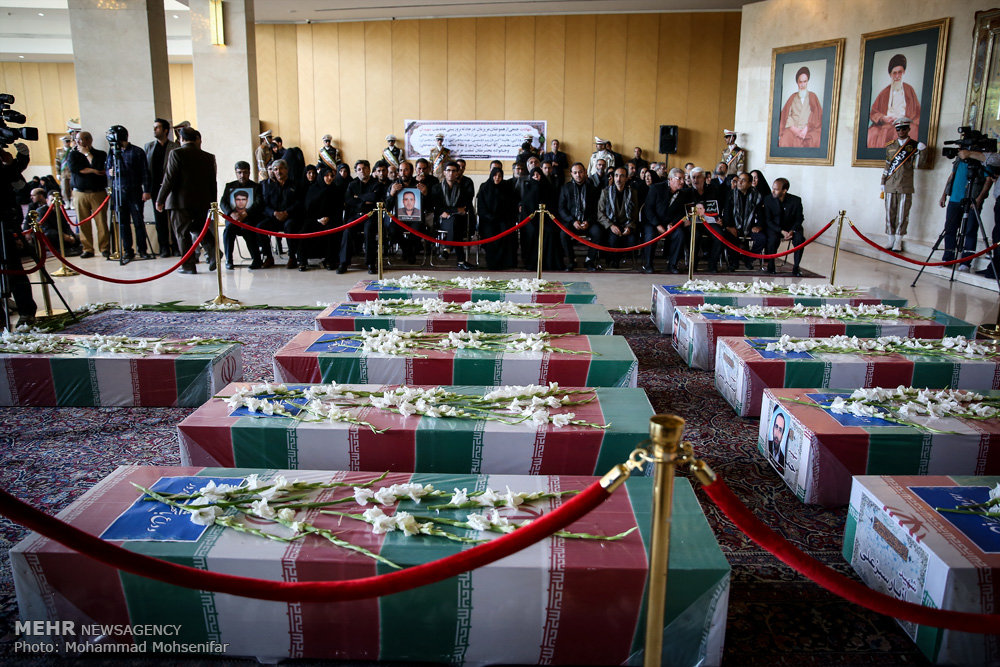 Trump and Saudi rulers called for 'isolating' Iran at the time Iran wishes for constructive engagement with the world. Will the world follow blindly what the US wants, or Iran's nuclear deal will preserve and the country will finally see America come around and respect its commitments under the deal?
I think very few countries outside the region will come along. The immediate crisis over Qatar, far from rallying the world to Saudi "leadership" under American auspices is having the opposite effect. Even the foreign minister of Germany, usually one of our most obedient satellites, has denounced it and blamed Trump. It has brought America's NATO ally Turkey even closer to Iran in support of Qatar, with Russian influence gaining in the region. I can't imagine this is what Trump was aiming at.
How likely is the prospect of peace between the two regional powers, Iran and Saudi Arabia?
For the short term quite bad. It depends on how adventurist Muhammad bin Salman is willing to be, and to what extent the US administration will quietly restrain him, not encourage him. Unfortunately, the Administration does not seem to speak with one voice, with Secretary of State Tillerson evidently trying to calm the crisis but the President – probably on advice from National Security Adviser McMaster – rhetorically doubling down on condemnations of Qatar and support for KSA. But if the window for action against Qatar is closing and KSA is forced to back down, it could have internal destabilizing impact inside Saudi Arabia. Perhaps that would dissuade them from undertaking an even bigger gamble with Iran.
Saudi Arabia severed ties with Qatar, for its relations with Iran and Hamas high on the list. Which countries will benefit from the crisis? Is the crisis really beneficial to the US – which is clearly backing Saudis on this – when the Americans have possibly the largest USAF base worldwide in Qatar?
Saudi Arabia and Israel share a scorched-earth 100% hostility to Iran and anyone they see as associated with them in Iraq, Syria, and Yemen. Whether this is really in those countries' interests I can't say, but it's hard to see how the US benefits. Certainly the Qatar-KSA confrontation may imperil the US base in Qatar, but that begs the question of why we want to have it there in the first place. On the other hand, if the Saudis can impose regime change either via a coup or invasion, maybe that also solves the US problem. Keep in mind that what is now Qatar was part of the first and second Saudi states (defunct in 1818 and 1891 respectively). Maybe that's what they have in mind?
How do you predict the conclusion of the Qatari crisis? Will Qatar accept Saudis' terms or will the Saudi regime be forced to back down from its hostile position?
At this point I think a Saudi back-down is more likely. As noted, I think they missed their window. That said, Muhammad bin Salman has shown how reckless he is. He is capable of, literally, anything, with disastrous results. He needs to go.
James George Jatras is a specialist in international relations, government affairs, and legislative politics. He served for many years (1985-2002) as policy adviser and analyst for the Republican leadership in the US Senate; before that (1979-1985), he was a US Foreign Service Officer with the US Department of State, with service in Mexico and in Soviet affairs and public diplomacy. He is currently Deputy Director of the American Institute in Ukraine, a privately funded American NGO.
Interview by: Marjohn Sheikhi