President Rouhani received new Japanese Ambassador to Tehran Hiroyasu Kobayashi on Tuesday, where he said that the political will of the two countries to deepen bilateral relations was manifest in his meeting with Japanese Prime Minister Mr. Shinzō Abe on the sidelines of UN General Assembly meeting in New York; "Japan has voiced willingness to participate and invest in Iran's health and environment sectors; the grounds for cooperation in other sectors such as marine ecosystems, railroad expansion, port city structures, and electrifying railroad system are wholly prepared," Rouhani added.
Japanese new ambassador for his part presented Mr. Rouhani with his credentials and said that Japanese emperor hailed improving ties with Iran; "Iran and Japan have founded strong relations based on mutual interests during the history of their ties, and I am resolved to boost these ties further during my term as ambassador," Mr. Kubayashi told Rouhani.
In receiving Malian new Ambassador to Tehran Boubacar Gouro Diall, Rouhani offered condolences to Malian government and nation for the death of Malian Hajj pilgrims in Mina earlier this month; "Mina incident was an outcome of sheer incompetence of the Saudi authorities who did not properly respond to the incident," said the president. Gouro Diall for his part told Mr. Rouhani that during his time in Tehran, he had been a witness to Islamic Republic of Iran's all-out development and achievements in different fields which were accomplished solely relying on their own local capabilities.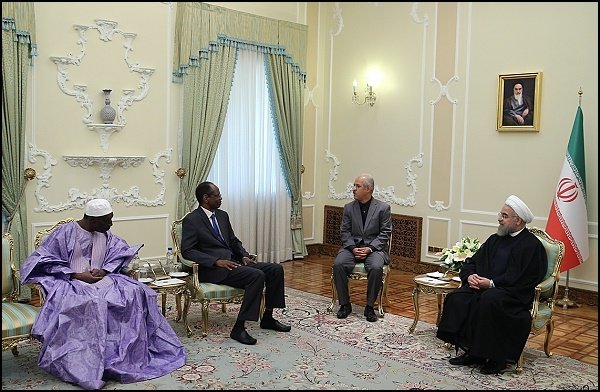 Shri Saurabh Kumar, new Indian Ambassador to Tehran was a third ambassador to present credentials to Mr. Rouhani who told the meeting that India, as a great Asian country, is an important friend to Iran with whom it had relations during the history; "the principle of neighborhood, connection through Indian ocean and other strategic issues work to deepen Iranian-Indian relations. Mr. Kumar also believed that the historical relations would provide a bedrock on which Iran and India could expand their relations in the modern era; "India welcomes cooperation with Iran in strategic issues such as terrorism; Chabahar in southeast coasts of Iran would be crucial in linking Afghanistan and Central Asian government, and India has special interests in investing by private sectors in Chabahar Free Economic Zone," said the Indian new ambassador.
Rouhani also received the credentials of Uzbekistan's new Ambassador to Tehran Mr. Bahador Abdullaev; "Iran and Uzbekistan have wide range of cultural common elements and friendly ties are strong enough, but should be improved further in economic sector," Rouhani told Abdullaev.
Drawing upon the historical significance of Uzbekistan's cities Samarkand and Bukhara during the Middle Ages for Iranians, Rouhani said that these two cities were popular and well-known as Shiraz, and were centers for cultural and literary movements in Middle Ages.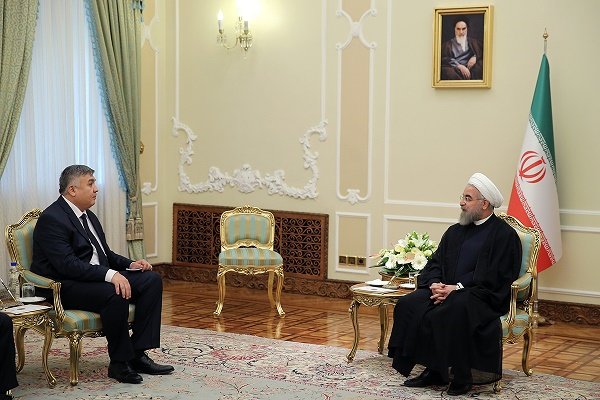 Abdullaev for his part, said that his country had always been working to boost Tashkent-Tehran relations; "the Islamic Republic of Iran has a unique strategic position in the region with ample economic opportunities, which make the country as one of the priorities in any Uzbekistan government agenda," said Abdullaev.
Sudan's new Ambassador to Tehran Adil Ibrahim Mustafa also was among the foreign ambassadors who presented their credentials to President Rouhani earlier on Tuesday. "Sudan had always been an important Islamic country in Africa and a friend of the Islamic Republic of Iran, and have had good relations with Iran during past 3 decades; Iran had been beside Sudanese government and people and will remain so in the future," Rouhani told the new ambassador.
"Dialogue between Iran and Sudan would help issues in Islamic world; we hope that in the future we will never see war and bloodshed in the region, and all problems would be solved through diplomacy and negotiation," he asserted. Mr. Ibrahim Mustafa, for his part believed that Iran's nuclear deal with the west was a historic deal and which clearly demonstrated Iran's hard work to hit it with the 5+1 and to secure its inalienable right to peaceful nuclear energy.
SH/MNA