Hailed as "the project of the century" by Xi, it is a comprehensive project that seeks to embrace all aspects of development.
The BRI is a massive trade and infrastructure project that aims to link China — physically and financially — to dozens of economies across Asia, Europe, Africa, and Oceania.
The primary focuses of the BRI — also known as One Belt One Road (OBOR) — are infrastructure, transportation, and energy.
OBOR consists of two parts: The "Belt," which reinvents the ancient Silk Road land route, and the "Road" which is a route through various oceans.
It is the greatest ever project introduced to the world. Its dimensions are huge.
As Beijing is celebrating the fifth anniversary of the BRI, China has so far invested at least $900 billion in projects along the BRI countries, mainly in infrastructure, transport, and energy.
Win-win game
Chinese officials insist that the BRI is not a zero-sum strategy. They say it is a win-win game.
Chinese have selected the slogan of "Contribution by All, Benefits for All" for the huge BRI project.
Actually, while the project is fully realized it makes the world more interconnected and creates more amity between nations.
Chinese say, "It reinforces people-to-people connectivity" along the Belt and Road.
BRI is a road to peace
Quite aware that the United States in opposed to the megaproject and is provoking other countries not to join it, Chinese officials say the BRI seeks "peace", "prosperity" and "integrity" for all.
China is inviting nations to "set aside prejudices" and "revive the ancient history".
The ancient history refers to the Silk Road.
Ji Bingxuan, vice chairman of the NPC Standing Committee, even believes that the BRI sets the stage for promoting global friendship, saying, "BRI will build the road to peace."
In general, when the BRI project is fully implemented it makes the world safer as the economies of the countries along the Belt and Road will serve as complementary to each other.
"China Not First" in BRI
In an open reference to US President Donald Trump who is seeking "America First" policy and officially announced opposition to globalization, Li Baoshan, president of the People's Daily, says: "We are not putting China First in the BRI project."
China has emerged as the second largest economy in the world since it opened its arms to market economy under the leadership of Deng Xiaoping, who ruled the People's Republic of China from 1978 until 1989.
Speaking at a speech at a Shanghai trade fair on November 5, President Xi criticized protectionism under Trump. Xi said, "As globalization deepens, the practices of law of the jungle and winner-take-all are a dead end." He added, "The Chinese economy is a sea, not a pond. Storms can overturn a pond, but never a sea."
In their speeches at the 2018 Media Forum on Belt and Road held at Hainan Province in late October, officials at local and national levels as well as senior journalists from the People's Daily insisted on China's respect to free trade.
The lecturers said China is ready to share its experiences with the "rest of the world" in upgrading their economy.
They said China is seeking "shared future for humankind".
China says BRI is a green project
As energy is one of the main drivers of the BRI project, sticking to clean energy is of utmost importance. In advancing the project, clean energy should be given high priority as global warming and environmental degradation are causing serious headache for humanity and other species.
Speaking at the media conference, an official from China's power grid corporation said Beijing attaches great importance to "renewable energy" in implementing the BRI project.
Though China has turned into the biggest polluter in the world in the recent years, superseding the United States, it is now the world leader by investing in renewable energy.
Silk Road is a 'precious legacy'
As the largest project of the century, the BRI links 70 countries across Asia, Europe, and Africa through a network of railroads and shipping lanes. Yet, the Global Times says the BRI is intended to boost China's trade and infrastructure links with more than 80 countries in Asia, Europe, Africa and South America.

The Silk Road was an ancient land route across Europe and Asia that connected traders and travelers from regions like China, Persia (old Iran), and the Roman Empire. Merchants used to transport silk and other commodities by camel or horse along those roads.
Now proponents say the Silk Road should be cherished as a "precious legacy" for today's world. Today, modern Iran, due to its geostrategic situation and great size in West Asia, can serve as an important bridge between Asia and Eastern Mediterranean and Europe within the BRI project.
Investment in BRI projects
Reportedly, China has so far invested more than $900 billion in projects in countries partner to the BRI. Examples are a gas pipeline in Pakistan, a 336 kilometer rail line linking Budapest to Belgrade, and a high-speed rail link in Thailand.
In 2016, China established the Asian Infrastructure Investment Bank (AIIB), an international development bank to help build infrastructure in BRI countries— almost like the Asia-Pacific equivalent of the IMF.
Trade with BRI countries
China's imports and exports with BRI countries reached $860 billion over the first three quarters of the current year, a rise of 13.2% from a year earlier, the Xinhua news agency has reported.
Chinese enterprises have injected a total $10.78 billion of non-financial direct investment in the Belt and Road countries over the same period, a rise of 12.3% from last year, Commerce Ministry spokesman Gao Feng has said, according to Xinhua.
In terms of infrastructure projects, the China-Laos railway and the Hungarian-Serbia railway were steadily advancing.
3,100 BRI projects implemented
Chinese state-owned enterprises (SOEs) have in the past five years carried out a total of 3,116 investment projects in countries covered by the BRI, Global Times reported on Oct. 31.
Weng Jieming, deputy chief of the State-owned Assets Supervision and Administration Commission (SASAC), said nearly one hundred SOEs had comparative advantage in building projects such as ports, railways, highways and communication networks.
He lists the Greek port of Piraeus owned and operated by COSCO, as well as the Chinese-built railways in Kenya and Ethiopia as examples of successful logistics and transport projects.
Wang said the SOEs had played a positive role in improving local people's livelihood.
"Around 85 percent of the employees at the central state-owned enterprises' overseas branches are local people," he said, the Global Times reported.
The SOEs would strengthen cooperation with private Chinese companies, local firms in Belt and Road countries and multinational corporations to better protect against risks, he said.
BRI states account for a third of global GDP
So far many countries including Pakistan, Russia, Hungary, New Zealand, Poland, and Serbia have joined the project. Together they make up at least a third of the world's GDP, over 60% of the world's population and 75 percent of known energy reserves.
The scope of the initiative is still taking shape. More recently the initiative has been interpreted to be open to all countries as well as international and regional organizations.
Market rules
From the European perspective, the BRI has the potential to be hugely positive as long as it adheres to EU market rules as well as to international requirements and standards.
Europe is a prime investment destination for the BRI. According to Carnegie Endowment for International Peace, though not all Chinese investments in Europe are strictly BRI-related, Chinese foreign direct investment in Europe has soared from under €1 billion in 2008 to €35 billion in 2016 — more than triple the amount of European financing flowing in the opposite direction.

While certain officials and analysts in the West say that China's global rise and its BRI project present a challenge to the West, Beijing is insisting that the BRI seeks "mutual understanding" and it "belongs to the world".
BRI not restricted to trade
The BRI has not restricted itself just to trade. It is a comprehensive plan which considers other areas of cooperation between involved countries.
For example, Bai Chunli, president of the Chinese Academy of Sciences (CAS), said on Nov. 5 that China is willing to strengthen cooperation with BRI countries in scientific research on climate change, biodiversity and epidemics and infectious diseases. Also, President Xi, in a letter to the launching of the Alliance of International Science Organizations (ANSO) in the Belt and Road Region, called for scientific and technological cooperation among BRI countries.
BRI offers unique opportunity to Africa
The World Bank says the BRI offers a unique opportunity to address the large infrastructure gap in developing countries that hampers trade and economic development.

Africa has haild BRI in fostering connectivity and thereby accelerating integration and economic diversification on the continent.
Speaking at the Forum of China-Africa Cooperation (FOCAC) in Beijing in September, Chinese Ambassador to Ethiopia Tan Jian said the BRI is a platform to promote global cooperation and common development based on win-win results.
The ambassador said the initiative is in line with the United Nations sustainable development goals and the African Union's Agenda 2063 which is a blueprint for African development and prosperity.
On the relevance of the initiative to the AU's Agenda 2063, James Wakiaga, economic advisor at the UN Development Program (UNDP), noted that the BRI is vital to address the infrastructure deficit in Africa.
"The Belt and Road Initiative is very important particularly in terms of closing the infrastructure gap… so we need to look for the different sources of financing to Africa's infrastructure to be able to accelerate structural transformation and diversification," Wakiaga told Xinhua.
Professor Kassahun Berhanu from Political Science Department of Addis Ababa University said the initiative is envisioned towards increased understanding, enhanced recognition of multiculturalism and diversity, and peaceful collaboration for achieving mutually rewarding goals and objectives.
In May 2017, Kenya launched its first Chinese built high-speed railway. It connects Nairobi to the major port city of Mombasa. The 290-mile railway was built by the China Road and Bridge Corporation. It was financed almost completely by the China Eximbank. The railway is planned to extend to Uganda, the Democratic Republic of Congo, Rwanda and Burundi, South Sudan, and Ethiopia.
BRI has turned from vision into reality
Huang Kunming, head of the Publicity Department of the Communist Party of China (CPC) Central Committee, said on Nov. 2 that the BRI has turned from a vision into a reality and yielded fruitful results.
Huang made the remarks in a meeting with a 256 representatives from 205 media outlets and institutions from 90 countries and international organizations who had attended at the 2018 Media Cooperation Forum on Belt and Road.
Giants seem to join hands in BRI
In the rapidly changing world, China's offer to Japan to be involved in the BRI projects can be highly promising. It is highly important in view of Japan's high technology and experience in overseas projects.
In meeting with Japanese Prime Minister Shinzo Abe, who visited Beijing on Oct. 25, Chinese Premier Li Keqiang said his country would welcome Japan's involvement in China's overseas infrastructure projects.
"China welcomes Japan to take part in the Belt and Road Initiative," Li said, according to the South China Morning Post.
Abe also pledged to lift Tokyo's often-tense relations with Beijing into a "new dimension" in a "new era" of cooperation.
Also, during Abe's meeting with President Xi, China and Japan announced 50 joint infrastructure projects through the Belt and Road Initiative.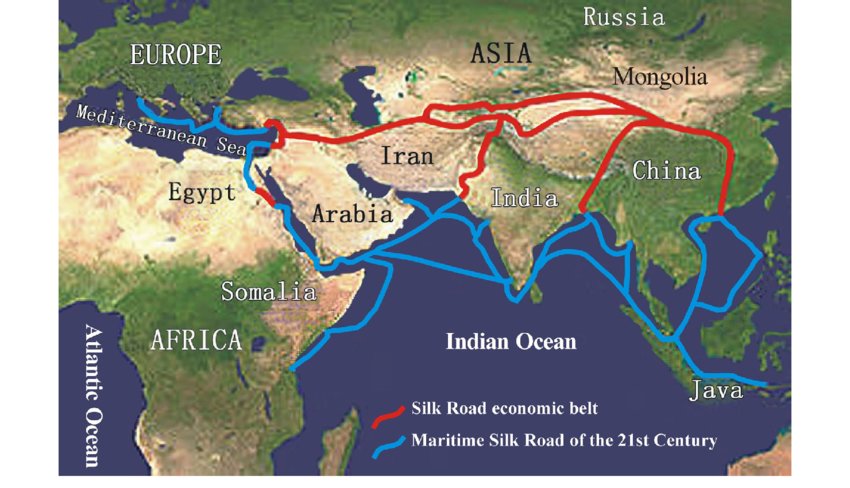 Shiro Armstrong, director of the Australia–Japan Research Centre in the Crawford School of Public Policy at the ANU, says China's welcoming of Japan to undertake joint projects is a sign of a change in approach to rolling out its BRI.
For Japan it's a pragmatic way to engage China. As Chinese policymakers search for ways to better deploy the country's vast sums of capital abroad, Japan has experience of doing just that dating back to the 1970s, notes.
Armstrong says, "Japanese engagement can shape the massive investments and get more business for its companies. It's also a part of a broader hedge against an increasingly uncertain Japan–US relationship."
In view of an unpredictable leader at the White House who is undermining world order let alone global trade rules, the BRI presents tremendous opportunities in terms of trade and growth.
The BRI can be the engine of global growth and development if the giant economies of China and Japan – respectively the second and third largest – and other great economies like South Korea join hands to build a better future in cooperation with other countries along the Belt and Road.
The road ahead is bumpy as opponents in the United States and elsewhere accuse China of creating debt traps through its investments in recipient countries. Yet the "project of the century", as described President Xi, can change the shape of Asia, Africa and parts of Europe by strictly adhering to the principles of open tenders and transparency to reduce the likelihood of failed projects and improve the outcomes for both investors and host communities.
MNA/TT