Beiranvand had great saves in World Cup against Spain, Portugal and Morocco, recording one clean sheet in the event. His most shining moment was when he saved Cristiano Ronaldo's penalty. That brilliant save made him Iran's hero.
He was also selected as the best goalkeeper of 2018 World Cup group stage competitions by Guardian readers.
All these shining and reports was a sign that he will not be short of offers after the games.
Beiranvand is in contract with Iran's Persepolis FC until 2021 and the club will decide whether he heads other teams or not. This is while Persepolis seems to be in dire need of a good goalkeeper as the team will compete in the quarter-finals of AFC Champions League.
"Eight top clubs have put in offers for Beiranvand; most from Europe and few from Asia. The offers are fair and we are studying the cases," said Persepolis General Manager Hamidreza Garshasbi, Varzesh1 reported on Friday.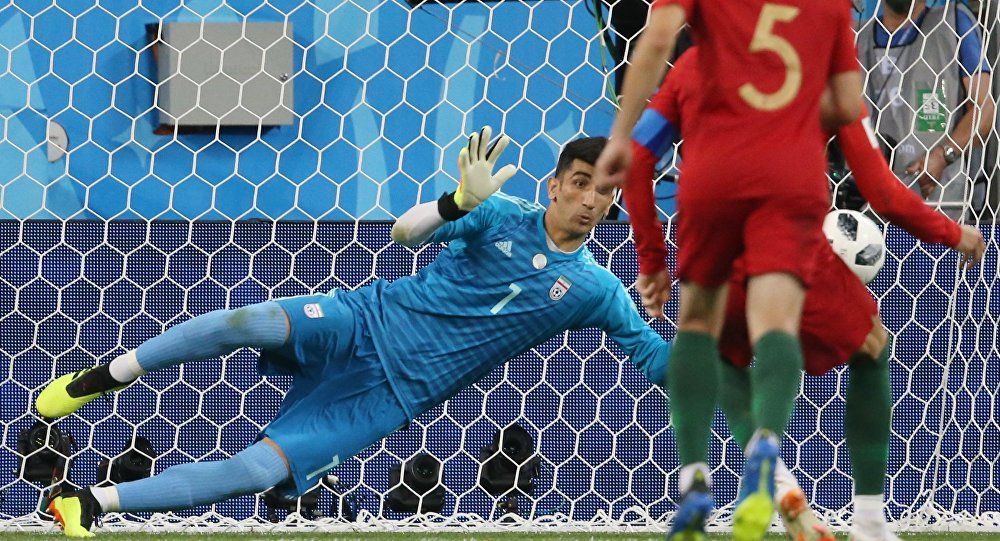 Beiro himself seems eager to start a new phase in his life by playing in the top European leagues. This is evident when Guardian quoted him as saying, "I'd like to play at Liverpool or PSG."
Italian Torino FC, Ukrainian FC Dynamo Kyiv and Turkish Beşiktaş are among teems which look to sign Beiranvand.
Torino FC has been reportedly offered a three-year contract with the goalkeeper. They have offered €900,000 for the first season. Their attempts to hire Team Melli's goalie has started just after Iran's elimination from 2018 World Cup.
From Eastern Europe, Dynamo Kyiv FC has proposed €1 million for the transfer which can also be enhanced to €1.2 million. The Ukrainian club has had direct negations with Beiranvand and their official offer will soon be handed to Persepolis FC officials.
Beşiktaş has also reportedly offered some €1 million for his hiring.
It's a fact that Persepolis doesn't like to lose its main keeper, considering that the team cannot hire any other player due to transfer ban. Croatian Božidar Radošević is the second goalkeeper of Persepolis and the team seems to lack any other qualified goalies; which can become a challenge for coach Branko Ivankovic.
Ivankovic has told club's managers during their last session that he needs Beiranvand and is against his transfer.
The transfer, if made, can provide substantial income for the Iranian club; the revenue which may be persuasive enough to risk on the transfer.
Many experts believe that Beiro will not be playing in Iran in next season. Although, time will tell.