The book is a glorious celebration of the food and people of Iran, featuring stories from home kitchens and more than 80 delicious, modern recipes, writes an anonymous reviewer. However, famous chefs and gourmets speak about the book in favorable terms as well; "this is so much more than a compilation of recipes, gorgeous though they themselves are. This is a book that tells a story, both cultural and personal, and her voice is as engaging as her food," Nigella Lawson, British gourmet and journalist believes.
"Barberries, fresh herbs, date molasses, dried limes, saffron; Yasmin's Persian pantry staples are a roll call of my favorite ingredients. Her recipes are a mouthwatering showcase of a beautiful country," says Yotam Ottolenghi, a British restaurant owner, recipe writer, and chef.
"Not just a great cookbook but a book full of stories – a love letter to Iran and its people," Diana Henry, a British food writer, the author of nine cookery books, describes the book.
Armed with little more than a notebook and a bottle of pomegranate molasses, and fueled by memories of her family's farm in the lush seaside province of Gilan, British-Iranian cook Yasmin Khan traversed Iran in search of the most delicious recipes for this Persian cookbook.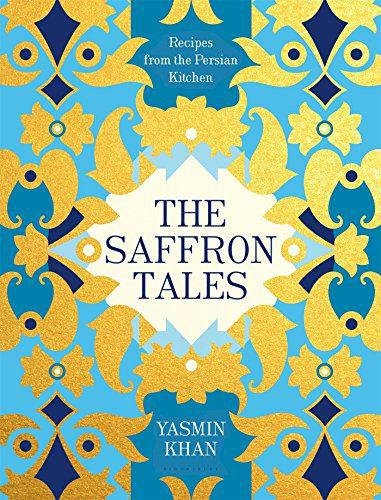 Her quest took her from the snowy mountains of Tabriz to the cosmopolitan cafés of Tehran and the pomegranate orchards of Isfahan, where she was welcomed into the homes of artists, farmers, electricians, and teachers. Through her travels, she gained a unique insight into the culinary secrets of the Persian kitchen, and the lives of ordinary Iranians today.
In 'The Saffron Tales,' Yasmin Khan weaves together a tapestry of stories from Iranian home kitchens with exclusive photography and fragrant, modern recipes that are rooted in the rich tradition of Persian cooking. All fully accessible for the home cook, Yasmin's recipes range from the inimitable fesenjoon (chicken with walnuts and pomegranates) to koufte berenji (lamb meatballs stuffed with prunes and barberries) and ghalyieh maygoo (shrimp, coriander, and tamarind stew). She also offers a wealth of vegetarian dishes, including tahcheen (baked saffron and eggplant rice) and domaj (mixed herb, flatbread, and feta salad), as well as sumptuous desserts such as rose and almond cake, and sour cherry and dark chocolate cookies.
With stunning photography from all corners of Iran and gorgeous recipe images, this lavish cookbook rejoices in the land, life, flavors, and food of an enigmatic and beautiful country.
SH/Book Review