"It is deeply saddening to be marking a whole year of violence in Yemen. A country whose people were already facing great deprivation and hunger, and who have had to deal since last March with the added horror of war, bombing, shelling; losing their homes and loved ones," this is what Stephen O'Brien, UN Under-Secretary-General for Humanitarian Affairs and Emergency Relief Coordinator, said in his statement on Yemen on 24 March 2016. O'Brien was appointed by Ban Ki-Moon as the UN humanitarian chief on 9 March, 2015; 17 days later, Yemen came under heavy airstrikes by Saudi Arabia's bombing campaign, which is backed by the United States and includes eight other Arab countries: Bahrain, Egypt, Jordan, Kuwait, Morocco, Qatar, Sudan, and United Arab Emirates.
Saudi Arabia was much aggrieved after Yemen's Houthi Ansarullah movement took state matters into their own hands and forced the U.S. and Saudi-backed puppet-president Abde Rabbo Mansour Hadi to resign and escape the country. Perhaps afraid of the spread of revolutionary ideologies to their own despotic regimes, and under the pretext of defending the 'legitimate government of Yemen', Saudi Arabia and its Persian Gulf Arab allies formed a coalition, without so much as a UN mandate, to restore Hadi – who had already lost his legitimacy for fleeing and being sought as a fugitive from justice – to power; a move that soon proved to be impossible as more and more people in Yemen, even those who did not side with the Houthis, started to reject Hadi as legitimate ruler, as he was the one who breached the sovereignty of the country by allowing external intervention and brought the country to the brink of disintegration and destruction. But none of these have deterred Saudi Arabia from pursuing its bombing campaign in Yemen. And the reports by Human Rights organizations across the world on the war crimes committed by the Saudi coalition, including child killing, attacks on hospitals and schools, and destruction of the country's infrastructures, have not managed to rally the world, particularly the Western side, against Saudi's unjustifiable aggression. Why is that?
Western media's silence on Yemen's crisis
"In just five months, the country is crumbling into a 'Syria-level crisis'," said the International Committee of the Red Cross (ICRC) about the fast deteriorating state of Yemen. Yet, not much has been covered by Western media outlets, not to the scope of the coverage of the Syrian war, which makes one wonder whether the international community is still unconvinced about the catastrophic scale of this humanitarian tragedy, or whether they are reluctant to report on atrocities that would expose their respective countries' complicity or undermine their false narratives about the crisis.
There is no questioning the powerful role of mass media in construction of public opinion and social change, and amid this, key opinion leaders have been created, on which many people around the world rely to get their facts. When the body of three-year-old Syrian Aylan Kurdi washed up on a Turkish beach a year ago, it was the social media that managed to draw the world's attention to the dire and perilous situation of Syrian refugees, galvanize public opinion, and by creating widespread sympathy for the humanitarian crisis, they managed to put pressure on European governments to be more accepting of the immigrants. By all accounts, the same trend was expected in regard to Yemen's crisis, with its staggering death toll of at least 4500 civilians and 6,711 others wounded, according to the Office of the High Commissioner for Human Rights (OHCHR). International Committee of the Red Cross (ICRC) and the World Food Program also announced that Yemen is on the brink of cataclysmic famine, with over 50 percent of the 24 million population at immediate risk. Yet, there is a deafening silence from Western media outlets, which could have been a tremendous help to force the Saudi-led coalition to abandon its campaign under international pressure and thus, alleviate the sufferings of the Yemenis, but instead, they decided to become complicit in the US-sponsored, Saudi-led nightmare that has been going on for one whole year and six months, with no immediate prospect of peace.
This reminds me of Iran's nuclear program and the media hype around it, that aimed to distort facts and disturb the atmosphere of the negotiations. The hysterical media spin about Iran's peaceful nuclear program and defense capabilities still continues, even months after the world powers reached a deal with Iran and admitted that a nuclear Iran had been a truly manufactured crisis. Western media outlets went into a frenzy for covering the delivery of Russian-made S-300 missile defense system, which are strictly for defense purposes, and threw a fit over Iran's missile tests. Yet, they continue to ignore Washington and London's arms deals to Saudi Arabia, worth billions of dollars and used to slaughter innocent civilians. They are also very adamant in giving copious coverage of the Syrian crisis, where the US, UK and France as major players are pushing for a regime change for strategic reasons, but Yemen still remains a muted case, because the Western media are reluctant to expose the complicity of the US and UK in the deaths of thousands of people in Yemen, and to prevent the flow of Saudis' dollars that funnel through the Western banks.
UN blacklists Saudi-led coalition for killing children in Yemen, later removes it under pressure
The Human Rights Watch in its reporting on violations by the Saudi-led coalition in Yemen, documented indiscriminate or disproportionate Saudi-led airstrikes that killed and maimed children in Yemen. Six such unlawful coalition attacks in early 2016 killed twelve children. In another airstrike, a bomb dropped by coalition aircraft on the Mastaba market in March 2016 may have killed 10 Houthi fighters but also killed 97 civilians, including 25 children. The report cites other attacks that killed more civilians than fighters, and among the civilians killed in airstrikes there have been at least 10 children. There is no denying the evidence, the astonishing bulk of which finally forced the UN Chief Ban Ki-Moon to publish a report on June 3 covering the period from January to December 2015, which documented the beginning of air strikes by the US-backed, Saudi-led coalition in Yemen on 26 March 2015. According to the report, intensive aerial bombardment took a devastating toll on the civilian population and 'grave violations against children increased dramatically as a result of the escalating conflict.' The report listed the Saudi Arabia-led coalition for killing and maiming and attacks on schools and hospitals, maintaining that 60 per cent of child casualties (death of 510 children and 667 more injuries) were attributed to Saudi Arabia.
But the UN soon announced the removal of Saudi-led coalition from the child's rights blacklist, after giving in to political manipulation by the Riyadh regime which threatened the international organization with de-funding several UN programs. Ban said he removed Saudi Arabia from the report under 'undue' financial pressure, adding the decision was 'one of the most painful and difficult' he has had to make as Secretary General. The decision drew a lot of heated criticism and condemnation from human rights groups, with Amnesty International censuring the United Nations "after it shamefully caved in to pressure to remove the Saudi Arabia-led military coalition from the UN's list of states and armed groups that violate children's rights in conflict." Ban stressed that the omission was 'temporary' until further investigations were conducted, but Saudi diplomats to the UN were quick to describe the change as an 'irreversible' moral victory. Almost four months have passed since then, the UN still claims that it needs to conduct more investigations, all the while Yemen continues to be bombarded by Saudi airstrikes where civilians, including children, are not spared, access to medical treatment, food and water is compromised, and the Western media chooses to remain remorselessly silent on Yemen's suffering.
US, UK complicit in Saudi's bombing campaign in Yemen
In the latest atrocity in Yemen, Saudi Arabia used internationally-banned cluster bombs in its air assaults against the impoverished country, dropping them on several areas in the district of Baqem in the northern province of Sa'ada on 4 August.
The United Nations' human rights office has recently called for an independent international investigation of cases of human rights violations in the Saudi war on Yemen, confirming the use of banned cluster bombs by Saudi Arabia against Yemen's residential areas. According to a report by Human Rights Watch, an airstrike used US-supplied cluster munitions in a December 12, 2015 attack on the Yemeni port town of Hodaida, injuring a woman and two children in their homes. In May 2016, the US placed a hold on transfers of cluster munitions to Saudi Arabia, but the Saudis are still in possession of significant amounts of cluster munitions, including some manufactured by Britain, and the civilians' lives continue to be endangered by the coalition attacks that are a blatant violation of human rights and international laws. Meanwhile, the US continues to refuse joining the 119 countries in banning cluster bombs, having the audacity to defend them as having "demonstrated military utility [and] their elimination from US stockpiles would put the lives of its soldiers and those of its coalition partners at risk."
Right behind the US in arms dealers' circle, is the United Kingdom, which, according to a recent report published by the Independent on Sep. 5, has sold a full two-thirds of its weapons since 2010 to Middle Eastern countries. Meanwhile, statistics collated by UK Trade and Investment, a government body that promotes British exports abroad, show the UK has sold more arms than Russia, China, or France on average over the last 10 years.
Despite urgent calls on the British government to stop the sales of weapons to repressive, invasive regimes such as Saudi Arabia, British Foreign secretary Boris Johnson in a statement on Sep. 5 defended UK arms sales to Riyadh, saying the Saudi-led bombing campaign in Yemen is not "in clear breach" of international humanitarian law. The Government also said that it has not seen evidence of Saudi war crimes. Perhaps someone needs to refer British officials to the reports of Human Rights Watch on Saudi atrocities in Yemen?
But as Andrew Smith of Campaign Against Arms Trade once told The Independent, Saudi Arabia and other Arab regimes "aren't just buying weapons, they're also buying political support and legitimacy. How likely is the UK to act against human rights violations in these countries when it is also profiting from them?"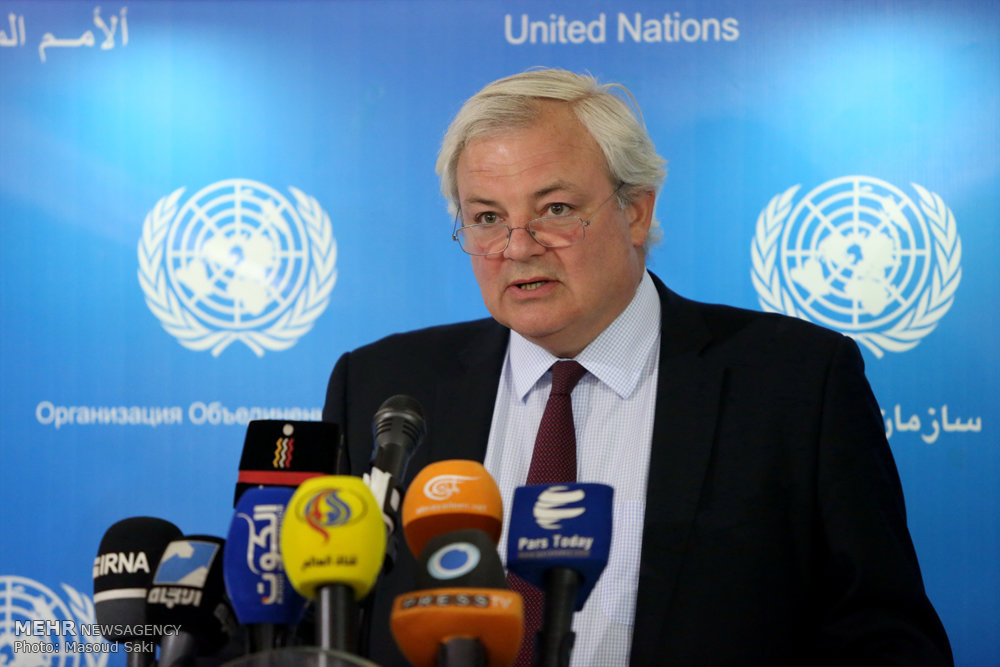 The world needs to know what is happening in Yemen
The UN humanitarian chief's presence at a press conference on Sep. 5 in Tehran provided the perfect opportunity to draw the attention of the media, and subsequently the general public around the world, to the pressing matter of Yemen's crisis and the Yemenis' growing humanitarian needs.
Asking him about Iran and the UN's cooperation in regard to Yemen, Mr. O'Brien referred to Saudi Arabia's blockade of humanitarian aid delivery to Yemen – albeit, without a direct reference to Saudi Arabia, and said "I made it clear during my meetings with Iranian officials that looking back on the very unfortunate time when it was not possible for the humanitarian aid shipped to Yemen to reach those in need, there was a clear advantage in the Iranians delivering their help through the United Nations' humanitarian response program, because that clearly shows that the motive and the intent of that humanitarian aid was not open to either misinterpretation or manipulation, because the UN humanitarian operations at all times act impartially."
"That is a highly important and valuable character in everything that we do so that we cannot be accused of being partial in meeting those needs wherever they arise," he added. "That is why we have asked Iran to send its humanitarian relief through the UN plan as this is a way we can make sure that you are covered by that impartiality, since bilateral supply in a conflict inevitably draws wrong and unfavorable conclusions."
Mr. O'Brien, in his address on 3 March 2016 to the UN Security Council, talked about the increasingly dire humanitarian situation in Yemen and highlighted the necessity of protecting the civilians, "millions of whom face relentless and often indiscriminate bombing and shelling of urban areas." He presented a vehement argument that the war needed to stop, that "airstrikes and random shelling of civilian areas violate cardinal rules of international humanitarian law and constitute unlawful conduit of hostilities", but the majority of the world, or at least that part of the world that contributes the most to the narratives of current developments, still chose to turn a blind eye to this humanitarian disaster unfolding in Yemen.
"I think you will find that no one would ever accuse me of not shouting about the humanitarian needs in Yemen," O'Brien said during his press conference in Tehran. "I have often felt I have been shouting into an empty room, assessing the political views of both sides of a very nasty conflict, which has left 80 per cent of the Yemenis in some form of humanitarian need."
"Of the 21 million people in Yemen who have some form of need, there are about 5 million that we are reaching with essential, life-saving services and we have managed to mobilize some funds," he said. "I have been putting very strong UN leadership to make sure that the world knows how much we need that humanitarian relief in Yemen."
The UN official welcomed the opportunity to talk about Yemen, as this would be further coverage of the humanitarian needs in the war-torn country, but he cautiously reminded that he tried not to get involved into politics while trying to mobilize as many humanitarian services as he could for the Yemenis. "It is vital for my duty to observe impartiality, independent and neutrality in all humanitarian missions in the UN and across all other humanitarian partners and to make sure we identify the needs, and the means by which those needs can be met," he stressed.
Due to this very same concept of impartiality, perhaps, and his reluctance to touch upon politics, the UN humanitarian chief refrains from pointing out the absurdity of the war that has been waged against Yemen under unjustifiable and selfish pretexts of Saudi Arabia. In fact, in the same address to the Security Council on 3 March, there is not even one single mention of Saudi Arabia as the country responsible for all the carnage that has been going on in Yemen for a year and a half. He mentions 'Coalition' three times, but does not make any reference to the countries responsible for the airstrikes, either directly or indirectly, and in a way, his omission falls in line with the purposeful silence of Western media outlets which are careful not to draw too much negative attention to the country that is supplying the U.S. and the UK with billions of dollars for arms deals; the same bloodstained dollar bills that managed to get Saudi Arabia off the UN blacklist of child killers.
"You will see from my public records my very firm presentations to the Security Council as well as the UN Secretary General Mr. Ban who made a pre-statement that further investigation was required in order to be clear whether there was a justification or not for the inclusion of any kind of allegations about the children's deaths, which we take with the utmost seriousness," O'Brien was once again careful not to even mention the name of Saudi Arabia against which those 'allegations' were leveled.
"The investigation is still ongoing, and we will come to see how that materializes," he concluded. While we wait to see how the investigations of the UN would materialize, attacks on schools, hospitals and residential areas in Yemen continue. The country, already one of the poorest in the Middle East, has been dealt great damages to its infrastructures, and its economy is on the verge of collapse. A May 6 joint report by the World Bank, United Nations, Islamic Development Bank and European Union has estimated the damage costs in Yemen at almost $7 billion and economic losses at over $7.3 billion.
In the words of Mr. O'Brien himself, "humanitarian action can only temporarily alleviate human suffering. The people of Yemen want lasting peace and security now so that they can rebuild their lives and safely raise their families." The war in Yemen has been going on far too long, and perhaps it is time the world took notice and did something definitive about it. The media owes it to the children of Yemen whose lives are constantly endangered by a war that should have never been.