Gilan is in up north, close to the Caspian Sea, a very humid and green place, with lots of friendly people and a great food culture. Sea culture, farms, fishing shores and rice fields are part of this beautiful land.
Almost eight years ago, the city of Rasht was listed by UNESCO as a creative city of gastronomy, and the reason for this is the presence of a rich food culture and a large variety of local dishes in Rasht. It is a city that relies on its rich history and culture to protect its traditions and that continues to maintain and introduce its local dishes.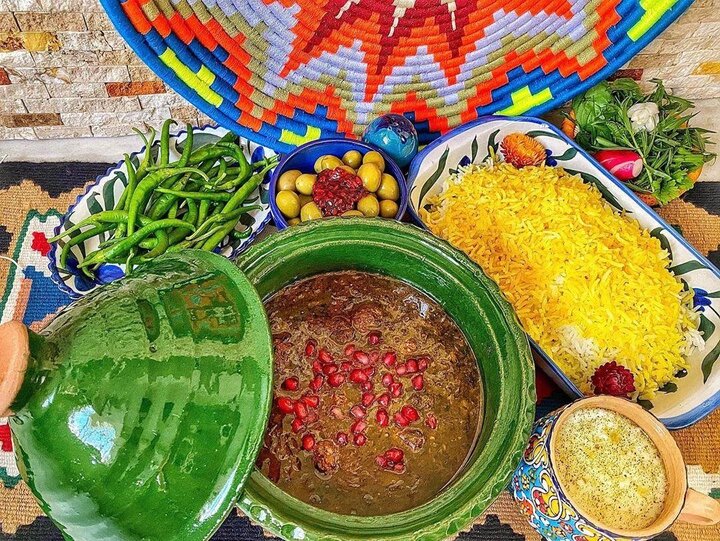 For the people of Gilan, food is very important and they care about it so much. One can see this importance in the variety of foods in this province, especially in its capital, the city of Rasht. Moreover, it is because of the climate and weather in this region, which has blessed this land with a variety of flora and fauna, and this variety has impacted the formation of the people's food culture. Having different plants, chicken, and sea animals allows the inhabitants of this land to create a wide variety of dishes.
Gilan Dishes
Torshi Shami or Shami Torsh: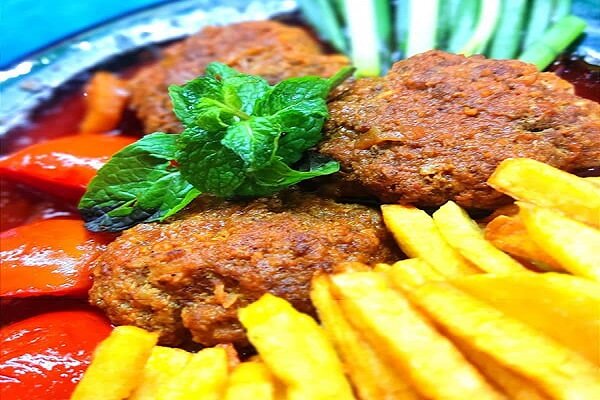 Torshi Shami is one of the most popular dishes in the Gilan province. This dish combines minced beef or lamb, onion, tomato, pomegranate paste, coriander, and parsley.
Shami Torsh is cooked with tomato sauce which makes it soft. It is really delicious and goes well with bread and sabzi (vegetables), or rice. You can even eat it plain.
Mahi Doodi or Smoked Fish: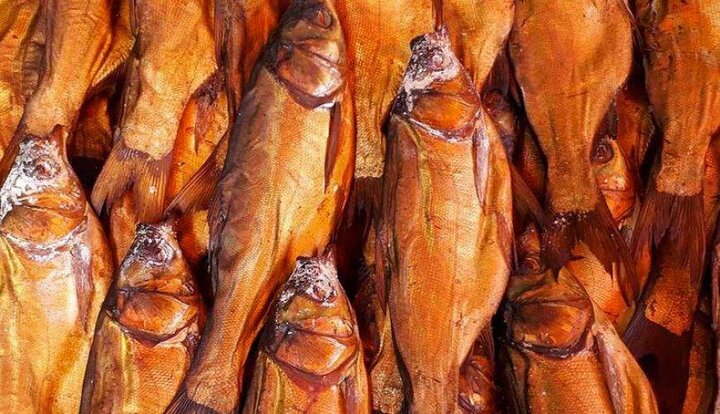 Throughout history, humans have used their genius to find new methods of food preservation. Freezing, making jam, using vinegar and smoking are just a few examples. In Northern Iran, smoked fish is very popular. They gut the fish, put them in a pool full of salt for several hours, then Hang them inside a room and smoke them to a golden color. The fish gets rested for two weeks, hanging in a cold, dark room until it's ready.
In order to serve smoked fish, you should put a small portion of it inside a small clay pot, put the pot on top of steamed rice and steam cook the fish. Steam cooking is the perfect method to serve smoked fish because this helps transfer all the smokey tastes and aromas of the fish into the rice.
Baghali Ghatogh: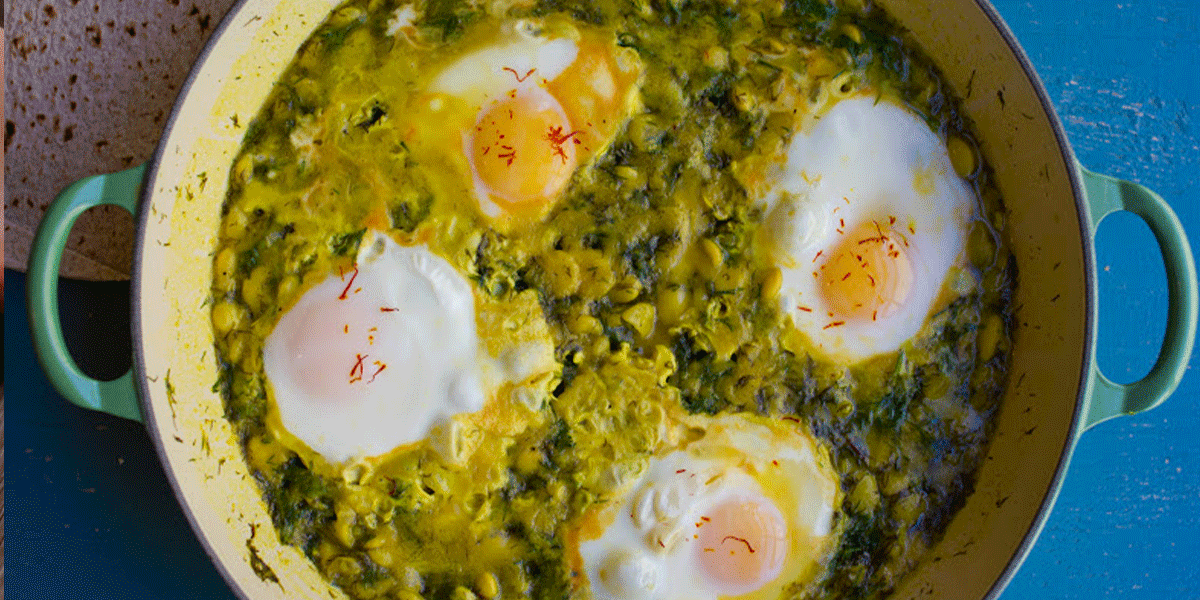 Baghali Ghatogh is one of the most famous local dishes of Gilaki food. It is made with Rasht beans with garlic, dried dill, butter, and turmeric. After the mentioned ingredients are combined, eggs are added to this set. You have to serve the dish with rice.
Torsh-e Tareh: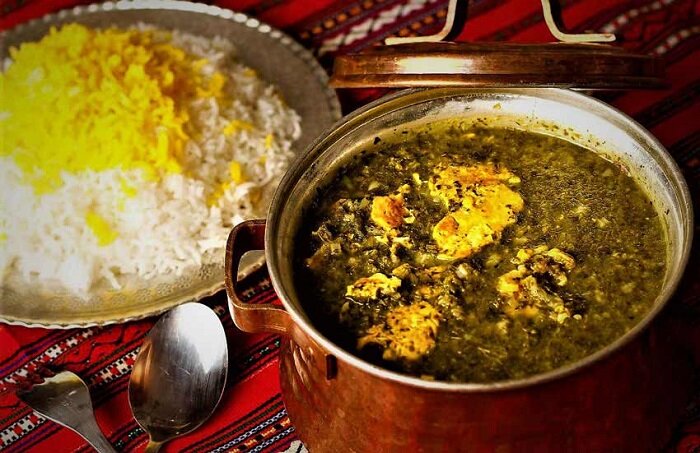 Garlic is an integral part of Gilan's local cuisine. Even if garlic is not used in the food itself, you will still find it next to the food and on the table. There is also garlic in the famous Gilani food, Torsh Tareh. Roasted garlic with special northern vegetables along with rice, turmeric, water, and eggs.
The food fits together strangely in terms of smell, color, properties, and taste.
Anarbij: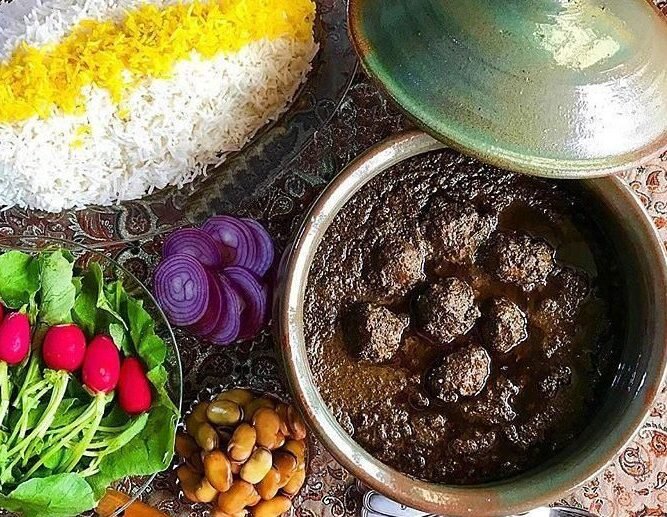 Anarbij is a hearty and flavor-packed dish from Gilan province. Delicate meatballs are gently cooked in a creamy walnut sauce that is then flavored with fresh herbs and pomegranate molasses.
Mirza Ghasemi: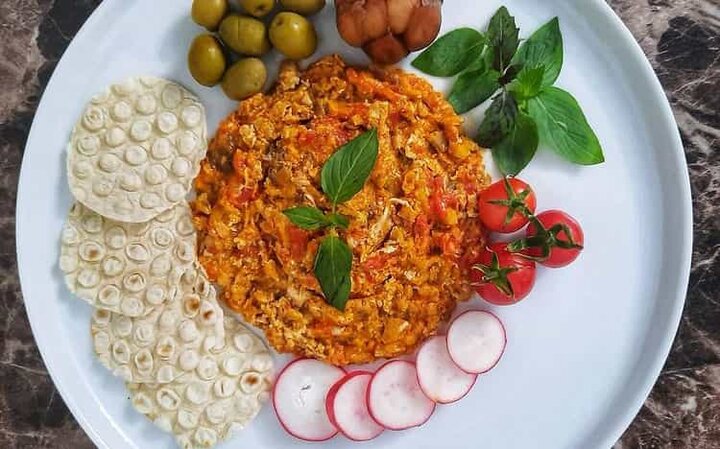 Mirza Ghasemi is one of the most famous local dishes of Gilan. Also, its popularity has increased so much that it is now easily cooked and consumed in all parts of Iran. The recipe for this food is very simple. This issue is not ineffective in making it popular. All you have to do is grill your eggplants, add some chopped tomatoes. Next, add the desired number of eggs to the mixture, along with the garlic you roasted with the tomatoes and eggplants. Traditionally, Mirza Ghasemi is served with rice but it can be served with bread as well.
Kabab Torsh: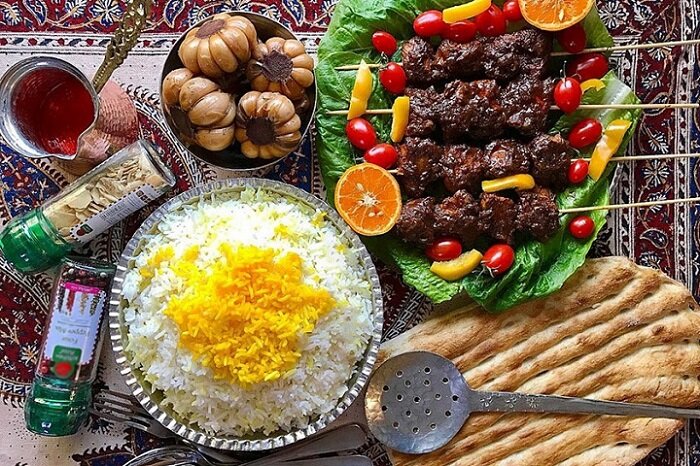 Kebabs are a quintessentially Iranian (and Middle Eastern) dish that's widely available at Persian restaurants in Iran and abroad. It also takes center stage at dinner tables in Persian homes. Iranians have both a tendency and a capacity to elevate their dishes according to the availability of specific regional ingredients, and kebabs are no exception. This dish has its origin in the Caspian Sea region of Iran, where the climate lends itself to growing a wide range of produce, fruits, herbs, and of course rice.
You'll be needing chopped walnuts, garlic and onion, pepper, pomegranate paste, special chopped vegetables, and fresh meat to make Kabab Torsh.
Morgh-e Torsh or Sour Chicken: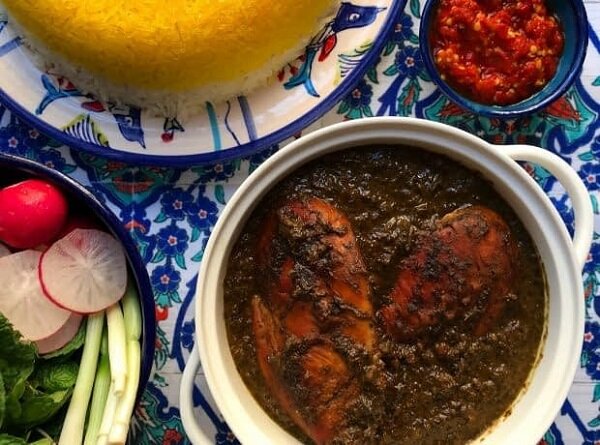 Chicken, onion, garlic, cob, orange juice, parsley, coriander and mint. The combination of these ingredients with the egg, which is added in the final stage of cooking and when the stew thickens, makes the sour chicken of Gilanis.
Gilan Deserts
Kaka or Pumpkin pancakes: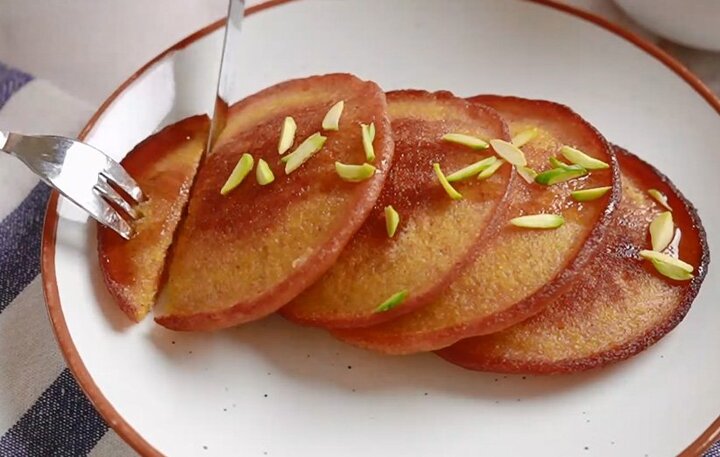 These pumpkin pancakes are very easy to make and the addition of cardamom and rose water that gives them a Persian twist. They are fluffy, and taste like fall!
These homemade pumpkin pancakes have a Persian touch to them by adding a little bit of rose water. In Farsi, we call pumpkin pancakes KAKA. They are very common in the north of Iran and are usually topped with walnuts and pistachios.
Start with mixing egg and sugar then add rose water and pumpkin puree. Once they're completely mixed, add in milk, flour, baking powder, cinnamon and cardamom and mix until no big lumps are visible. Make sure not to over mix the batter, a little bit of lump is totally fine.
Start pouring ¼ cup batter into the non-stick pan that's been heating over medium heat and cook for 2-3 minutes on each side. Once ready, top with nuts and syrup.
Reshteh Khoshkar: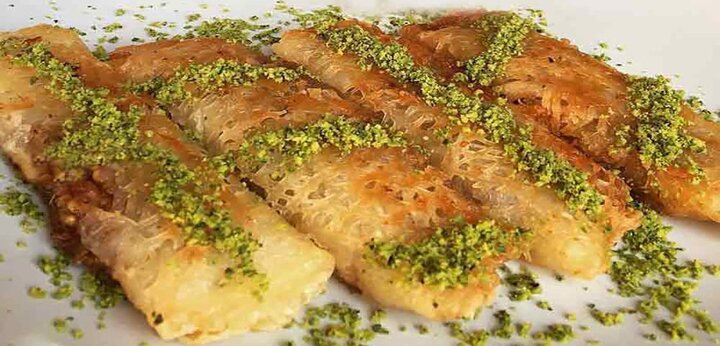 Reshteh Khoshkar is a traditional cookie originally made in the northern Iranian province of Gilan, especially in the holy month of Ramadan. It is usually served during the fast-breaking meal at dusk.
When Ramadan begins, Reshth Khoshkar hits the shelves across the whole province.
Reshteh Khoshkar's main ingredients are rice, sugar, walnut and spices such as cardamom and cinnamon.
The cookie is made on a hot copper tray, and after it is bought and brought home, it needs to be sautéed in a little butter or oil. Afterward, it is put in a sherbet made with water, sugar, cinnamon and cardamom. After a few seconds, the cookie becomes sweet and can be served.
Eskamoo: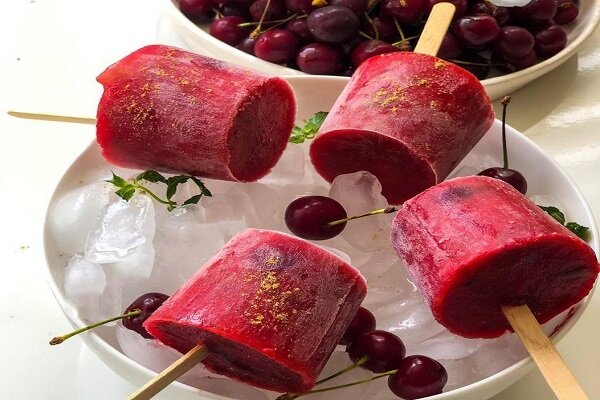 Eskamo is Gilan's traditional ice cream that is made with summer fruits and often with sour fruits such as cherries, plums, or Cornelian cherry.
Fuman cookie:
Fuman Cookie is composed of two layers. The inside layer is different from the outer layer and contains walnut, nutmeg, cinnamon, cardamom, sugar, and oil. The cookie is decorated with a stamp.
Gilan Side dishes
Zeytoon Parvardeh: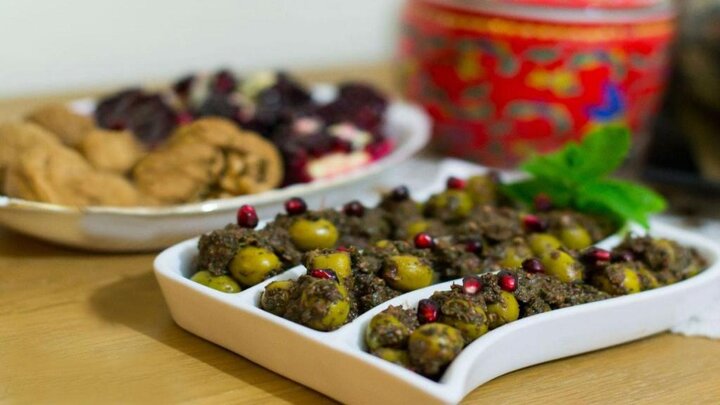 Zeytoon Parvardeh is one of the most popular side dishes in Gilan. Zeytoon Parvardeh is olive marinated with walnut, pomegranate molasses, garlic, and herbs.
This classic Persian marinated olive dish is usually served alongside main courses and as an appetizer or snack, is loaded with crunchy walnuts and pomegranate seeds.
Sir Torshi or Pickled Garlic: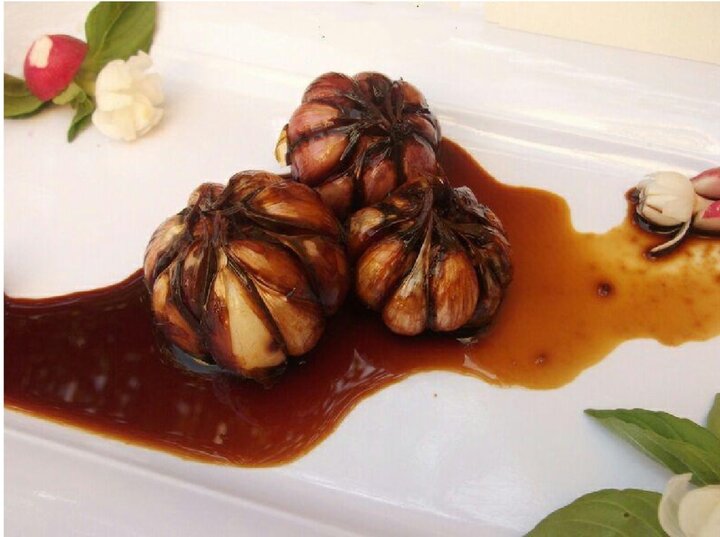 If you ask a Persian what the inseparable side dish of Gilan's cuisine is, he would probably reply "Sir Torshi". Sir Torshi is one of the most delicious Persian Torshis ever.
Sir Torshi is mainly made of garlic cloves and vinegar. This fabulous sour side dish usually served with many Persian dishes enhances the flavor of your main course intensively.
Kal Kebab: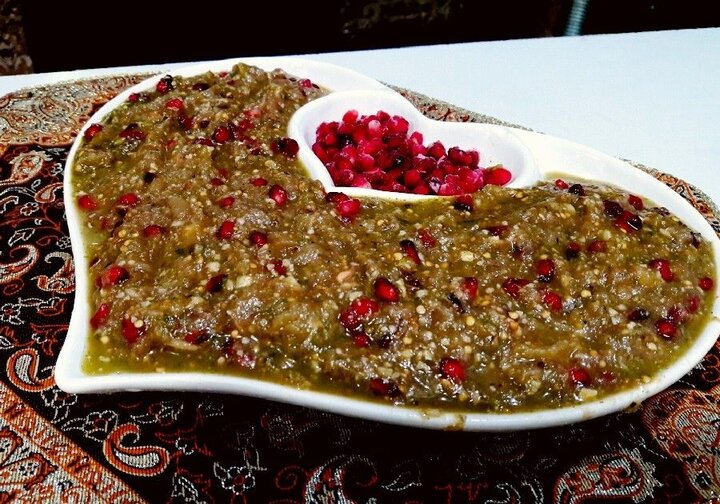 Kal Kebab is one of the delicious dishes of Gilani in which very simple ingredients such as garlic and eggplant are used. It is usually served as a side dish, dessert, or flavor and has a unique taste.
Compiled by Mohaddeseh Pakravan