Running for 36 consecutive years, Fajr International Film Festival is Iran's largest annual film event and the longest running of its kind in the Middle East. For three years now, Fajr festival has been holding its national and international sections separately. The international event this year screened over 100 films from all across the world during 9 days of intensive, back-to-back programs which also included workshops, press conferences, exhibitions, a talent campus and a film market.
The 36th edition, running from 19-27 April in Charsou Cineplex as the main venue and Felestin Cinema both in downtown Tehran with easy access to the subway and other means of public transportation but heavy traffic if you chose to drive your car, was perhaps more vibrant than ever, not only in terms of movies high in quality and number, but also in terms of the special guests attending the event, such as legendry Italian actor Franco Nero and distinguished American filmmaker Oliver Stone.
The awards ceremony held Thursday night at Vahdat Hall of Tehran saw 'Aga' directed by Milko Lazarov snatching the festival's top prize in the main competition section.
A joint production of Bulgaria, Germany and France, 'Aga' paints a melancholic picture of the isolated and self-sufficient life of an old Inuit couple living in the Russian republic of Sakha, desperately trying to hang onto the dying culture of hunting in the vast, snow-covered ground against the ticking time of global warming and the destruction caused by modern lifestyle.
Remembering the grand prix winner in 2015, Icelandic feature 'Rams' by Grimur Hakonarson, and its particular focus on bringing to life the breathtaking Nordic landscapes and a deeply-rooted rural culture, one could say there is a certain love among the FIFF juries for films about the distant lands that do not usually get a chance to be presented to a wider audience. The conflicts in 'Aga' are subtle, sneaking upon the characters as unobtrusively as they do upon the audience; the dialogues are scarce and at times disjointed; but the cinematography is gorgeous, and message is clear: the environment is in dire danger.
Dovlatov (2018), a co-production of Russia, Poland and Serbia and directed by Alexey German Jr., was the winner of the festival's Critics' Choice Awards. It is a Russian biographical film about a few days in the life of writer Sergei Dovlatov (Serb actor Milan Marić) in 1971 Leningrad, on the eve of the emigration of his friend, the future Nobel laureate Joseph Brodsky (Artur Beschastny). It may be long-winded and the references lost on an audience uninformed about the Russian literary circles at the time, and especially with Dovlatov himself, whose popularity may not have extended well beyond the national borders, but the film offers a clear, at times satirical outlook of struggling writers and artists who refuse to conform.
The Mohammad Al Ameen Award went to acclaimed Iranian filmmaker Majid Majidi whose 'Beyond the Clouds' opened the FIFF36. An India-set melodrama, Majidi's flick paints a texture-rich picture of humanity at its best and its worst.
While presenting the award, Culture Minister Salehi noted that Iran is recognized in the world by its culture, poetry and art; "True, there are many who are trying to show a distorted image from Iran, but there are also many others like Iranian poets, artists and filmmakers who are making every effort to show the real image of Iran to the world; the way it was, is and must be," he said.
The Peace Award, the first of its kind at FIFF, went to Cambodian writer-director Rithy Panh whose co-production of documentary film 'First They Killed My Father' (2017) by Angelina Jolie was selected as the Cambodian entry for the Best Foreign Language Film for the 90th Academy Awards. The film focuses on the aftermath of the genocidal Khmer Rouge regime in Cambodia.
"I suffered a lot because of the bitter events of my past," Rithy Panh explained his reason for becoming a filmmaker in a country where art had no place. "I could have done music and painting to alleviate my psychological sufferings, but went for filmmaking instead, because there were no pictures showing the crimes committed against humanity by the Khmer Rouge in Cambodia. I had all the images recorded in my head but not on reels. I had to picture those things either as a drama or documentary, and I had to make it. It was a tough time for me to once again rerun those terrible scenes and I had no intention to make my viewers suffer with me either."
The Fajr Peace Award aims to raise awareness for the social relevance of films, and to make use of the influence of movies and documentaries on the perception and resolution of social, political and humanitarian challenges on the international scale.
"We usually end up with numbers in massacre. We do not talk about humans and their stories. While it was natural for me to tell the story of these people as a survivor of this genocide. Each of us has a story, and when we are dead that story is lost too," Rithy Panh added.
Member of Jury Mohammad Ali Bashe Ahangar described the judging process as consisting of viewing, discussing, voting, and awarding; "FIFF is no lesser than its counterparts in the West. In fact, in some cases it is even better," Ahangar said, while noting the Talent Campus workshops, feature-length, short and documentary movies of all genres, and serval other sections like the Film Market and Digital Content Market, each adding a different color to the vibrancy of this year's festival.
Personal tastes sometimes get in the way of judging, but for Ahangar, the deciding factor to choose a particular film as the winner is the attention given to the techniques used in a film's structure, directing, cinematography, and the overall production design.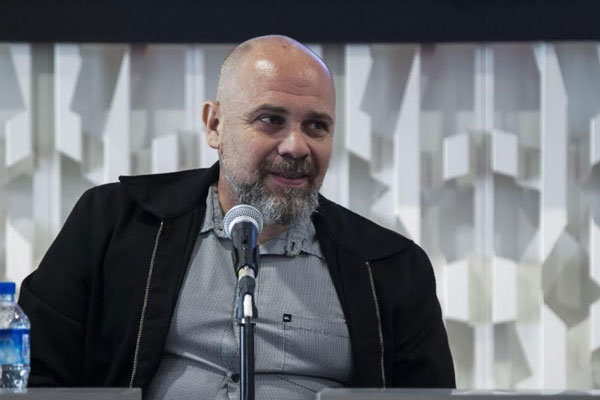 French director Olivier Megaton, best known in Iran by his action movies 'Taken 2', 'Taken 3', and 'Transporter 3', was a special guest at the festival; "I love the tone," he said of his experience at Fajr. "Because it's like International Istanbul Film Festival or Mexico International Film Festival, where everything is organic. In fact, I don't like the tones in so many festivals. When you arrive in Tehran, it is super organic even if it is a little too polluted for me, but everything in the streets is all human. Even the old building from several decades ago, they have souls and have their own stories."
Other notable guest was Italian legend Franco Nero, who is, for many Iranians, better known as the title character in Django (1966), an Italian Spaghetti Western film directed and co-written by Sergio Corbucci, in which Franco Nero plays his breakthrough role as a drifter riding into the middle of a border fray between Mexican bandits and the Ku Klux Klan.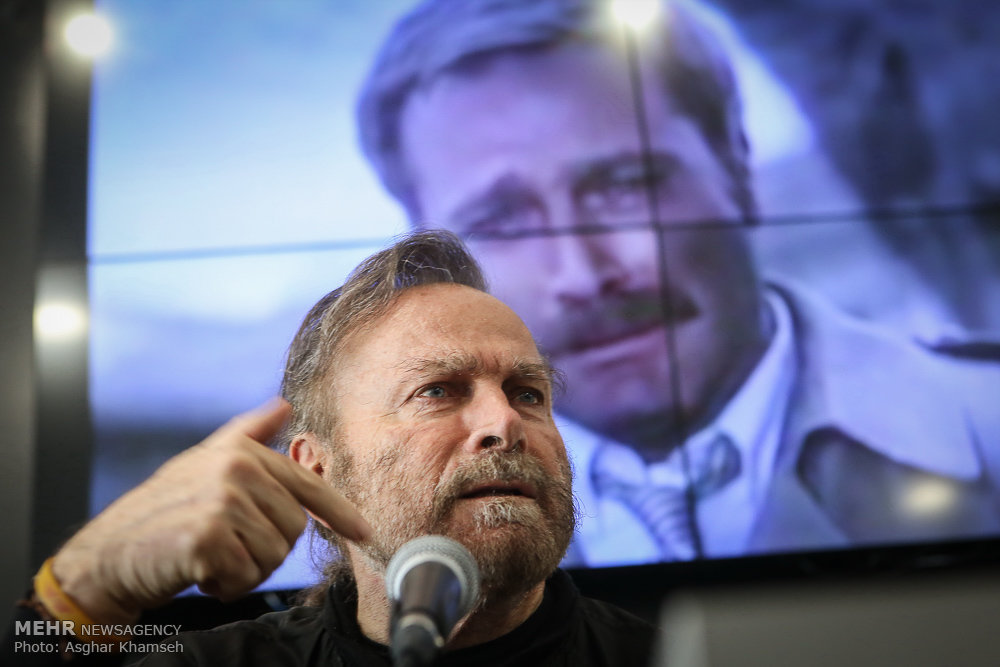 Attending a Q&A panel on April 20, Nero introduced himself as a 'lucky' man who has taken on personages from 30 different nations; "Obviously, it has been a great risk, but a pleasant one nonetheless," he said.
"Unfortunately, television ruined cinema," Nero lamented about the long passed golden era of the Italian cinema.
"Cinema is like a big city, where different citizens live. Cinema means freedom, and there will be cinema as long as there is freedom," he added.
On April 24, Fajr hosted a workshop on acting with French actor Jean-Pierre Leaud, a significant figure of the French New Wave, best known for playing Antoine Doinel in François Truffaut's series of films about that character, beginning with 'The 400 Blows' (1959). He expressed joy for seeing his film 'The Rise and Fall of a Small Film Company' screened at Fajr and urged his students not to lose their enthusiasm for world cinema.
"The cinema of Iran enjoys international recognition, especially this year with good films in the Cannes Film Festival, and this is all thanks to young filmmakers of Iranian cinema; some like Asghar Farhadi whose films I like very much and are among the best films I have ever seen," he said.
On April 25, 2018 FIFF hosted a music composing master class with A. R. Rahman in Charsou Cineplex. Rahman is a two-time winner of the Academy Awards and five-time nominee of the Academy Awards. He also scored for Majid Majidi's Muhammad, The Messenger of God (2015), and Beyond the Clouds as his second collaboration with the Iranian filmmaker.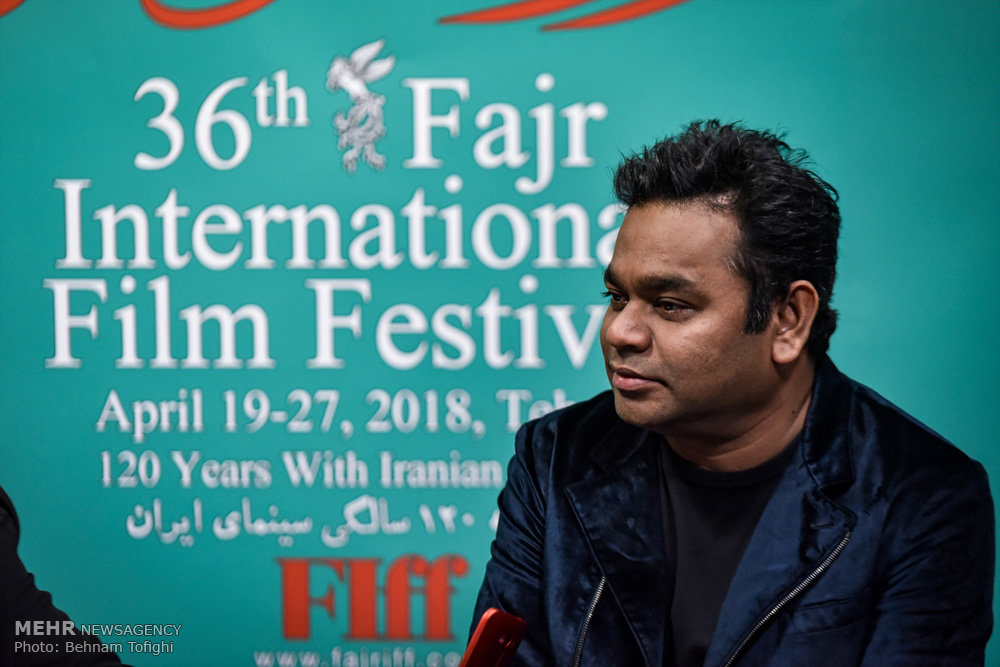 On 'Mohammad, The Messenger of God', Rahman said, "Majidi wanted his music to be a character, otherwise silence would have prevailed. His view was that music is the angle of God's sight towards His servants."
Later that day, Italian composer Nicola Piovani performed a classical music concert at Vahdat Hall following a master class entitled 'Italian Music' attended by Fajr Club members who met with the instructor to get a feel for his teaching style and skills.
Iranian government officials, 200 guests from Italian embassy in Tehran, university scholars and a number of filmmakers whose movies were competing attended the one-off musical concert.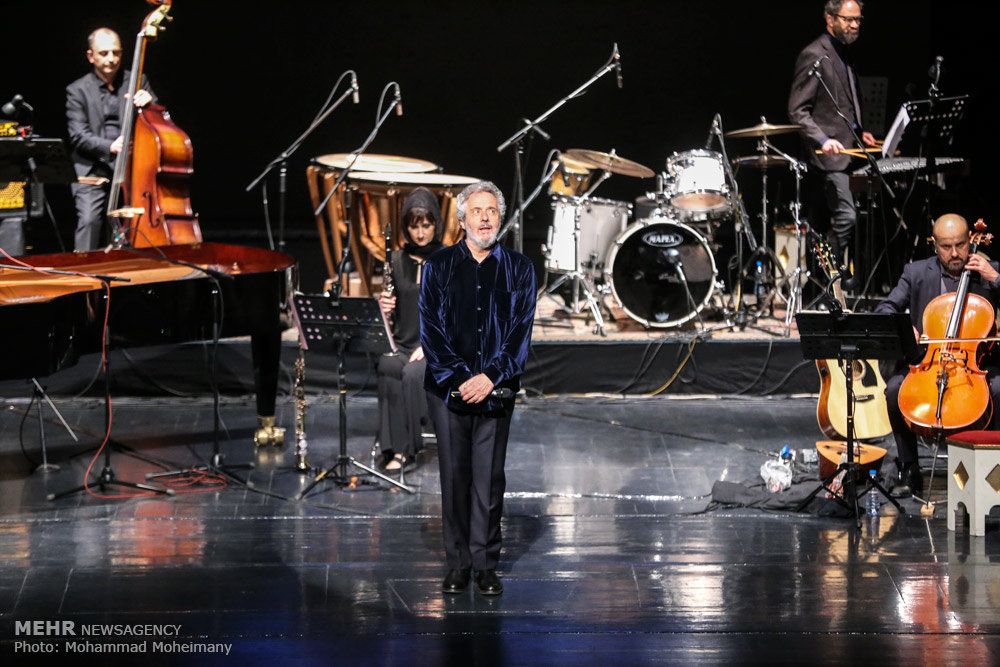 "Music is dangerous, that's what Fellini would say. He was afraid of music because it made him excited," the Academy Award winner Nicola Piovani said before performing a piece in the memory of the great Italian filmmaker Federico Fellini.
But perhaps the most exciting attendance at this year's Fajr belonged to distinguished American director, screenwriter and producer Oliver Stone, whose press conference on April 25 draw a lot of attention from Iranian and foreign media and press.
Being as much of an artistic filmmaker as a political commentator, it was no surprise that the press conference geared toward Oliver Stone's remarks on Trump, French President Macron, US wars in the Middle East, and Iran nuclear deal.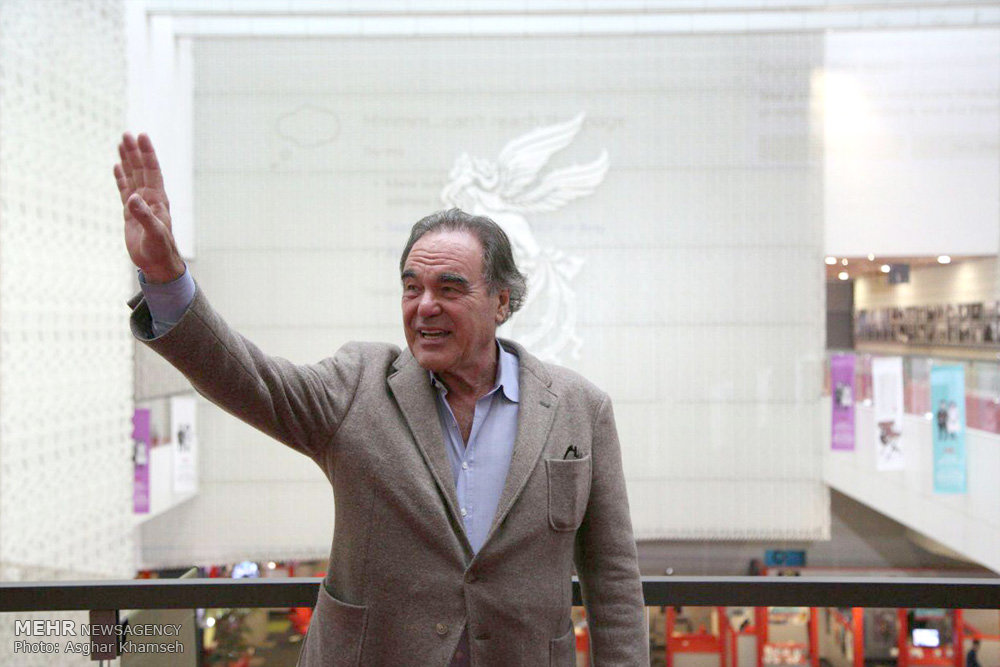 "We make a mess and call it peace," he said, while describing the United States is a global "outlaw".
The Iranian Film Market (IFM) is one of the main sections of FIFF, which provides exclusive meetings and exchange opportunities for attending producers, distributors, exhibitors and sales agents of films and TV programs with Iranian filmmakers. According to the IFM manager, animated films were a great hit with international distributors this year; the reason for which he attributed to the fact that animated movies play well overseas and have a much wider appeal than the sequels and niche movies; "But maybe more importantly, this year's crop of animation production companies did well because they are using more advanced techniques and practices," he added.
Short animated piece 'Mr. Deer' by Mojtaba Mousavi received a Special Mention at FIFF36. 'Mr. Deer' utilizes the puppet technique to narrate a story set in an unknown time, in a ruined subway station which is similar to those in modern European societies. People in this society have animal faces and have forgotten humanity.
Elsewhere in his remarks, Yadegari talked about co-productions, noting a deal between Iranian and French companies for production of documentary series, as well as animated movies. Iranian companies also inked 5 MoUs with Germany' international news channel Deutsche Welle to produce five animated movies. Similarly, the IRIB sealed a deal to produce a documentary film with Deutsche Welle, according to the IFM manager.
Fajr also hosted Cinema of Georgia Panel, with A-list actors, actresses, and filmmakers from the country in attendance. Georgian actress Salome Demuria and director Irakli Bagaturia were the main panelists, who discussed the cinema of Georgia notable for its cinematography and simple storytelling. They also talked about the industry and how the fall of the USSR, civil war and unrest threatened Georgia's proud cinematic tradition.
According to FIFF director Reza Mirkarimi, this year, there were 1690 film submissions and 120 were selected from 54 countries and regions to compete in various categories. 29 films, including 20 foreign and 9 Iranian ones, were enjoying their premieres at Fajr festival.
25,000 students attended The 7th Hour program, designed for younger audience; 47 international distributing companies took part at the Film Market in 42 pavilions; 300 A-list guests from 78 countries were present; and a new category was added under the name of First Film Award. The award in this category went to Dressage by Iranian filmmaker Pooya Badkoobeh (Iran).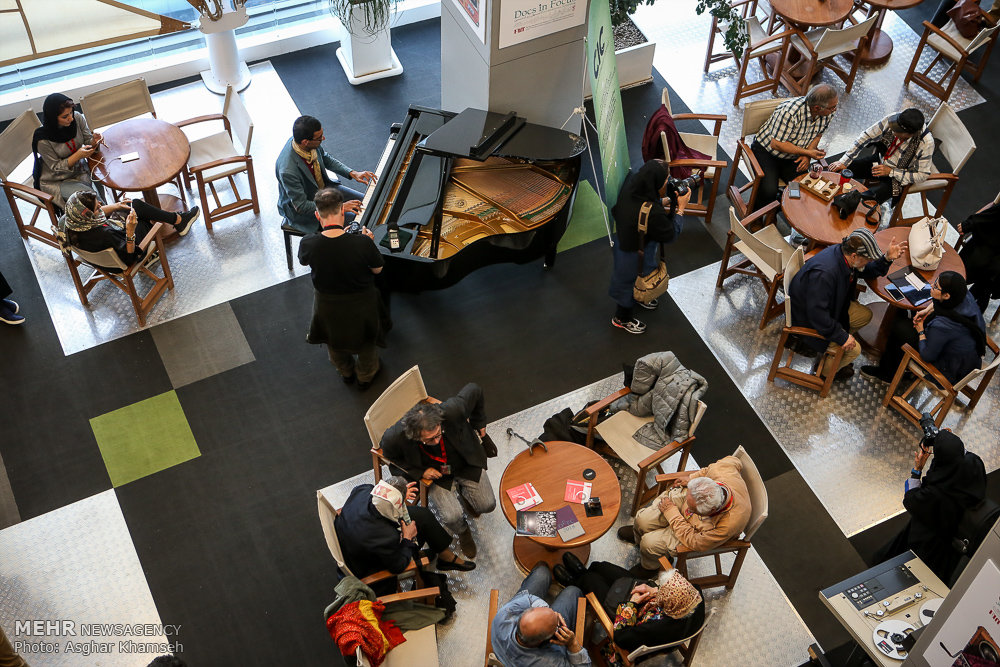 Missing from this year's festival was the "Shadows of Horror" category, dedicated to the screening of horror films at midnight throughout the event. Last year saw the screening of 'Train to Busan' from South Korea, 'The Darkness' from France, 'The Bride' from Russia, and 'Zar' from Iran, which was a successful production in a genre that has been long neglected in the Iranian cinema.
According to Mirkarimi, since its inception, the festival has been and still is dedicated to promoting Iranian cinema and culture, discovering and cultivating new talent, and has contributed to the careers of countless Iranian and international filmmakers.
Mirkarimi stressed that FIFF is strengthening its collaboration with the Film Market and aims to contribute to the development and expansion of Iranian cinema not just as a culture but as an industry and identity.
"The Fajr Film Festival exists to provide a time and place to share in the allure and delights of Iranian cinema, aims to program a rich and diverse lineup each and every year, and aspires to create a festive event with regional and international appeal," he added.