Iran's Foreign Minister Mohammad Javad Zarif held talks with British Minister of State for the Middle East and North Africa, Alistair Burt, ahead of the swearing-in ceremony of President Hassan Rouhani.
During the Friday evening meeting, Burt touched upon his country's keen interest in developing cooperation with the Islamic Republic of Iran.
The two sides emphasized the implementation of the nuclear deal between Tehran and world powers, known as JCPOA, and exchanged views on the regional issues.
The Iranian and British officials also called for an end to the conflict in Yemen, and urged that the appalling conditions of people in the impoverished Arab country should be addressed.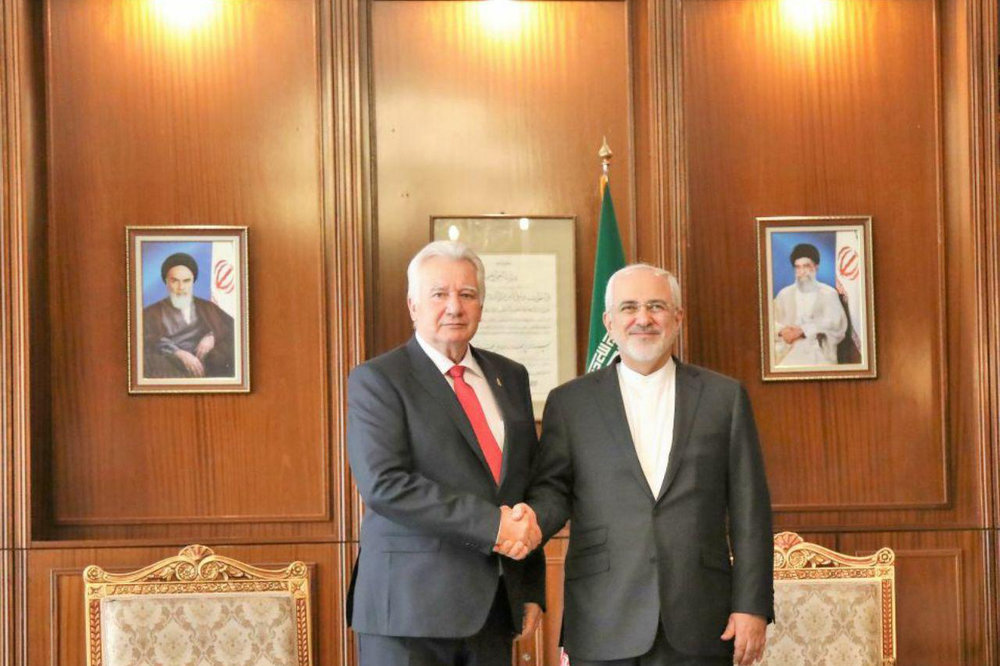 In a meeting with Deputy Speaker of Hungary's National Assembly István Jakabhas, Zarif expressed hope for a future trip to Budapest, stressing that banking cooperation provides the ground for expanding collaborations in other fields.
The two sides also discussed issues related to parliamentary cooperation, tourism, energy, and water management.
In a meeting with his Kyrgyz counterpart Erlan Abdyldaev, Zarif welcomed the expansion of cooperation between the two countries on energy, agriculture, and transit, calling for launching direct flights, easing visa regime and removing banking barriers.
The Kyrgyz official, for his part, congratulated Iran on holding its presidential election in a democratic atmosphere, saying that the presidential votes led to the strengthening of the Islamic Republic's status at the regional and international arena.
While meeting Interior Minister of Ecuador, Cesar Navas, Iranian top diplomat called for cooperation in housing, technology, energy and banking fields.
The two sides also emphasized the exchange of experience in fight against drug trafficking, while conferring on a wide range of regional developments.
During his meeting with Kazakh foreign minister Kairat Abdrakhmanov, the two sides stressed the need for increase collaborations in international circles, launching a joint campaign against terrorists, boosting Astana talks process on Syria, enhancing scientific and technological collaboration, tackling pollution caused by particulate matter, and developing transit cooperation.
Zarif also held talks with second president of the Austrian National Council, Karlheinz Kopf, Deputy Prime Minister of Uganda Moses Ali, Zimbabwean counterpart Simbarashe Simbanenduku Mumbengegwi, and Ghana's Vice-President Mahamudu Bawumia.
More than 130 high-ranking officials from 85 countries and international organizations are said to attend the swearing-in ceremony for Iranian President Hassan Rouhani on Saturday evening.
MS