Razavi Khorasan is one of the most important religious provinces in Iran because of the existence of Imam Reza (as) Shrine and has a rich cultural background in all fields including food. The people in this region cook some traditional foods exclusive of a given ceremony or event with excellent taste and smell.
Shole Mashhadi:
Shole Mashhadi is one of the most popular and delicious traditional foods of Mashhad, dates back to the Qajar era and called Shole in the city As a kind of Ash, Mashhad inhabitants cook Shole in religious ceremonies, at the end of Moharram and Safar (names of two months in the Lunar calendar), mourning or happiness events and every other event they want to hold in traditional form.
Shole is a heavy and highly popular food that may be served as a main course. Shole Mashhadi is usually spicy and thick with an elastic appearance like Haleem but includes different ingredients. The ingredients of Shole are beef and boneless lamb meat, tail fat, onion, Bulgur wheat, rice, white bean, pinto bean, peas, abundant spices such as nutmeg Hindi powder, ginger powder and cardamom powder, black pepper and salt; however, the main stuff of Haleem is wheat. This food is so expensive and needs a long time for cooking; therefore it is not considered a routine meal cooking at home. This local and traditional food is also cooked with different methods in other cities of Razavi Khorasan province. In original form, it usually serves a long with a little Gheimeh and Sangak bread, cheese and vegetable.
Shishlik:
Shishlik with worldwide popularity is one of the most expensive and traditional Iranian dishes. It is made of 6 pieces of lamb's ribs. In Persian, the word "Shish" means six, and "Lik" refers to ribs. The recipe of marinating the ribs is the art of Khorasanian chefs that attract thousands of tourists to Shandiz from different parts of Iran and neighboring countries each year.
Traditionally, Shishlik is served with rice and barbecued tomato, while serving side dishes, such as raw onion and different types of pickles are also a must!
Jooshvareh: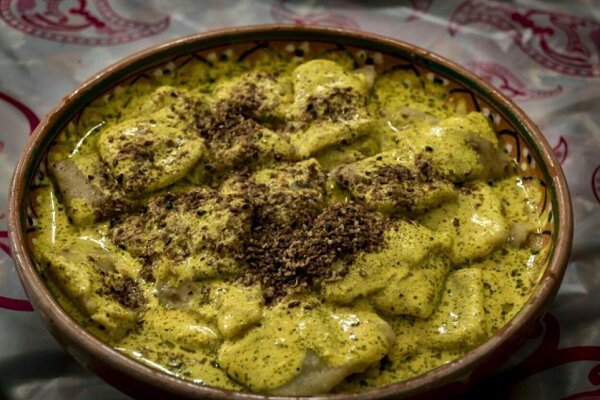 Jooshvareh Ash or Jooshpareh is ash that is made in Khorasan, especially in Razavi and South Khorasan by cooking samosa with beans and spices in water and does not need meat.
samosa or Jooshvareh was originally a staple food in Khorasan, but in Khorasan, samosa was boiled in water after preparing and laying the ingredients (peas-onion-vegetables) and folding the dough layers together and squeezing. And the ash was made to be called Jooshvareh ash, but nowadays, instead of boiling it, it is fried in oil, and this method is common in most parts of the world today. But in the south of Khorasan, boiled samosa is still common in the villages as a delicious soup.
Digcheh: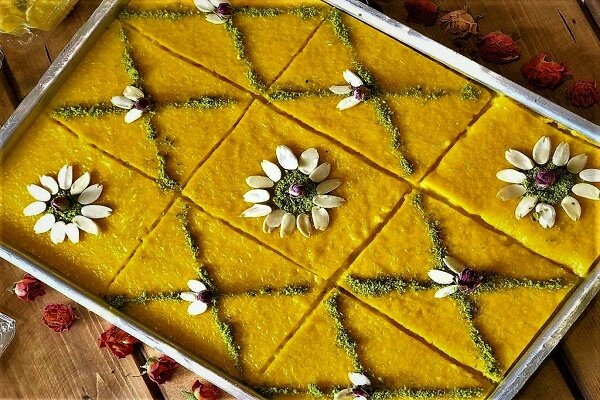 Digcheh is a famous Mashhad dessert that is cooked in religious ceremonies such as Iftar in Ramadan. Also, the locals are used to serving Digche for breakfast. This traditional Mashhad food contains milk, rice, sugar, saffron, cardamom, butter, and rosewater. To prepare Digche, the locals first boil the rice and then they add the milk and let it cook. Afterward, they add the rest of the ingredients and let it brew for half an hour.
Ash-e Lakhshak:
The food comes from Gonabad. Lakhshak is thin and rather square-shaped pieces of dried dough. Other ingredients are lentils, leek, spinach, and salty curd as the sauce.
The wide noodles, called Lakhshak, are the main ingredients of this local Mashhad food. To prepare this delicious dish, the locals first cook the lentil. Next, they add the chopped greens to the pot and let it cook thoroughly. Finally, they add Lakhshaks, and after some minutes, they pour the curd into the pot. They usually use fried onions and dried mint to garnish this traditional Mashhad dish.
Khoresht-e Rivas or Rhubarb Stew: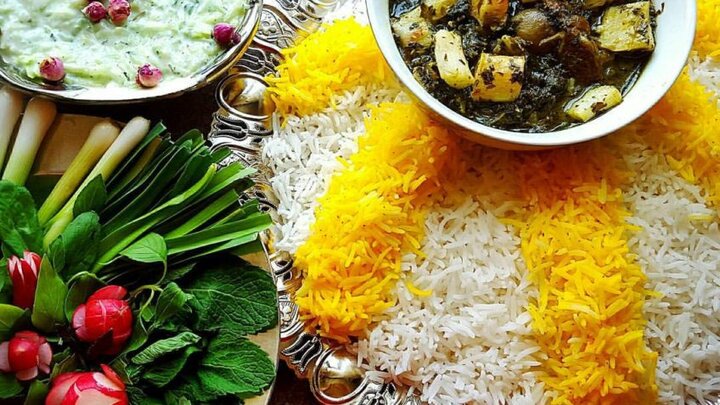 Among Iranian dishes, sour foods have a lot of fans. Accordingly, Rivas stew is one of the best meals in Mashhad, which is cooked in other parts of Iran, including Kordestan.
"Rivas" means rhubarb, and due to the use of this vegetable, Khoresht-e Rivas is sour. This traditional Mashhad food contains lamb or beef, rhubarb, and some herbs and, like the other Persian stews, is served with rice.
Compiled by Mohaddeseh Pakravan