Hossein Amir-Abdollahian made the remarks in a joint press conference with Mohammed bin Abdulrahman bin Jassim Al Thani.
"We thank Qatar for its efforts to lift the sanctions [imposed on Iran. Qatar is trying to return all JCPOA parties to their commitments. Today, we received messages from the other parties of the JCPOA [talks] through the Foreign Minister of Qatar. We thank Qatar for its goodwill to bring all parties to the final steps of the agreement. During the talks with Qatari FM, I pointed out the non-constructive role and interventionist actions of the United States and three European countries in the recent riots in Iran," said the Iranian foreign minister.
Qatari Foreign minister, for his part, said, "Qatar urges all parties to return to the agreement." He added that he conveyed different messages to Iran from other parties.
"It is a good opportunity to solve the issues related to the nuclear deal and to find suitable conditions to return to the agreement," the Qatari FM said, adding that he also conveyed US messages to Iran.
Answering a question about whether Qatar is likely to host the Iran-US dialogue, Al Thani said, "We try as much as possible to eliminate concerns between the parties to the agreement. Qatar seeks stability in the region and achieving a nuclear agreement because it is an important factor for stability in the region. We are trying to resolve misunderstandings so that preparations can be made to reach an agreement."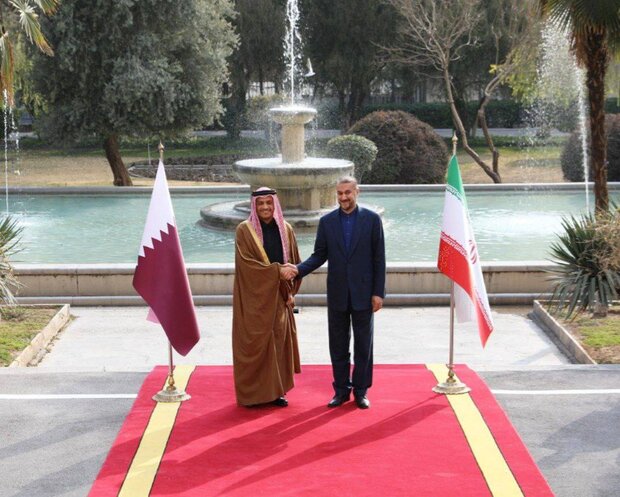 The Foreign Mister of Qatar who arrived in the Iranian capital of Tehran on Sunday was welcomed by Hossein Amir-Abdollahian in Tehran.
After the welcoming ceremony, the foreign ministers of Iran and Qatar held a meeting to discuss bilateral, regional and international issues.
MNA/14011109000468;14011109000466