Iranian Culture Minister Mohammad-Hossein Saffar-Harandi, Tehran Mayor Mohammad-Baqer Qalibaf, Deputy Culture Minister for Cinematic Affairs Mohammadreza Ja'fari-Jelveh, Art Bureau director Mohammad-Hassan Bonyanian, and other culture officials along with scores of Iranian artists attended the closing ceremony.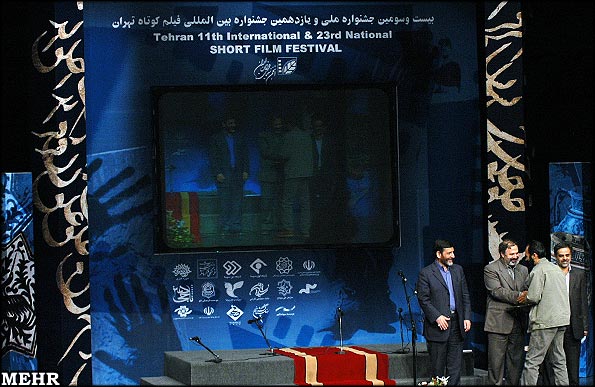 The event comprised National Look, Youth Cinema, International and Special sections.
Following is the list of winners at Youth Cinema section:
* Mussa Alijani won the Best Screenplay and the Jury awards for the film "Window" while Ruhollah Bahrami received the Best Director and Best Film awards for the film "Little Spring".
* The jury presented Best Edit and Best Photography awards to Omid Vafaii and Human Behmanesh respectively for "Love, a Sad Story".
* The Best Experimental Film Award went to Alireza Izadi for "Writing Story".
* Vahid Zare'zadeh's "Captive 57187" and Mohammad Ramezani's "Bazaarnity" shared the honorary diploma for best documentary.
Following is the list of winners at National Look section:
* The film "Qana" directed by Mohammadreza Abbassian received the Best Research Award and Bahram Tavakkoli's "The Hasty Story of a Simple Incident with Happy Ending" won the Best Screenplay Award.
* The Best Experimental Film Award went to Shahram Shokri's "The Circle's Limit".
* The jury presented the Best Animated Film Award to "Zero Degree" directed by Omid Khoshnazar while the Best Fiction Film Award was given to "The White Mountain" by Taha Karimi.
Following is the list of winners at International section:
Best Film: "Dilemma" directed by Boris Pavel Conen from the Netherlands
Best Experimental Film: "Cross-tie" by Joel Pizzini from Brazil
Best Animated Film: "Delivery" by Till Nowak from Germany
Best Documentary: "The Last Hero of Monte-Cassino" by Galina Adamowicz from Russia
Best Short Film: "Shadow and Wind" by Arin Inan Arslan from Turkey
Best Director: "Little Jockey" by Yuli Andari from Indonesia
Best Screenplay: "I'm an Arab" by Mohammad-Hadi Tohidi-Moqaddam from Iran
In addition, Mahmud Ghaffari's "Pilgrimage" won the honorary diploma of the Special section.
NM/KK
END
MNA