Speaking in an interview, Amir-Abdollahian told reporters that he had discussed the issue of border security with high-ranking Iraqi officials.
It is not acceptable for Tehran that terrorist and separatist groups based in the northern region of Iraq pose a threat to the security of the Islamic Republic of Iran, he said.
According to him, the Iraqi officials clearly stated that Baghdad will not allow the group to threaten Iran's territorial integrity.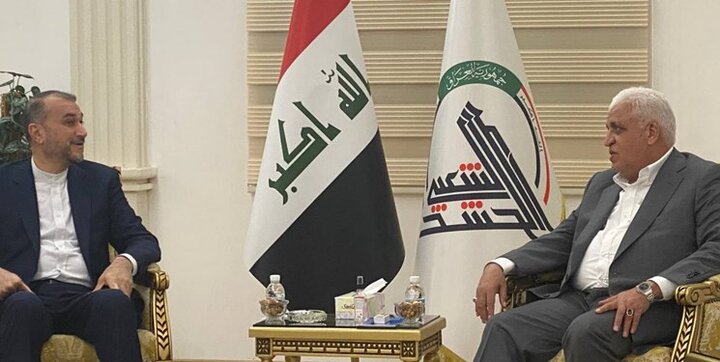 Amir-Abdollahian, who is on a trip to Baghdad, met and held talks with the chairman of the Popular Mobilization Committee in the Iraqi government Falih al-Fayyadh and the head of the State of Law Coalition Nouri al-Maliki on Wednesday.
In the meeting with al-Fayyadh, Amir-Abdollahian said that Iran considers the stability and security of Iraq as its own and appreciated the efforts of Al-Hashd al-Shaabi forces in fighting against ISIL and restoring Iraq's stability and security.
Al-Fayyadh also emphasized the necessity of maintaining the security cooperation between the Iraqi government and the Islamic Republic of Iran.
He also hailed the constant assistance of Iran in establishing stability in the borders and the region.
Amir-Abdollahian in the meeting with Nouri Al-Maliki said that the development and stability in Iraq are the demand of the Islamic Republic of Iran.
Explaining the latest political situation in Iraq, Al-Maliki said that expanding all-around relations with Iran is the priority of Iraq's foreign policy.
RHM/FNA14011204000147