"The social and political fault-lines of the spider den of #Zionists are jolting this hollow regime more than ever before, pushing it to the cusp of collapse," Nasser Kan'ani wrote in a tweet on Sunday.
"The crime in #Jenin and the killing and wounding of dozens of innocent Palestinians cannot distract public opinion from the dire and shaky situation inside the temporary Zionist regime," he added.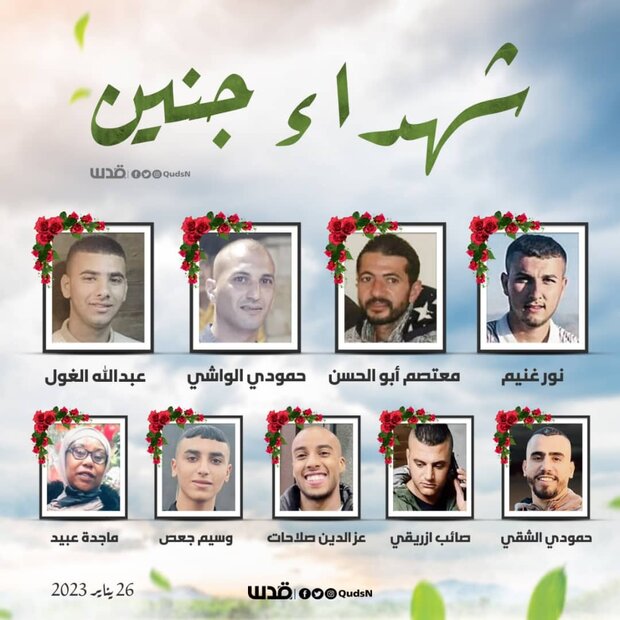 On Thursday, the Zionist military carried out a deadly raid on the Jenin refugee camp in the occupied West Bank. Ten Palestinians were killed, including an elderly woman, following several hours of intense confrontations between dozens of Israeli soldiers and Palestinian resistance fighters.
Israeli forces launch raids on various cities of the occupied West Bank almost on a daily basis under the pretext of detaining what it calls "wanted" Palestinians. The raids usually lead to violent confrontations with residents.
Over the past months, Israel has ramped up attacks on Palestinian towns and cities throughout the occupied territories. As a result of these attacks, dozens of Palestinians have lost their lives and many others have been arrested.
The United Nations marked 2022 as the deadliest year for Palestinians in the West Bank in 16 years.
Israeli forces killed at least 171 Palestinians in the West Bank and occupied East al-Quds last year, including more than 30 children. At least 9,000 others were injured as well.
These came as Tel Aviv witnesses huge demonstrations against Netanyahu's extremist cabinet and his political agenda in recent weeks.
MNA/spox