In a Sunday post on his Twitter account, Zarif wrote, "Where is the West in condemning the chemical attack in Aleppo by terrorists? West's pattern: chemical weapons only condemned if alleged to be used by an enemy; not an ally. A blind eye turned when Saddam used them against Iran, but war waged to destroy them when he was an enemy."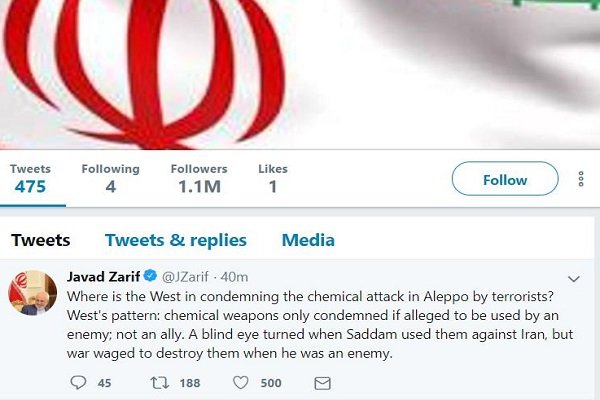 Earlier in the day, Iran's Foreign Ministry strongly denounced the chemical attack, which was carried out on the residential areas of Aleppo.
Reportedly, over 100 residents of Aleppo, including women and children, were injured after terrorists hit three districts with projectiles containing gases that caused choking. The hazardous substance has been preliminarily identified as chlorine, according to medical officials.
Foreign Ministry Spokesman Bahram Ghasemi deplored the "unstoppable political, financial and military support by some regional countries and their allies to terrorism," saying their strong support to terrorists is the main reason behind such inhumane measures.
MR