Yazd is located midway between Isfahan and Kerman, 689 km (427 miles) south east of Tehran. The city's tourist attractions never fail to lure tourists from across the globe, and today city has become one of Iran's tourism hot-spots.
The earthen architecture of Yazd has escaped the modernization that destroyed many traditional earthen towns, retaining its traditional districts, the qanat system, traditional houses, bazaars, hammams, mosques, synagogues, Zoroastrian temples and the historic garden of Dolat-abad.
Yazd is not a colorful city, having no huge modern skyscraper, tower or even tall multi-floor buildings. The historical houses in Yazd have colors of desert brown, leaving brownish memories in every tourist's mind.
Yazd is now the only UNESCO-listed Iranian city where people still live. It was named as Iran's 22nd world heritage site at UNESCO's World Heritage List 2017 held in Krakow, Poland; it is also believed to be the world's largest inhabited adobe city.
It was on the last days of winter that I decided to arrange a trip to the ancient city of Yazd with my husband, who is into trips very much, for the first time in my life. When I just arrived in the city, it was love at almost first sight!
Yazd is not a colorful city, having no huge modern skyscraper, tower or even tall multi-floor buildings. The historical houses in Yazd have colors of desert brown, leaving brownish memories in every tourist's mind.
We decided to stay in a traditional place which brings to mind the lifestyles of people who lived in the province in the past. Our place was a very cozy and clean room with traditional decoration. The hotel had a big yard with a number of furnished beds where we could relax for a while. There was a big Samovar on the corner of the yard with an antique teapot on it, flavored with cardamom and cinnamon. The hotel was relatively quiet and there were only two other families staying in the hotel, all of which were foreign tourists.
The most important thing everyone does while in trip, is to look for the restaurants which have high-quality, delicious and economical food for tourists. For breakfast we found a traditional café near the hotel in which lentil stew and omelette were very delicious. Every morning the café was our regulr spot.
Yazd has amazing food at most economical prices; it is home for many traditional and modern restaurants, in which live traditional music is played by musicians wearing classical costumes.
The eye-catching Moshir al-Mamalek Garden Hotel, remained from the Qajar Era, was the first place we chose for lunch in which tradition is mixed with modernity in its best way. The garden is one of the tourist attractions of Yazd and has been registered in the List of Heritage Sites of Iran with the number of 7778.
One of the top spots to tour when you are backpacking in Yazd is Zoroastrian Fire Temple at the center of the city. The place is holding an eternal flame believed to have been burning for hundreds of years, seen as sacred fire by Zoroastrians. 'Atash Behram' sacred fire holds a flame that has been burning for nearly 1,550 years. It is located in the middle of a vast garden of pine, cedar and fruit trees with a vast circular water pool in front of it.
The fire temples in Yazd date back to pre-Sassanid period, which are the places of worship for Zoroastrians. In 1999, the Yazd fire temple was registered in Iran's National Heritage List and some sections of the temple have been open to visit for tourists where they can see the fire behind the glass wall.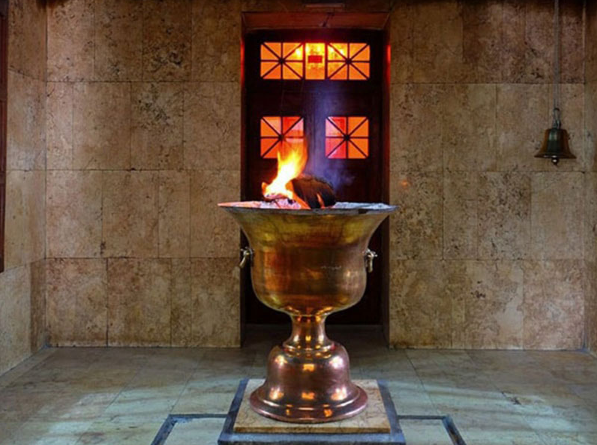 The Amir Chakhmaq Complex was our next stop during a tour in the classic desert city of Yazd. Amir Chakhmaq Complex stands out as the symbol of the city and is a prominent structure noted for its symmetrical sunken alcoves. It is a mosque located on a square of the same name. It also contains a caravanserai, a tekyeh, a bathhouse, a cold water well, and a confectionery. At night, the building is lit up after twilight hours after sun set with orange lighting in the arched alcoves which makes it a spectacle.
The place is named after Amir Jalaleddin Chakhmaq, a governor of Yazd during the Timurid rule (15th-16th century CE).
The place is free to visit and good for taking selfies. The ambiance of this place is really pleasant; around the square you can find lots of shops which sells handcraft. It has a big pond with fountains and garden beds with flowers.
Nearby Hajkhalife Confectionery on the left at the intersection is highly recommended to buy local sweets of Yazd such as Ghottab, Sohan, Pasmak and cakes as souvenirs.
If you need watching 700 years in one shot, I recommend you meeting Jame Mosque of Yazd, excellent exhibition of colorful tile work with symmetrical shape, nice and soaring façade, crowned by a pair of minarets which are the highest in Iran.
The 12th-century mosque is still in use today. It was first built under Ala'oddoleh Garshasb of the Al-e Bouyeh dynasty. The mosque was largely rebuilt between 1324 and 1365, and is one of the outstanding 14th century buildings of Iran.
As our next historical touring in Yazd, we also paid a visit to the Art House, Water Museum, Sadri Garden, Markar Historical Complex and Alexander's Prison and took excelent photos.
Last but not least of our trip was one-day tour in the desert. It took us one-hour ride to go to Fahraj Desert, about 30 km away from the city. Since it was my first time ever to see a desert so closely, once we entered, it made a great impression. Traveling to desert is like a dream, walking barefoot through soft dry sand, visiting untouched regions. In short, desert is sand, sun and deep silence that you cannot find anywhere else.
There was a family living nearby who ran the business offering camel riding chances to the tourists; we have never had a chance before to ride a camel and it was an amazing experience and a memorable adventure.
Next adventure was riding safari and then we started best part of out trip, walking barefoot on the sifting sands and exploring the rocky outcrops. We walked, and walked. Up and down, over and around, wherever the sand was strong enough to carry our feet, and the earliest rays of light shone to guide our eyes.
A nice treat to end the day at the desert was drinking tea and at the same time experiencing the magic moments of observing the sky full of shining stars. Sunrise in the Fahraj Desert was superb! The guide then took us to a local place where a family had prepared for the tourists the traditional Iranian food for dinner.
Our journey to Yazd wrapped up after 3 days, leaving brownish memories in our minds. At the end of each trip, you may come back home tired, with empty pocket, but you have packed some enjoyable experiences that would make you smile to the end of your life when remembering your moments. Traveling humbles us and broadens our perspective in so many ways. An old saying goes: "adventure may hurt you but monotony will kill you."