If Erdogan's visit to Tehran means change in attitude, it can yield more positive results in Tehran-Ankara relations, this is what Sadeq Maleki has told Peyman Yazdani of Mehr News Agency in a recent interview.
You can read the full text of the interview as it follows:
After a period of tense relations between Tehran and Ankara, the Turkish President, Recep Tayyip Erdogan, is going to visit Tehran on October 04, 2017. How do you elaborate on this travel?
Erdogan's visit is in line with periodic meetings of the heads of states, however, if it is accompanied with a change in his attitude and behavior, it can be a major step in getting off from tensions and reaching a point of cooperation.
To what extent this meeting [between Erdogan and Iranian officials] can revolutionize the ties?
No single visit can individually basically and strategically revolutionize the bilateral ties between countries but it should be started from a point. Visit at the level of president is per se important and with high political value.
Carrying out this visit at the current stage is of numerous dimensions and aspects. Whom is Erdogan going to meet in this visit and what is the agenda of his travel?
The Leader will receive Erdogan and he would also meet with the president. Holding the meeting of high strategic council, discussing bilateral and regional issues, referendum in KRG, Astana talks, Syrian issues, and Iraq, and expanding cooperation in the section of energy are on the agenda of Erdogan's visit to Tehran.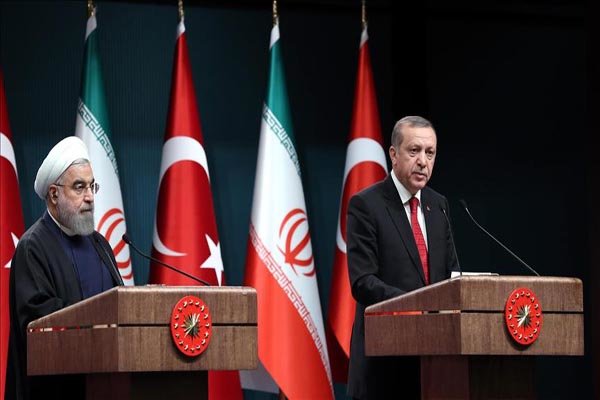 You referred to the high strategic council. Can we tie hopes to the meeting session of the council?
Following the recent developments in bilateral cooperation, the close stances of the two countries in regard to the referendum in Iraqi Kurdistan, and more importantly the visits made by the Chiefs of Staff of the Armed Forces of the two countries, this meeting will be held at a much better situation in comparison with previous ones. However, it is better not to magnify it too much. Strategic ties have never been and are not the results of titles, labels, or meetings. Strategic ties between countries are formed when states act rather than speak to treat the security, development, and interests of other countries as their own. Turkey used to have strategic agreements with Syria and Iraq. Reaching strategic relations is a two-way path but how Turkey has acted shows that this country in is still imbued with the mindset of the Battle of Chaldiran and chained with past history. As long as this mind paradigm is in place, we will witness security walls around the 400-old borderlines which could have been borders of friendship and peace rather than fear and separation. NATO-member Turkey is still looking at Iran as a rival.
Is it possible to eliminate the element of rivalry in Iran-Turkey relations?
It is plausible but a hard job which requires real determination. Decreasing the difference between the stated policies and actual policies can be a constructive step to reach this goal. Examining the roots how the ISIL was formed and how the situation contributed to Erbil's call for independence referendum, despite the discontent voiced by Tehran, Baghdad, and Ankara, can open the way to finding a road map, finally destined to cooperation between Iran and Turkey, which is a desired point for a united Middle East. Instead of concentrating on covert issues, the think tanks should focus on overt issues to deepen relations with new opportunities. Chanting slogans and temporary efforts will not fulfill these objectives. Lorraine was a cause of dispute between Germany and France but changing the mindset helped the two states to solve the geographic issue. Obviously, commonalities between Iran and Turkey are not less than Germany-France commonalities if not more than them. An end should be found for the geopolitical rivalry between Iran and Turkey and it is not achievable without tying the geo-strategy of the two countries. A big share of conflicts and rivalries in the Middle East stem from cross-regional interventions in this geography. Iran and Turkey should put an end to these foreign interferences. The bitter disintegration of Europe should not be allowed to happen in the Middle East. Peace and cooperation should be focused on. Historical and geographical necessities along with interests to be tapped by cooperation, in the relations between Iran and Turkey, will sooner or later push the two countries toward inevitable and vital convergence. Reaching this point should be paved in though the minimum cost paid. For this cause, Iran and Turkey are urged to pay attention to energy section as one of the main elements contributing to the growth of bilateral ties, along with the potentials and capacities of cooperation in areas of politics, economy, and security. To the same point, if Erdogan's visit to Tehran is accompanied with a change in mindset, it can lay the base for positive developments in Tehran-Ankara ties and it should be welcomed.
Interview by Payman Yazdani and Yasser Nazifi Gilavan