Seyed Abbas Salehi, Deputy Minister of Culture and head of Tehran International Book Fair met with Mr. Eduardo López Busquets on Sunday in a meeting organized by Ministry of Culture office of Associations, Organizations and Cultural Activities.
Mr. Salehi welcomed the Spanish delegation and reminded the meeting of four centuries of contacts between Iran and Spain, a century of which had been political and diplomatic relations; "improved cultural ties contribute to relations in other fields; I am pleased to have your majesty in this meeting as Spain's ambassador and are well-versed in Islamic and cultural studies," he added.
"Iran and Spain are both heirs to a rich historical culture and both are cradles of booming civilizations, where art and literature burgeoned; we have the honor to tell the meeting that a cultural MoU will improve our relations further," said Mr. Salehi. "The cultural MoU provisions for university exchanges and cities, notably sisterhood of Barcelona and Isfahan as both cities of cultural importance."
Deputy-minister of culture believed language was a major factor contributing to cultural ties; "Persian and Spanish languages are the media by which cultural relations would be extended; more than 500 million people speak Spanish, and Iranian universities offer courses in Spanish, apart from private institutes offering Spanish classes. We know that Persian has found a similar favorable grounds in Spain; Tehran International Book Fair would help in this process thanks to its potentials to bring together publishers of monumental works of literature in both languages, with Spanish book fairs functioning in the same vein," he detailed.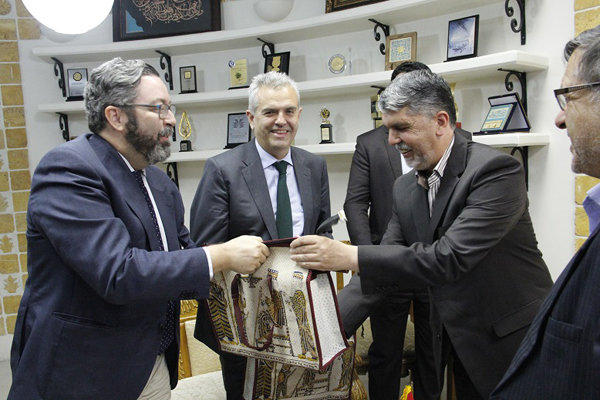 Salehi highlighted World Book of the Year Award as another medium by which to improve cultural ties; "Iran and Spain would interact well through Book of the Year Award; the prize is awarded to foreign books assessed by a committee of having merit in Iranian and Islamic studies, with president presenting the award in person," he added.
Mr. Busquets for his part said that Spanish constitution bestows a high place to culture; "as with Iran, where culture is cherished, in Spain much emphasis is put upon culture, with a general view that culture is a supranational issue; Iranian studies in Spain has gained significant body of research, with Zoroastrianism and other native religions on the focus," he said.
"Spanish tourists visiting Iran average 55 years of age, which is a proper age when individuals could write down their experiences and travels to Iran as excellent travelogues rich in data on Iran; Spanish stands in Tehran International Book Fair received unprecedented public welcome," said Spanish ambassador.
Both sides agreed that Mr. Carlos Aragones, Spanish cultural attaché and second-in-command, and Mr. Ali Fereidouni, a Cultural Ministry high official address issues discussed during the meeting and provisioned for in the cultural MoU.
SH/3671148