Exactly nine years ago on this very day at 12:30 AM, Iran's first cloned lamb was born in the Royan research institute in Isfahan, and was named Royana after the name of his birthplace (Royan means embryo in Persian).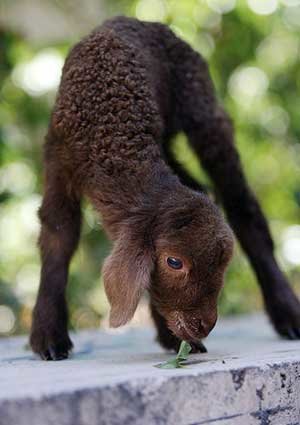 This beautiful male brown lamb, which was Iran's second attempt at cloning (the first sheep died few hours after birth) was a result of many successful experiences and research in Royan Institute started by late founder Dr. Saeid Kazemi Ashtiani. Royana lived for three years in a healthy condition and frolicking among a flock of some 400 other normal sheep at a grazing land outside Isfahan.
After a period of 145 days, Royana, surviving the postnatal complications typical for cloned animals, was born by caesarean section and hailed as a remarkable breakthrough in Iran's scientific achievements, especially in the field of producing recombinant drugs.
Kazemi Ashtiani et al. in a paper written in 2007 described their experiences in reproductive cloning resulting in birth of the first successfully cloned sheep in Iran and the Middle-East, nick-named "Royana" as follows:
"The second pregnancy (Royan-SHE-C2 nicknamed Royana) was continued till day 145 under precise monitoring when ultrasound revealed a fully matured healthy fetus within a slightly detaching placenta. Elective cesarean was preceded by two IM injections of dexametazon (Daropakhsh, Iran). After delivery, the lamb immediately started breathing. The lamb was dried off, oxygen therapy was provided via a face mask, and the lamb was positioned in sternal recumbency. Blood gas and electrode values were monitored as if it was in normal range. Despite some major arrhythmia in heart beat and respiratory distress, the general status was improved in the next hours when Royana received his first colostrums via stomach tube. One hundred and fifty days after, when drafting the manuscript, Royana was a healthy lamb fostering by his mother in a pasture."
If Dolly is the first cloned mammal who saw the light of day in 1996 and lived until the age of six, then Royana was the third cloned animal in the world and the first in the Middle East which marked a great step to produce transgenic lambs containing factor IX transgenic which is helpful in human blood clotting.
Only a few countries actually possess the technology and the means to clone farm animals, which could lead to advances in medical research, including using cloned animals to produce human antibodies against diseases as well as preserving endangered species, which Royan institute also has a key role in preserving stem cells of endangered species.
Royana lived for three years until he had to be euthanized on February 22, 2010 after a veterinary examination showed he had a progressive liver disease. His body after having been taxidermized is now being kept in Royan Institute as a symbol of Iran's biotechnology progress.
Royan Institute which includes the departments of stem cells, embryology, gynecology, genetics, andrology, epidemiology and a fertility clinic, has been making remarkable progress in cloning after the successful birth of Royana. In 2009, the institute cloned Iran's first goat and in 2010 the first transgenic goats were born in the country. Other great achievements of the institute include: the first calves born from vitrified in vitro developed embryos in Iran (2011); establishment of cell therapy pre-hospital (2011); establishment of Stem Cell Bank (2011); the first healthy child birth after Molecular PGD for beta-thalassemia in Iran (2012); and the birth of eight cloned goats through the simplified method of SCNT in Iran (2013).
During the last several decades, Iran has achieved significant success in biotechnology and ranked 21st in the world in terms of scientific productions in the field of biotechnology in 2014 according to a recent report by the Scopus website.