"The people of Armenia are very kind and honest and they welcomed me and my camera. They are very cooperative with artists," Motalaei remarked.
Motalaei took the photos whilst on a trip to Armenia this summer and they portray the people's everyday activities.
The collection of 40 photos, some in color and others in black and white, includes views of Yerevan Mosque and Saryan Park where paintings and handicrafts are on sale at weekends. There are also shots of Yerevan's Chamber Theater, local markets and kindergartens.
Commenting on the themes he had chosen for his work, Motalaei told Tehran Times that he has a particular interest in social life and cityscapes and so he had focused on Yerevan's art and cultural centers.
"Their life is mingled with music; nearly every family has a piano in their house, so they grow up in a musical atmosphere. Their country also has well-established, high quality centers of music," Motalaei explained.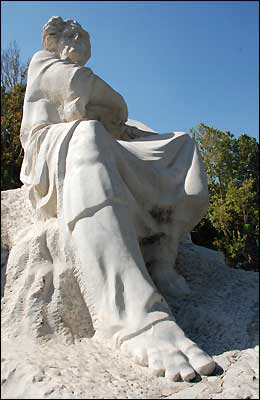 He went on to say, "I was impressed by the general ambiance of peacefulness both within the city and amongst the people and I liked their habit of giving flowers to each other on various occasions. Flower shops and smiling flower girls are dotted here and there throughout the streets."
This is Motalaei's first solo exhibit in Iran. He is planning to hold an exhibition in Armenia of photos depicting Iran.
Motalaei is a graduate of graphic design and has focused on both graphic art and photography.
He has so far participated in group exhibitions and festivals in Japan, Russia, and Austria.
The exhibit will continue until November 4 at the venue located on Somayyeh St. Hafez Ave.
RM/MA
END
MNA