"The best way to prevent negative trends in the region would be finalisation of the #ViennaTalks on the #JCPOA," Russian Permanent Representative to International Organizations in Vienna Mikhail Ulyanov said in a post on his Twitter account on Sunday.
"A breakthrough in this field can ease tension and open the way to intensified dialogue on regional security," Ulyanov added.
According to the Russian diplomat, "Apparently Western countries are not ready for that."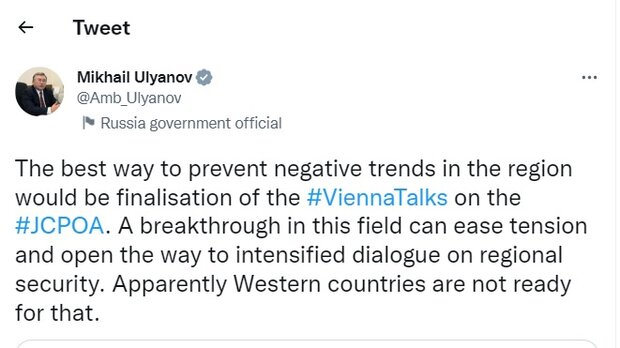 The Western countries have recently increased their sanctions against Iran and interfering in the country's internal affairs by backing recent riots in the country with the aim of putting more pressure on Tehran to give in to their excessive demands at the negotiating table in the nuclear talks.
​The talks to salvage the JCPOA kicked off in the Austrian capital of Vienna in April 2021, with the intention of examining Washington's seriousness in rejoining the deal and removing anti-Iran sanctions. The negotiations have been at a standstill since August due to Washington's insistence on its hard-nosed position of not removing all the sanctions that were slapped on the Islamic Republic by the previous US administration. Iran maintains it is necessary for the other side to offer some guarantees that it will remain committed to any agreement that is reached.​​
MNA