The first thing that you should know about Ludovico Einaudi's music is that it is the kind of music that reflects the man himself. "I love new experiences," he says with sincerity, and he does not need more proof to back up that claim other than his mere presence in Tehran. A place which, although a mere 2,120 miles away from his homeland, accounting for a 4-hour flight and a 2:30 hour of time difference, is always considered as an adventurous tourist spot, because of lack of representation, an abundance of misrepresentation and the usual case of 'I put off visiting Iran until I am old enough to fully appreciate its ancient history'.
But he is here now, for the very first time, scheduled for three sold-out shows at a venue large enough to house over 2,000 people, and he is excited to tour the city and meet his Iranian fans; "I know that I have a large fan base here in Iran, waiting for my performances. This is actually the main reason why I'm here today, because I know it is very difficult for many people to travel around to watch the live performances of their favorite musicians, so here I am bringing my music to them," he says during a Q&A panel on Monday at the Interior Ministry Hall, where he and his five-man band will go on stage on Tuesday, Wednesday and Thursday night.
"Music is a fantastic way to communicate with other people around the world, because it's one of the few languages that doesn't need translation. Music speaks from heart to heart."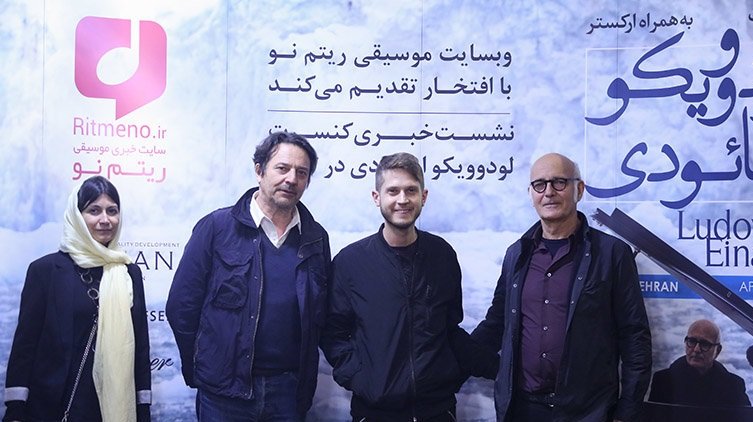 Born in Turin, Italy on 23 November 1955, Ludovico Einaudi started his musical journey by composing for folk guitar as a teenager. Later, he studied at the Conservatory in Milan, spending several years composing in traditional forms, including several chamber and orchestral compositions. There, he met Luciano Berio, the Italian avant garde composer known for his experimental and pioneering work in electronic music. Berio taught him 'a very open way of thinking about music', and he has carried that philosophy into his music up until now.
"I've always been told that there's a bit of difficulty in defining and labeling my music. The quality of the music I compose, and also the kind of music I like, cannot be crammed inside a box. I like a kind of music that connects different worlds, doesn't stay in a closed place, but has windows open to different airs."
I ask him if he was worried about the reaction from the classical circle now that his piano music has ventured into the realm of electronics, synthesizers and popular film scores.
"Well, I started to feel that the classical environment didn't like what I was doing, but I keep saying that the great composers of the past, like Mozart, didn't confine themselves in a box. Mozart's opera, The Magic Flute, constantly interacts with different styles and languages and this is why I think his music was great, because it encompasses many of his interests."
"It is important to keep your mind open, eyes open, ears open while composing music and sharing it with the people," he says. "It is a risk [to mix different genres of music] in the sense that there are people who won't like it, but I have been following my vision, I trust my heart."
Einaudi was once invited to be the director of La Notte della Taranta festival, in Salento in southern Italy, and the set he created expanded to include music from North Africa and Turkey.
"I like the fact that I can travel somewhere, hear something that I really like, and then incorporate it into my own music. Maybe I even do a project with Iranian musicians in the future," he says.
"I think what makes music interesting is the moment all these different genres and sounds meet with one another and start a dialogue," he says. "The moment you meet something different from yours is the moment you discover; it's a new experience."
For Einaudi, creating music is like visiting new places, having new experiences, and opening yourself up to adventure and risk.
But did he know the risk he was taking would actually end up in his favor? "I didn't do any calculations about where the future of my career would take me. I have always just followed where my passion leads. It was a matter of luck that my passion aligned itself with something that a lot of people like."
Speaking about the upcoming shows in Tehran, he said that his set list includes tracks from his latest album Elements, as well as film scores from The Intouchables, such as Una mattina and Fly. "I will play a repertoire of the music I have been composing in the last 20 years. So it's like a portrait of my music. It is a good set list to present myself in a new place."
Einaudi said that he would also perform 'The Elegy for the Arctic', the track he played in the Arctic Ocean in Svalbard, Norway for Greenpeace. Sitting at a grand piano with the Wahlenbergbreen Glacier slowly melting in the background, 'The Elegy for the Arctic' was composed to draw attention to climate change.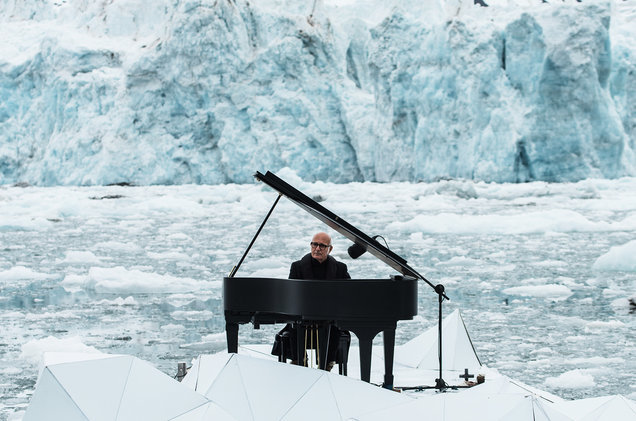 "I like that this track is connected with the theme of environment, which is important to everybody. We all should realize that the planet is warming up. That by 2050 there will be more plastic than fish in the oceans. The video has million viewers on YouTube. The commission did not react positively, but the important thing is that more and more people are becoming aware of the issue."
"Every time I play the solo parts during a performance, I play something different based on the vibes I get from the place, and I give back the vibes to the audience as a gift," Einaudi says, noting that the improvisation is connected to the feeling that he gets from the atmosphere.
The award-winning composer will go on stage at the Interior Ministry Hall on April 25, 26 and 27. His band includes Redi Hasa on cello, Federico Mecozzi on violin, Francesco Arcuri on guitar, Riccardo Laganà on percussions, and Alberto Fabris on bass.