Luca Novelli is a well-known name in the sphere of science books for children. As a writer, artist and journalist, Novelli's books about science and nature have been translated around the world in as many as 22 languages. In 2001, he received the League for the Environment Award, and in 2004, he won the Andersen Prize for popularizing science. His 'Hi, I'm Zero' in particular presents complex arguments with disarming clarity and makes it very easy for anyone to appreciate and understand even the most ambitious scientific phenomena. In 14 chapters, Novelli manages to tell humorous and historical stories about the birth of number 0, and its various applications in the daily lives of the ancient civilizations up to the present day. Many names of brilliant minds throughout time and across the globe come up, from Luca Pacioli and Fibonacci to Persian mathematician Muhammad ibn Musa Al-Khwarizmi.
On Monday, May 8, this prolific Italian writer together with Iranian journalist and writer Ehsan Rezaei delivered a speech on science books for children and the dissemination of knowledge for the young. He presented an introduction on his 'Geniuses' series, also coming out in Persian, which include charming biographies of Italian genius minds like Galileo, Alessandro Volta, and Leonardo da Vinci, as well as great Iranian masterminds such as the mathematician Al-Khwarizmi – inventor of algebra, the great physician Muhammad ibn Zakariya al-Razi, and Ismail al-Jazari, hailed as 'father of robotics'.
Novelli lauded his presence at Tehran Book Fair as an "opportunity to show that science is boundless and that the language of science is a language of peace that unites what history and ideologies often divide."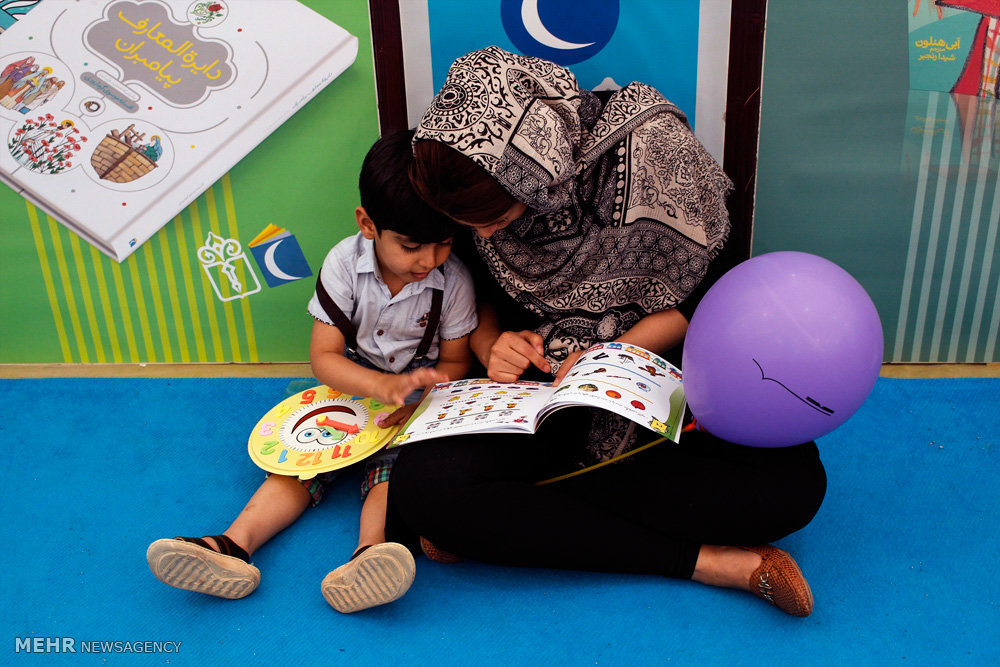 "I write science books for children, but that's not all I've ever done," Novelli said in his charming Italian language while we sat down for a short interview before his presentation at Italy's pavilion designed beautifully by Iranian architect Leila Araghian, better known for her award-winning design of Tehran's Tabiat Bridge.
"I was a journalist, I worked with television, and many publishers all across Italy," he went on, as a nice Iranian lady translated his words into Persian for me. "I've grown old now, almost as old as the Ferrari company, and I feel like I have done everything I wanted to. It's been many years I have been writing science books for children. I will introduce some of them here today to the Iranian visitors. They have been translated to many languages around the world. My first book was on computers, sold about 1 million copies around the world. That success set me up on this path."
Is this your first time at Tehran Book Fair? How are you finding the experience so far?
This is my first time in Iran and I am so glad that I am here today, among the Iranian people. I am very interested in Iran. While writing my latest books, which I am going to introduce today, I became intimately familiar with Iran's history of science, as well as many other countries'. This I regard as a highly fortunate event in my life. For instance, I learned that Einstein would not have discovered the Theory of Relativity if he had not known about algebra, which was single-handedly invented and introduced into European mathematics by Persian mathematician and astronomer Al Khwarizmi (born c. 780—died c. 850). I have written about Al Khwarazmi in one of my books ('Hi, I'm Zero') which I am going to talk about today.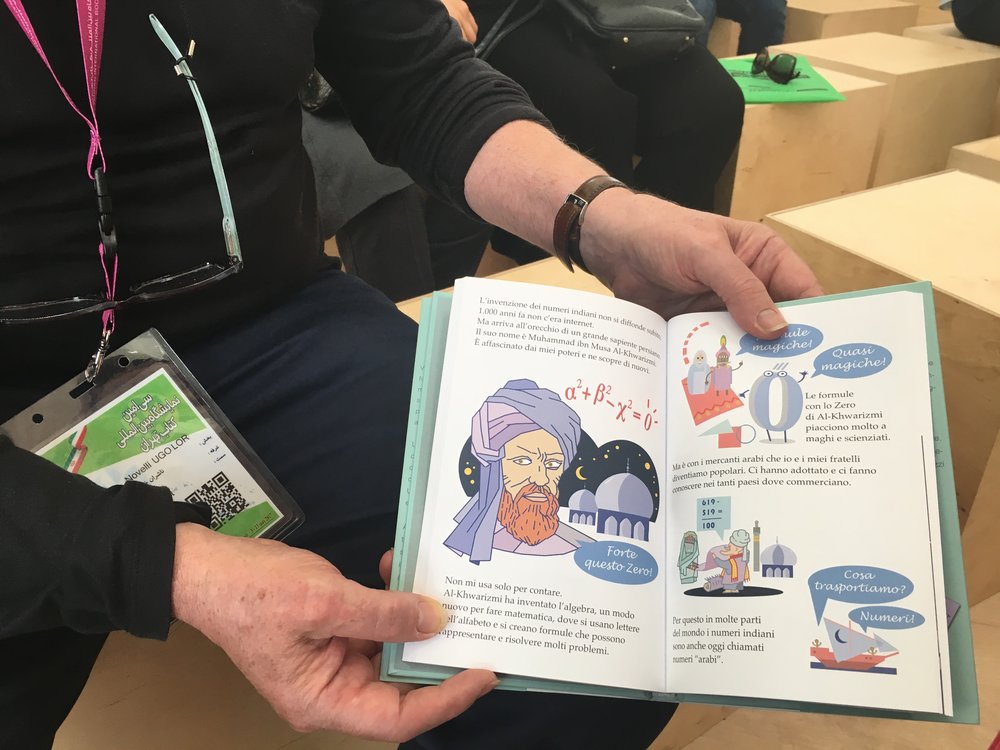 Italy has been selected as the Guest of Honor for this year's edition of Tehran International Book Fair (30th TIBF). How do you think this decision will impact the level of literary interactions between Iran and Italy?
The presence of Italy as the Guest of Honor at Tehran Book Fair has indeed opened a gate to further literary and cultural cooperation between the two countries. Here I am accompanied by my publisher, Francesco Brioschi, who is currently involved in a project of translating and publishing a number of Iranian fiction books back in Italy. Recently, he also organized an exhibition of works by Iranian illustrators in Milan. And by the way, the series of my science books for children will be translated into Persian and published by the Institute for the Intellectual Development of Children and Young Adults in Iran. It is such a blessing to see the increasing growth of cultural exchanges between our two countries.
The Iranian Cinema has been credited to some rather great extent with having introduced a more reality-based picture of the Iranian culture. I know for a fact that Italy has been very welcoming to Iranian cinematic productions. As a prolific writer with books translated around the world impacting the lives of people in various countries, how do you evaluate the impact of Iran's book industry in your country? Has it been more successful or less successful than its cinema at introducing the Iranian culture to the world?
I cannot give an accurate answer to this because I do not know the exact statistics, but what I do know for sure is that right now, Italy as well as so many other countries in the world, are keenly interested in learning more and more about the Iranian culture in any medium that can be achieved.
Tell us about the current status of the publishing industry in Italy. What is the leading book genre?
In Italy, books written for children are more popular than any other books right now, I can even say that children books are the leading genre. Unfortunately, Italy's publishing industry underwent a period of crisis, but I think we are now gradually emerging from that period of decline.
What is your advice to those who think reading books will not have much impact on the quality of their lives? How do you bring them over to the 'bright side'?
Actually, the kind of books I write are intended for those who are rather reluctant to spend their free time on reading books. I start them with simple, yet interesting, books that will grab their attention for a while. In a way, I present them with some stepping stones so that they can finally reach that stage where they can willingly and enthusiastically begin reading more serious, complex books, by themselves.
The 30th edition of Tehran International Book Fair was held at Shahr-e Aftab International Exhibition Complex from 3-13 May, 2017. Covering an area of 135,000 square meters, the Book Fair showcased more than 4,000 titles by over 2,700 domestic and foreign publishers.
Interview by: Marjohn Sheikhi