Shirz valley is located 45 km to the north east of the city of Kuhdasht capital of Kuhdasht County, Lorestan Province, Iran and with its pristine tourist attractions, wonderful springs and waterfalls as well as fruitful trees has turned into one of the most beautiful promenades in the west of the country.
The natural attraction is located in a region called Olad Ghobad and comprises of a beautiful landscape, springs with plenty of flowing water, sharp rocks in addition to abundant wild fruits.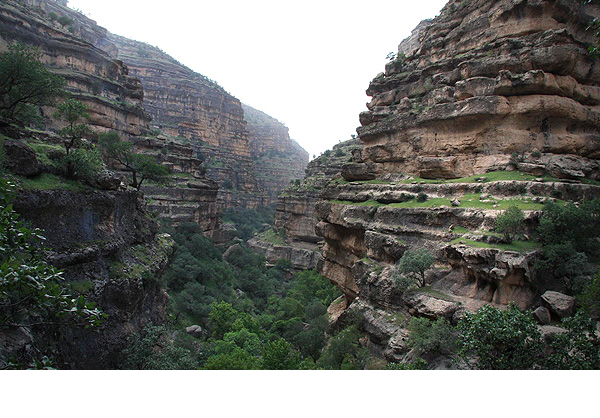 The springs join Seimareh River as the main branch of Karkheh River. The untouched and beautiful area of Shirz region depicts greatness and glory of soaring mountains in the eyes of visitors before combating their fatigue with the sweet melody of gurgling water.
The strait is a few kilometers long with a small river passing through it which has created alluring waterfalls before joining Seimareh River at the entrance of the valley.
The gorge is replete with fruit trees including grapes, figs and pears which reside between two amazing mountains where magnificent caves are seen suggesting human habitation in the area in old times.
The untouched area, which evokes a sense of wonder in visitors, hosts local people as well as tourists who visit the region on holidays in order to reduce daily fatigue next to waterfalls and under shade trees.
Lorestan was chosen as the capital of geotourism in Iran in view of its great potentials and offers good capacities with regard to tourism including scientific Geoparks, Shirz canyon as well as the biggest landslide in the world dating back to 11 thousand years ago.
HA/3582845