Having bagged 59 medals in total (20 golds, 14 silvers and 25 bronzes) from the 2010 Asian Games in Guangzhou, China, it has been Iran's best result since the 1974 Asian Games in Tehran.
At the 2006 Doha Asian Games, Iran claimed 12 gold medals and finished sixth.

China came first with 199 golds and 416 medals in total, followed by South Korea bagging 76 gold medals and Japan with 48 golds in third place.

Oman and Nepal propped up the table with a single bronze each, while minnows like Timor-Leste, Maldives, Turkmenistan, Brunei and Cambodia did not win any medals.

There were three world records, two in weightlifting and one in archery, as well as 103 Asian records.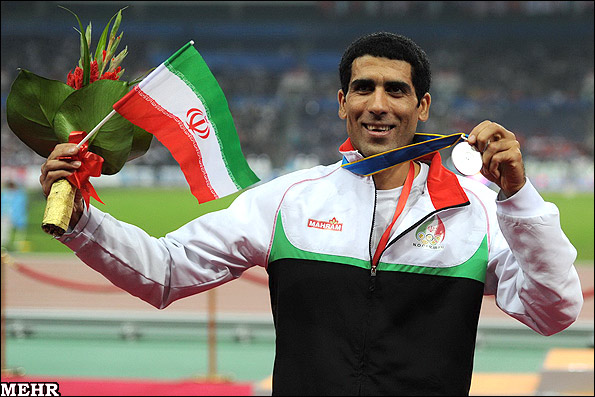 Sajad Moradi shows his gold medal after winning the Men's 800meters

Altogether, 9,700 athletes from 45 countries vied in 42 various sports making the Guangzhou games the largest event in the history of the Asian Games.

A total of 12,600 drug tests were carried out with just two violations; one by Uzbek wrestler Jakhongir Muminov and the other Uzbek judoka Shokir Muminov.

Badminton men's singles gold medalist Lin Dan was voted as Most Valuable Player (MVP).

Iranian gold medalists at the Asian Games are as follows:

Athletics:
Sajad Moradi- Men's 800 meters
Ehsan Haddadi- Men's Discus Throw

Canoe/Kayak Sprint:
Ahmadreza Talebian- Men's Kayak Single 1000 meters

Karate:
Jasem Vishkaei- Men's -84kg
Zabiollah Poursheyb- Men's +84kg

Rowing:
Mohsen Shadi- Lightweight Men's Single Sculls

Taekwondo:
Mohammad Bagheri Motamed- Men's -68kg
Alireza Nasr Azadani- Men's -74kg
Yousef Karami- Men's -87kg

Weightlifting:
Behdad Salimi- Men's +105kg

Wrestling:
Omid Noruzi- Men's Greco-Roman 60kg
Saeid Abdvali- Men's Greco-Roman 66kg
Taleb Nematpour- Men's Greco-Roman 84kg
Babak Ghorbani- Men's Greco-Roman 96kg
Sadegh Gudarzi- Men's Freestyle 74kg
Jamal Mirzaei- Men's Freestyle 84kg
Reza Yazdani- Men's 96kg

Wushu:
Mohsen Mohammad-Seifi- Men's Sanshou 60kg
Khadijeh Azadpour- Women's Sanshou 60kg
Hamid-Reza Gholipour- Men's Sanshou 75kg

MH/MRK
END
MNA