Haniyah arrived in Tehran on Thursday for a four-day official visit.
Haddad-Adel said the massive political and economic pressure that the Western countries including the United States have put on the Palestinian people and their elected government proved that the "West's claims of support for democracy in the Middle East were false".
The most important mission of Hamas is to bolster unity among Palestinian groups and reinforce resistance against the Zionist occupation, Haddad-Adel underlined.
He added that the enemies of Islam and Palestine are opposed to any type of unity in the Islamic world.
After the victory of the Islamic resistance movement against the Zionist regime's invasion of Lebanon last summer the enemies of Islam began a large-scale attempt to create rift and chasm between Shias and Sunnis in the region, the speaker pointed out.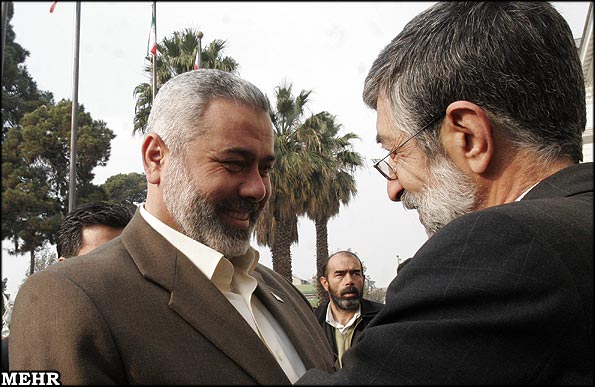 The West intends to implement its anti-Islamic policies in the region and make the regional nations cast the Palestinian cause into oblivion, the top parliamentarian commented.
The Palestinian prime minister said that the Islamic Republic has always been strengthening faith in the Palestinian cause in the heart of Muslims all across the world and calling for the liberation of Beit-ul-Moqaddas.
Insisting that Hamas will not give up attempt for regaining the occupied lands, Hanyiah said, "The Palestinian government will never recognize Israel, and will support jihad and resistance against the Zionist occupiers."
He also stated that Israel and the U.S. oppose the formation of a national unity government in Palestine in order to sow discord among the Palestinian people.
RMN/RS/MS
End
MNA