Air travel is probably the first option that springs to mind. There were certainly some minor or major accidents. Nevertheless, air travel is still the safest form of transport. Moreover, traveling by plane is the fastest and at the same time one of the cheapest ways to travel. There are several ways to find the most affordable plane ticket. Friends, magazine advertisements, and travel agencies may be sources of some temporary and occasionally information about booking plane tickets and reserving hotels. However, websites are unrivalled; they are free, fast, up-to-date, and always available. In the following, we will recommend you some of the most useful websites for buying plane tickets and hotel reservations.
Skyscanner
Skyscanner.net is designated for exploring flight deals, searching for hotels, and hiring cars. This website does not sell directly, after finding the cheapest and most suitable flight through the site, you will be led to the home page of the airline or hotel. You can see prices in your country's currency. Also, they have a mobile application that it covers all needs of customers. Furthermore, Skyscanner has a tool called Price Alerts, they'll watch the price of plane tickets for you, and let you know via email or the app if they rise or fall. The website makes it easier to search, compare and book trips, hotels, and cars.
Onetravel
Onetravel.com is a truly comprehensive website to find and buy a cheap ticket. In that, you can explore and reserve flights, hotels, and even cars. Moreover, they offer a Post-Ticketing Service for exchange tickets and refunds and its fees are reasonably fair. They have a special credit card which has no annual fee. Onetravel charges a booking fee: from $0 to $35 per ticket which is considered as a somehow bad feature for it.
Expedia
This is how they have introduced themselves: "Our mission is to power global travel for everyone, everywhere." Expedia.com is a complete website for finding airlines, hotels, rental cars, concerts, festivals, tours, and other events. This website has a 24/7 virtual agent to help you with your travel plans. The Expedia group conversations platform hosts over 20 million virtual conversations annually. Whether it's planning a family vacation, booking for business, or organizing the trip of a lifetime, Expedia Group brands unlock the best possibilities for each individual traveler and each type of trip. They claim that their investments in technology make it possible for them to deliver innovations at a faster pace so planning and booking become a more effortless and exciting part of the journey. Expedia sometimes offers discounts. The amount of some of these discounts is higher in their mobile application.
Google Flights
As you can guess it is an enormous meta-search engine that was developed to find flights, hotels, events, vacation rentals, cities, and countries. This powerful tool shows you the nearest and most attractive places based on your record search Google database and your location. Instead of searching for a certain city as a destination, you can put it in the name of a larger region such as Europe or South Africa. You'll then see fares to various cities within that region displayed all at once on a map. This can be helpful if you want to go to Europe in April, for example, but don't have a particular destination in mind. When you search for flights, Google Flights automatically sorts the results by "Best flights," an order that shows the best value by price, length, time of day, and other factors.
Flytoday
This website by taking advantage of state-of-the-art and online technologies provides the best services for purchasing international and domestic plane tickets, foreign hotel reservations, foreign train reservations, travel insurance purchases, airport transfers and cruise ships all over the world. The experts of Flytoday's support team are at your service 24/7 to meet your needs. Opening up possibilities to purchase foreign flight tickets through directly Iranian currency (no credit card required) has paved the way to buy tickets in Iran. Flytoday.ir has access to more than 900 airlines around the world and direct sales of plane tickets. Therefore, it will be easy to find cheap flights and buy cheap tickets. Flytoday also provides several ways for customers to inform and buy inexpensive flight tickets. Systematic plane tickets, charter flight tickets, and last-minute flight tickets have always been solutions for people who chase saving money. Flytoday search tool can rank best-departing flights by price, date, and airports. They also have designed a mobile application that you can install to get a discount. Choosing and buying from Iranian and foreign airlines at the lowest prices and in the shortest time via Iranian currency is a unique service of Flytoday. By using the world's latest technology and eliminating intermediaries, Fly Today has been able to launch the most complete reference for searching, comparing and booking foreign hotels. All you have to do is select a foreign hotel or the city of your choice so that you can see the details of the hotels such as the number of beds, hotel facilities, room prices, hotel location, etc. Book the best and cheapest price online.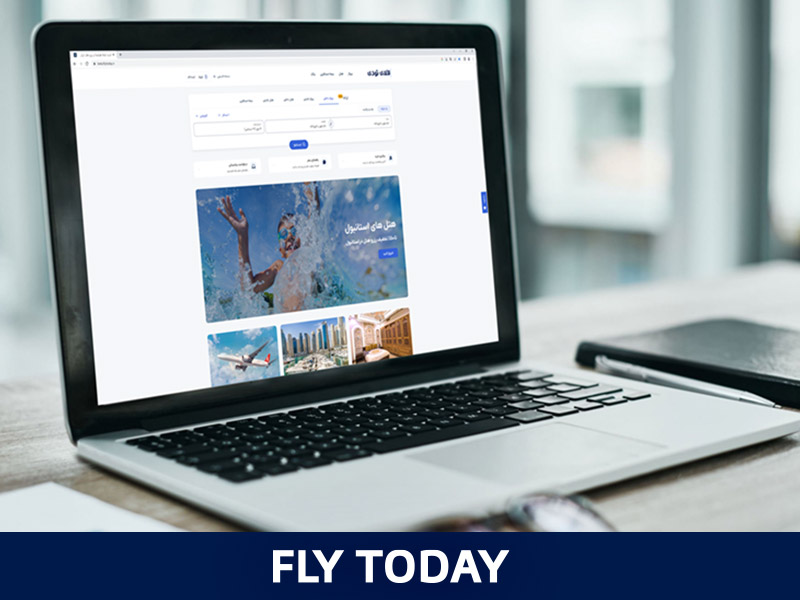 Summary
If you're on a budget, or if you're looking for flight deals on complicated routes, knowing where to begin your search is half the battle. Unfortunately for us avid travelers, booking a flight is more than just inputting your travel dates and picking one of the first ones you find. If you really want to get the best flight at the best price, it pays to shop around. Wondering which website you should be booking your airfare with to get the best deal? You're not alone. There are seemingly endless options when it comes to choosing the best flight booking site these days. In addition to the option of booking directly with your airline, there are dozens of flight booking websites, also known as online travel agencies (OTAs), to choose from. The uncomfortable truth is that no one flight search engine can guarantee the best price 100 percent of the time, but using a mix of the right resources can help ensure you're not overpaying. Lastly, it's important to remember that this list can be separated into two main types: booking sites (also called OTAs) that you book directly with as a third party, and aggregators otherwise known as metasearch sites that'll send you to a booking site to make your transaction. The latter are better if you want to use any frequent flyer programs you might belong to and acquire points.
This article is an advertisement and Mehr News Agency has no opinion on its content.