The US is seeking Guzmán's extradition for drug trafficking and has offered up to $5 million for information leading to the capture of the man they say is "a senior member of the Sinaloa Cartel."
On Thursday, Mexico's Foreign Minister Marcelo Ebrard confirmed that there is an arrest warrant in the US dated September 19, 2019, but said the possible extradition of Guzmán would not be immediate due to the formalities of the law. He also stated that Guzmán has ongoing legal proceedings in Mexico, CNN reportd.
According to the Televisa network and other Mexican media, another federal judge later ordered Guzmán to stay in 60 days of preventive detention for the purpose of extradition after a hearing at the Altiplano maximum security federal prison where he is being held.
Guzmán's father, "El Chapo," had escaped from Altiplano prison on July 11, 2015 through a mile-long tunnel that featured a motorcycle on tracks. He was later captured and convicted in the US four years later of 10 counts, including engaging in a continuing criminal enterprise, drug trafficking and firearms charges. He was sentenced to life in prison plus 30 years and ordered to pay $12.6 billion in forfeiture.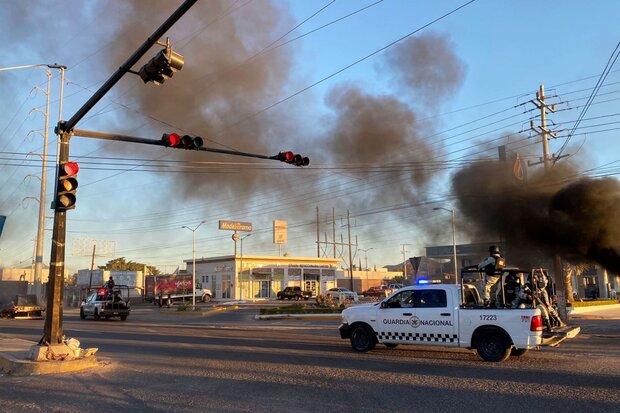 Ovidio Guzmán was previously arrested by federal authorities in October 2019 but was released on the orders of President Andrés Manuel López Obrador to avoid further bloodshed.
His latest arrest comes days before US President Joe Biden and Canadian Prime Minister Justin Trudeau visit Mexico City to attend the North American Leaders Summit.
After Guzmán's arrest in Culiacán on Thursday, chaos erupted in the city. The authorities asked citizens to seek refuge due to clashes in several areas.
His arrest was the result of a lengthy operation which involved 200 special forces, Defense Minister Luis Cresencio Sandoval said Friday. Local officials urged citizens to shelter at home amid clashes with cartel members in various parts of the city.
At least 19 suspected gang members and 10 military personnel died during violent clashes in the northern Mexican state of Sinaloa, after authorities arrested Guzmán, along with 21 others. No civilian deaths or injuries were reported.
Security at Altiplano prison has been increased since Guzmán was detained, the minister added.
The President said later on Friday that the city was calmer and officials were working to clear the roads.
MNA/PR