In a tweet on Saturday, Iranian Foreign Minister Mohammad Javad Zarif wrote, "Terror attack on our scientist was indubitably designed & planned by a terrorist regime & executed by criminal accomplices.
Shameful that some refuse to stand against terrorism and hide behind calls for restraint.
Impunity emboldens a terrorist regime with aggression in its DNA."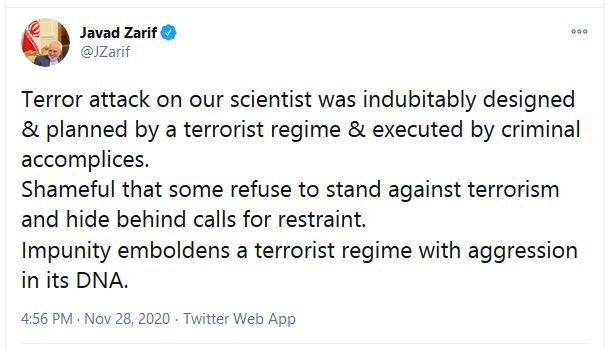 These remarks came as Iranian nuclear scientist, Mohsen Fakhrizadeh-Mahabadi, was martyred in a terrorist attack on Friday.
Fakhrizadeh-Mahavadi was targeted on Friday in a multi-pronged attack involving at least one explosion and small fire by a number of assailants in Absard city of Damavand County, Tehran province.
FA/FNA 13990908001158