Back in 2016, during the visit of Iranian President Hassan Rouhani to Paris and his meeting with the then French President Francois Hollande, an agreement was signed between the two sides to bring a collection of some 50 works from the Louvre to Iran for a four-month exhibition, in a bid to further cement cultural and diplomatic ties amids some otherwise political tensions.
Two years since then and coinciding with the celebrations for the 80th anniversary of the National Museum of Iran, the exhibition is now finally on display for everyone interested in ancient culture, with an entry fee as cheap as 1.5 dollar.
Speaking at the opening of the exhibition on Monday, the Director of the National Museum of Iran, Jebrael Nokandeh, said since 2001, over 60 exhibitions were organized by the Iranian museum in Europe and America, which consolidated the cultural ties between the people of these countries with the Iranian nation.
"Since 2015, we held three foreign exhibitions in Tehran, and the collection from the Louvre is the fourth of such exhibitions," he said, adding that the collection includes 56 ancient artworks from Greece, Egypt, Syria, Iraq, India, Mesopotamia, France, Italy, and Germany.
Notable among the items shipped over, are a 2,400-year-old Egyptian sphinx, a bust of Roman emperor Marcus Aurelius and drawings by Rembrandt and Delacroix.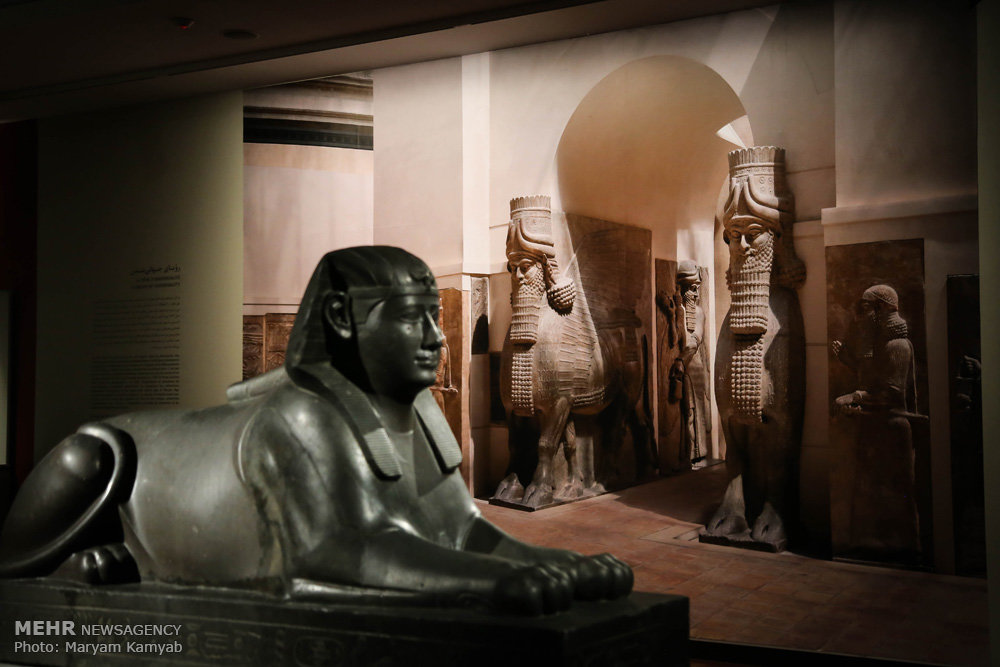 Two Iranian works kept at Louvre, including a bronze ax from Chogha Zanbil and a flag from Lurestan, are also on display as part of the collection.
There is also an exhibition of 18 photographs of the Louvre Museum taken by late Iranian director Abbas Kiarostami, for those interested in photography. The collection is aptly called, 'regarde moi', or 'Look at Me'.
"In the turbulent ocean of international diplomacy, cultural diplomacy is a beacon we must keep alight," French Foreign Minister Yves Le Drian said at the opening event sponsored by French oil giant Total.
The Louvre President Jean-Luc Martinez also said at the event that more cultural programs of even higher calibre have been planned to be organized with cooperation of the Iranian side.
The exhibition, entitled 'Louvre in Tehran', as the first large-scale show by a Western museum in Iran's history, will welcome visitors at the National Museum of Iran by 8 June, 2018.