More than four out of every ten Germans (43%) say that one of the main reasons we have seen a growth in the popularity of right-wing parties in Europe is that the electorate feel there have been empty promises that have not been fulfilled. The same opinion is shared by 33% of respondents in Great Britain and 45% of those surveyed in France. The figures have been released as part of a new Sputnik. Polls survey carried out by TNS Global for Sputnik news agency and radio.
Participants were asked what they thought was the main cause of the growing popularity of parties such as the Alternative for Germany (AfD), France's National Front, and the UK Independence Party (UKIP).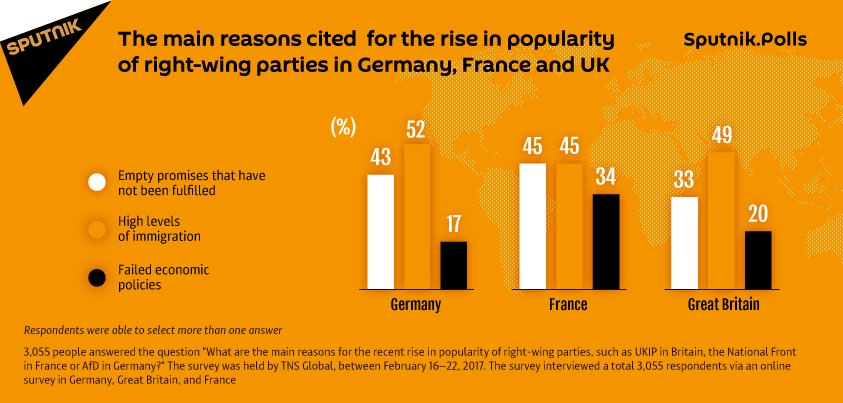 Public opinion in France, Germany, and Great Britain shows that among the reasons that led to the popularity of these parties were high levels of immigration and failed economic policies. In France, approaching half of respondents (45%) believed that it was empty promises that have not been fulfilled; and the others believed it was high levels of immigration into the country. In Germany, people thought that high levels of immigration (52% of respondents) influenced opinion more than failed economic policies (17% of respondents). In Great Britain, nearly half (49%) of respondents mentioned high levels of immigration.
Older people, those aged between 55 and 64, were amongst those most likely to say high levels of immigration. Young people tended to explain the increased popularity of right parties by the need for social reforms.
The survey was held by the international polling company, TNS Global, between February 16−22, 2017. The survey interviewed a total 3,055 respondents via an online survey in Germany, Great Britain, and France.
SPUTNIK/MNA