In the ceremony, which took place near the mausoleum of the late Imam Khomeini, the Founder of the Islamic Republic, thousands of troops held a military parade in which military vehicles and equipment were also put on display.
Addressing the military personnel, Ahmadinejad said Iran has one of the world's most powerful militaries.
Commenting on the West's vicious plots against the region, Ahmadinejad said certain Western countries seek to create divisions between Iranians and Arabs and between Shias and Sunnis and urged regional nations to be vigilant.
"The arrogant powers are making efforts to sow discord in the region. They are trying to provoke regional divisions and wars among nations and governments in order to sell their weapons," he stated.
Based on a scheme devised 10 years ago, the U.S. came to the region in an attempt to "occupy the heart of the politics, economy, and culture of the world, which is our region," he added.
He went on to say that the hegemonic powers sought to take control of and redirect the awakening of regional nations, inspired by the Islamic Revolution of Iran, and also to save the capitalist system and economy from definitive collapse.
However, the vigilance of the Iranian people and the unity among regional nations thwarted all their efforts, he noted.
"The United States is not an honest friend because it has always betrayed its friends. However, Iran is a real friend of all nations," he added.
Military equipment on display
Advanced military equipment, the new generation of the Zolfiqar tank, advanced radar systems, a land-to-sea missile system, and Shahab and Ra'ad missiles went on display in the military parade.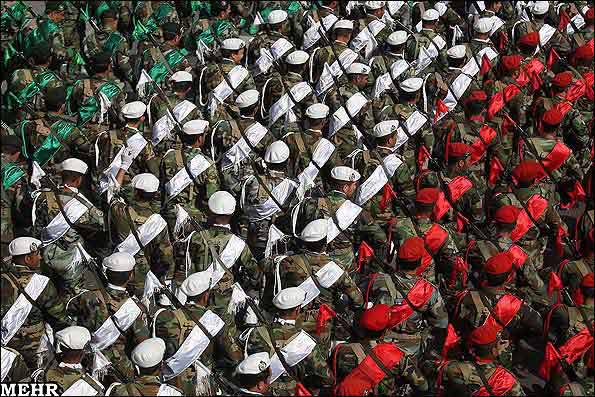 In addition, a number of helicopters and fighter jets made an overflight.
On the same day, the Jamaran destroyer and several new warships, missile-launcher vessels, speedboats, helicopters, and Qadir submarines joined the Iranian Armed Forces.
Iranian military supports regional countries
The commander of Iran's Armed Forces, Major General Ataollah Salehi, said on Monday that the Iranian military counters aggressors and supports all regional nations.
Speaking to the IRNA news agency on the sidelines of the ceremony, Salehi said Iran has always proven it is ready to help its friends in various areas, including the cultural, political, and military spheres.
He noted that no country has ever experienced aggression at the hands of the Islamic Republic of Iran, but nowadays, extra-regional powers are seeking to invade countries in the region.
"It is interesting that they describe Iran, which defends the rights of oppressed nations, as meddlesome," he added.
AA/HG
END
MNA