A military parade to commemorate the 78th anniversary of the Soviet Union's Victory over Nazi Germany in the 1941-1945 Great Patriotic War is underway in Moscow's Red Square in the presence of Russian President Vladimir Putin.
The parade began with the march of the Honor Guard's banner group carrying the Russian national flag and the legendary Victory Banner across Red Square. The Victory Banner was hoisted over the Reichstag by soldiers of the Soviet 150th Idritsa rifle division in May 1945.
This year, Russia's Victory Day Parade on Moscow's Red Square involves over 8,000 troops, including 530 fighters of the special military operation in Ukraine, and 125 items of military hardware.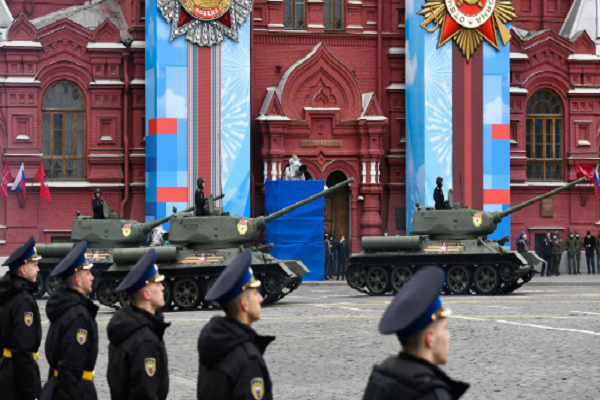 Delivering a speech at this military parade, Putin pledged that a war has been unleashed against Russia, but that Moscow will resolve it.
"Today, civilization is again at a decisive turning point, [and] a real war has been unleashed against our Motherland. But we repelled international terrorism, [and] we will protect the residents of Donbas, ensuring our security," Putin underscored, Sputnik reported.
He pointed to an array of countries, who he said want to strangle any sovereign centers of development.
"Their goal - and there is nothing new here - is to achieve the collapse and destruction of our country, cross out the results of the Second World War, finally break the system of global security and international law, and strangle any sovereign centers of development," Putin noted.
He underlined in this vein that "Like the vast majority of people on the planet, we [Russia] want to see a future of peace, freedom, and stability. The Russian president added that "any ideology of superiority is inherently disgusting, criminal and deadly."
MNA/PR