Hossein Amir-Abdollahian who traveled to Geneva to attend the UN council's meeting held talks with some foreign ministers attending the event.
Iran FM, UN human rights chief meet in Geneva
Amir-Abdollahian held talks with UN High Commissioner for Human Rights Volker Türk on Monday night.
During the meeting, which was held on the sidelines of the 52nd Session of the UN Human Rights Council in Geneva, the two sides discussed human rights issues as well as the violation of the human rights of the Iranian nation by the United States through the imposition of cruel and inhumane sanctions.
Iranian foreign minister explained the fundamental positions of the Islamic Republic of Iran regarding the issue of human rights.
The two sides also emphasized the continuation of talks and cooperation on human rights issues.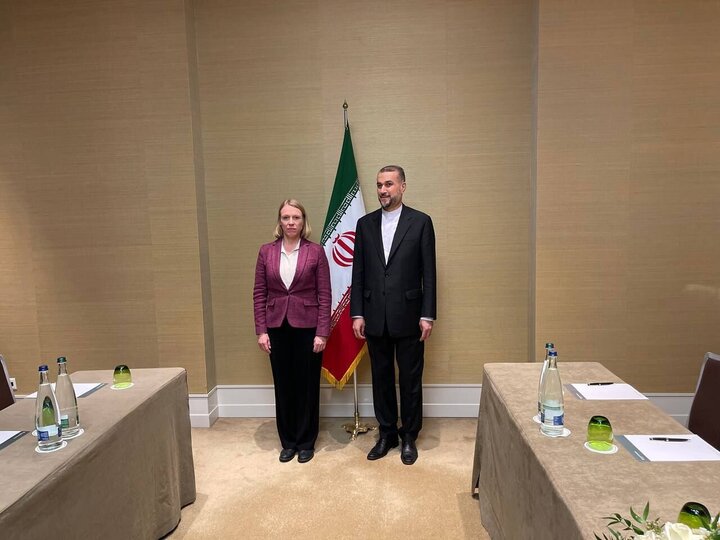 Iran FM meets Norwegian counterpart
Amir-Abdollahian also met with his Norwegian counterpart Anniken Huitfeldt in Geneva on Monday.
That was part of a series of diplomatic meetings the top Iranian diplomat held with high-ranking officials taking part in the HRC session.
Criticizing the non-constructive positions of a certain number of European countries and the Speaker of the Norwegian Parliament regarding recent riots in Iran, Amir-Abdollahian said that the talks can clear up misunderstandings.
He also pointed to the Ukraine war, saying that Iran opposes the efforts to expand NATO and the war in Ukraine and supports the sovereignty and territorial integrity of countries.
MNA/IRN85042786