Buckingham Palace has announced that Queen Elizabeth II has passed away at the age of 96.
Her reign lasted 70 years, making her the longest-serving British monarch and female head of state in history, according to Russia Today.
Prince Charles, 73, heir to the throne since the age of three, is now king, and the Duchess of Cornwall is now Queen Consort, The Guardian reported.
In a statement, Buckingham Palace said: "The Queen died peacefully at Balmoral this afternoon. The King and the Queen Consort will remain at Balmoral this evening and will return to London tomorrow."
The royal family's official website carried the message: "Queen Elizabeth II 1926-2022" along with the official statement issued by Buckingham Palace.
In a statement, the new king said, "The death of my beloved mother, Her Majesty The Queen, is a moment of the greatest sadness for me and all members of my family.
The Queen's doctors placed her under "medical supervision" at her residence in Balmoral Castle in Scotland, on Thursday, after becoming concerned with her health.
Flags on landmark buildings in Britain were being lowered to half mast as a period of official mourning was announced. Royal residences that are open to the public will be closed.
It is expected the bells of Westminster Abbey and St Paul's Cathedral will toll their bells at midday on Friday, and ceremonial gun salutes will be fired in Hyde Park and at Tower Hill in London.
As is traditional, officials brought a notice confirming the Queen's death to the gates of Buckingham Palace. A large crowd gathered to read it.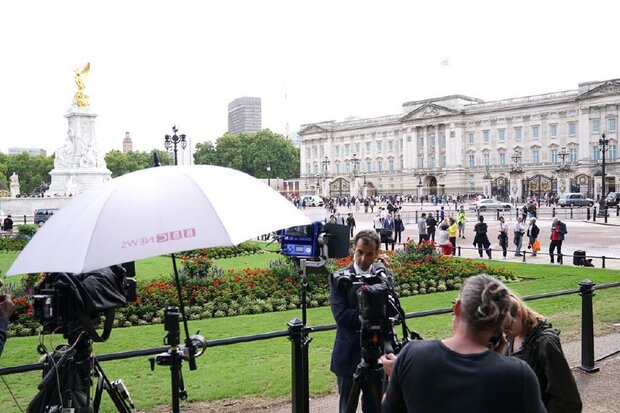 She died just two days after performing her final constitutional duty, which was to formally appoint a new prime minister, the 15th of her reign.
Queen Elizabeth II, Britain's longest reigning monarch, recently celebrated the platinum jubilee of her rule marking 70 years on the throne. The royal ascended to the throne at the age of 27 in June of 1953, and has been a staple of British political and social life in the decades since. The length of her rule is surpassed only by Louis XIV, who ruled France for 72 years and 110 days during a reign running from 1643-1715.
The Queen postponed a virtual meeting of the Privy Council - a body of senior official advisors on Wednesday after doctors advised her to rest. Elizabeth II appointed Liz Truss as PM and approved her cabinet on Tuesday.
KI/PR