She displayed her video art works "Dream of Color", "Lullaby", and "Sounds" during a group exhibition recently held at the Niavaran Cultural Center, she told the Mehr News Agency on Saturday.
"I tried to highlight Iranian women's clothing in 'Dream of Color'," she added.
"I have always believed that God bestows colors on human beings at sunrise. In other words, layers of colors and designs appear in the sky at the crack of dawn, just like the four seasons, in which we can behold various colors. Women in villages have more than their share of these colors, while in cities women are mostly dressed in dark and gloomy colors."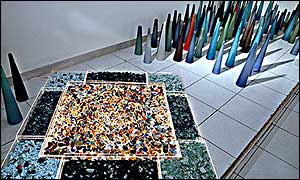 An installation work by Farideh Shahsavarani
Shahsavarani stated that "Sounds" is based on the theme of human creativity.
"Human beings made use of sound when there was no speech," she added.
In the past, mothers sang lullabies for their babies in unimaginable peace, but modern mothers have less chance to do so for their darlings, she maintains.
"'Lullaby' depicts the calmness of mothers beside their babies' cradles."
The artist also called for more government support of women artists to help them refine their skills.
She elaborated on her new work "Demon and Angel", saying that it is based on the theme of freedom.
"The angel is the symbol of today's human being, who is escaping the demon of social problems."
NM/HG
END
MNA