In men's +85kg category, which was held on Saturday, Yousefi lifted 150kg, 156kg and 162kg in his three attempts in the snacth. This is while Bulgaria's Hristo Hristov hoisted 173kg and gained the lead by 11kg.
Circumstances completely changed in the clean and jerk where the 15-year-old Iranian lifted 211kg in his second attempt to secure the silver ahead of Netherlands' Enzo Kuworge. However he was still 6kg behind Hristov.
In his final attempt, Yousefi hoisted 218kg to stun the audience, overhaul the Bulgarian rival and gain the gold medal of the superheavyweight category.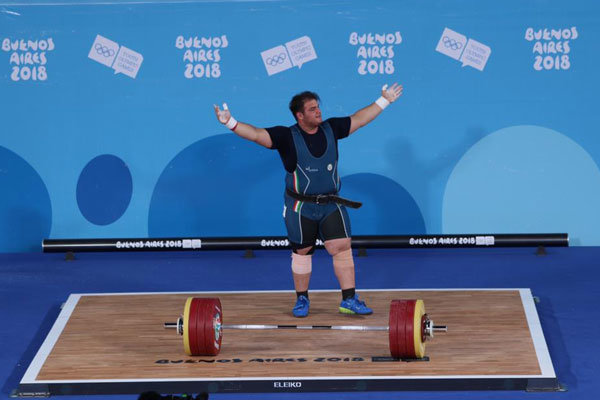 "I always believed that I would win the gold medal, I was very sure about it. It is very difficult and hard, but I finally got the gold. It is the happiest time in my life. The gold medal means the future and everything for me," official website of the games quoted him as saying.
"I'm now going to prepare myself for 2024 and 2028 Olympics and attain medal for my country," he added
The third edition of Summer Youth Olympics kicked off on October 6 and lasts for 12 days. Some 4,000 thousand athletes from 206 countries compete in 32 different sports. 49 Iranian athletes are participating in 18 disciplines.
MAH/4429299