During a meeting with President of Austria, Alexander Van der Bellen in New York on the sidelines of the 72nd session of the United Nations General Assembly, Iran's President Rouhani met with the President of Austria, Alexander Van der Bellen, saying "in the post-JCPOA era, there are ample opportunities for further cooperation between the two countries in investment, trade, science and modern technologies."
Rouhani invited Austria to invest in Iranian projects in the fields of energy, roads and railroads, banking and insurance, tourism, as well as research and technology.
Highlighting the role of the Iran's nuclear deal in development of cooperation with other countries, Rouhani said "full implementation of JCPOA is beneficial to European Union and the region; therefore, it is essential that the EU play a constructive role to serve its own and European companies' interests."
Touching upon regional developments, Rouhani said "Iran has responded positively to the fight against terrorism upon the request of the Iraqi and Syrian governments, and will continue to fight until the final victory is achieved."
The president deemed perilous any change in the geographical boundaries of the countries in the region, adding "the most recent concern is the issue of Iraqi Kurdistan region's decision to hold a referendum on independence, which can cause serious tension and conflict in the Middle East."
Austrian President Alexander, for his part, pointed out the promising growth of Iran's economy in the global scene, saying European and Austrian companies are further encouraged to participate in the Iranian market more than any time before.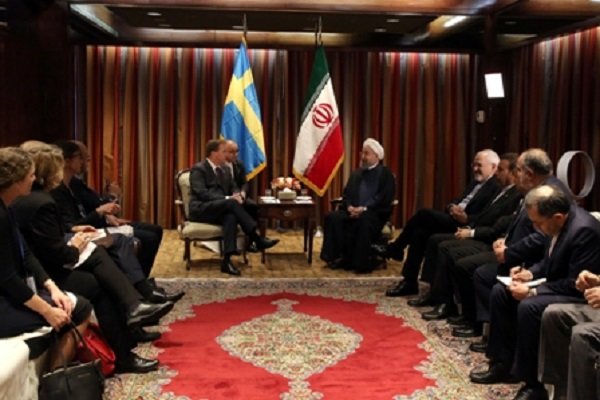 Also on Monday, President Rouhani met with the Prime Minister of Sweden Stefan Löfven in New York, calling for the implementation of the two countries' agreements for the further development of cooperation, and welcoming Swedish entrepreneurs and investors' active presence in Iran's market.
"We need better banking relations to develop economic ties," Rouhani stressed.
Elsewhere, Rouhani expressed appreciation for the strong positions of the European Union, including Sweden, in support of the JCPOA, expressing hope that all parties to the deal would remain committed to their obligations.
Discussing regional issues, he said "terrorists are on the verge of total defeat in Iraq and Syria, and good talks are underway in Astana on Syrian settlement with participation of Iran, Russia and Turkey, which have achieved good results."
About the humanitarian crisis in Yemen and displacement of thousands of Yemeni people in the war waged by Saudi coalition, Rouhani voiced hope that Yemeni groups would begin negotiations with the cease-fire in Yemen, and that the EU could support the security of the region by supporting the process.
About the grievous conditions of the Muslim community in Myanmar, the president called on the Myanmar to stop the genocide of Muslims, and urged the European Union to pressure the Burmese government to put an immediate stop to the inhumane violence on Rohingya Muslims.
The Swedish prime minister, for his part, called for a swift implementation of all agreements between the two countries, saying: "we are pleased that Iran, according to the Agency's reports, has fulfilled all its obligations under the JCPOA, and all parties must also comply with their obligations."
He further voiced deep regret over the situation of Muslims in Myanmar, adding "as an independent state, Sweden will do whatever it can to help resolve the crisis. We have raised the issue at the United Nations Security Council and will continue attempts to end the tragedy."
MS/4091089/4091101