"Is this a documentary?" The man next to me asked in a somewhat disappointed tone after a few minutes of Ceyda Torun's cat documentary 'Kedi' rolled on the screen on the second day of 35th Fajr International Film Festival. Apparently, he thought he was going to watch a feature film with a plot, characters, suspense and drama – the usual criteria that the general Iranian audience seek in a movie theater. I mumble a soft 'yes' under my breath and the man leans a bit forward in his seat as if contemplating to leave.
He doesn't.
He stays and watches the whole documentary until the credits roll. He thought documentaries were dull, especially the ones entirely focused on cats roaming the streets of Istanbul. But boy was he so wrong.
Kedi, to describe it in just one word, is magical. It is not a film to appeal only to the senses of cat lovers. I am one, and this was basically the reason why I chose to watch this particular film at Fajr. But I also brought my sister along who has a severe case of ailurophobia – the irrational fear of cats. She didn't mind the film at all. I also made a point to ask her afterwards if her opinion of cats has improved any by watching Kedi. Surprisingly, or perhaps not, she said yes, she can see that cats are not exactly the devil incarnate she always assumed they were. A few days later, she was even curious about the sound of purring outside and when she found two cats standing close to another deep in some philosophical conversation, she found the sight rather charming.
I am not saying that everyone with ailurophobia will be cured of their irrational fear if they watch Kedi, but it certainly helped in the case of my sister. It also kept the man who had no time or desire for a documentary fully interested until the end.
Tehran is very similar to Istanbul in the sense of being home to hundreds of street cats of various colors and breeds. But the underlying fear and loathing of cats is also there, running deep and for the most part invisible under the city's skin. Kedi, by contrast, only depicts the love and care the people bestow on cats. I asked a friend of mine who has relatives in Turkey that if everyone in Istanbul are such unconditional cat lovers or is the documentary biased. She said that almost everyone in Istanbul loves taking care of cats. Oh, but how I wished to see the same atmosphere here in my hometown.
"Anyone who can't love cats, can't love people," an interviewee says with conviction. I would have readily agreed if I had not seen various many counterexamples in my community. In most cases, people are just wary of cats and the cats are wary of the people. The mutual distrust only adds more fuel to this passive antagonism. People walk past cats without a single glance downwards and cats creep along the bushes and crawl under parked cars to avoid any encounter with the humans. I would have loved a friendlier interaction between the two species, more trust and love, but then, I'm just an optimist.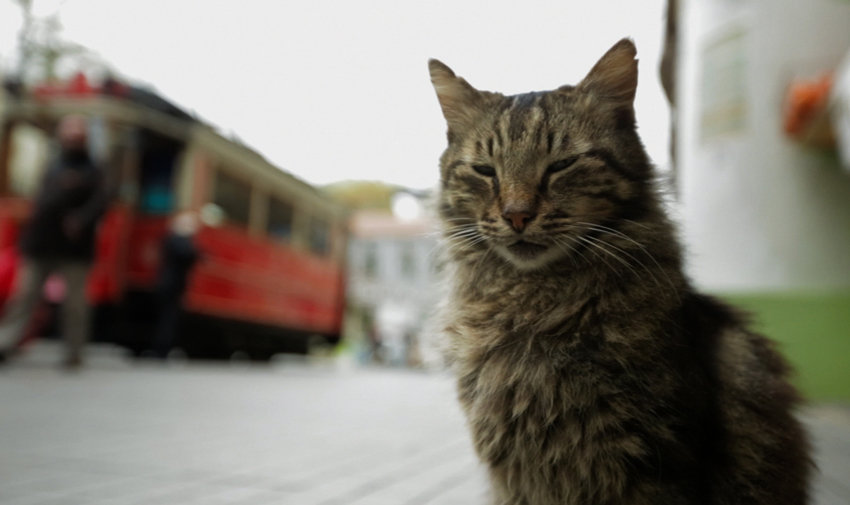 Kedi is not just a documentary about cats. It's a film with cats as the characters. They have many special traits, the way humans do: arrogance, playfulness, jealousy, shyness, introversion, laziness. From the artistic glide of the camera throughout the ancient streets of Istanbul, we get to know Sari, Duman, Bengü, Aslan Parçasi, Gamsiz, Psikopat, and Deniz, each with their own unique personality.
"Dogs think people are God, but cats don't. Cats know that people act as middlemen to God's will. They're not ungrateful. They just know better." Another interviewee says in defense of cats' reputed arrogance. Somehow cats are discriminated against because they do not lavish the human species with unconditional love. But I think people are getting it wrong. The unconditional love, in this case, should come from the human to the cat. As attested to repeatedly by Istanbul citizens in Kedi, cats have therapeutic effects. One man who has made it his life mission to bring food for lots of stray cats at the waterfront, admits cats have helped him overcome his nervous breakdown. Another says he would have been completely isolated as a child if he was not in the company of cats. A shopkeeper believes that cats absorb negative energy. Another man is convinced that a cat led him to a lost wallet with just enough money to pay for repairs of his fishing boat that was damaged during a storm. He says being in contact with cats is a blessing.
I tend to agree.
Kedi is a 2016 Turkish documentary film directed by Turkish-born, US-based filmmaker Ceyda Torun, with Charlie Wuppermann as cinematographer. The film was screened at the 35th edition of Fajr International Film Festival currently underway in Tehran.