Moreover, almost half of Americans (45%) believe that they should change to a "one man - one vote" system. The survey was conducted by research company TNS UK for Sputnik News Agency and Radio.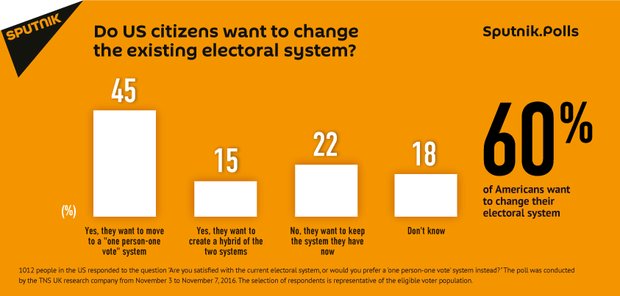 When asked, "Do you agree with the current voting system in the United States?", 15% of Americans said that they want to move to a new voting process, which would include the principles of the current system with a "one man - one vote" element. Only 22% of Americans said that they believe the system should remain unchanged, 16% answered "don't know", and 2% suggested other options.
The US President is elected by the Electoral College, consisting of 538 electors. The number of electors each state has corresponds to the number of Senators and Congressmen and women from each state. This number also includes three electors from the District of Columbia. To win, a presidential candidate must receive 270 electoral votes.
The survey was commissioned by Sputnik News Agency and Radio and conducted by TNS UK research company from 3 to 7 November 2016 in the United States. A total of 1012 respondents aged 18 to 64 years took a the survey. The results were weighted to reflect the population in terms of sex, age, and geography. The maximum sampling error for the data in the whole country is was +/- 3.1% at a confidence level of 95 percent.
About the Sputnik.Polls Project
The international public opinion project was created in January 2015, in partnership with leading research companies such as Populus, IFOP, and forsa. The project organizes regular surveys in the United States and Europe on the most sensitive social and political issues.
Sputnik (sputniknews.com) is a news agency and radio network with multimedia news hubs in dozens of countries. Sputnik broadcasts through its websites in over 30 languages, as well as on analogue and digital radio, mobile apps, and social media. Sputnik newswires, available by subscription, 24/7 in English, Arabic, Spanish and Chinese.
See other Sputnik.Polls surveys:
http://sputniknews.com/trend/sputnik_polls_2016/http://sputniknews.com/trend/sputnik_polls_2016/